A Secret Sisterhood: The Literary Friendships of Jane Austen, Charlotte Brontë, George Eliot, and Virginia Woolf (Paperback)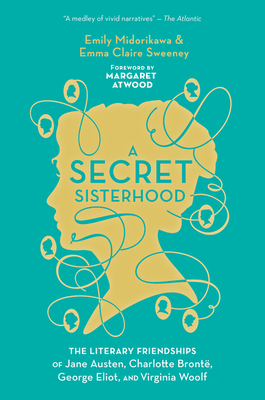 Description
---
Male literary friendships are the stuff of legend, but what about the friendships of women writers? A Secret Sisterhood, drawing on letters and diaries, some never published before, brings to light a wealth of surprising female collaborations: the friendship between Jane Austen and one of the family servants, amateur playwright Anne Sharp; the daring feminist author Mary Taylor, who shaped the work of Charlotte Brontë; the transatlantic friendship of the seemingly aloof George Eliot and the ebullient Harriet Beecher Stowe; and Virginia Woolf and Katherine Mansfield, most often portrayed as bitter foes, but who, in fact, enjoyed a complex friendship. They were sometimes scandalous and volatile, sometimes supportive and inspiring, but always—until now—tantalizingly consigned to the shadows.
 
About the Author
---
EMILY MIDORIKAWA's work has been published in the Daily Telegraph, the Independent on Sunday, and the Times. She is a winner of the Lucy Cavendish Fiction Prize and was a runner-up in the SI Leeds Literary Prize (judged by Margaret Busby) and the Yeovil Literary Prize (judged by Tracy Chevalier). She has a history degree from University College London, and is a graduate of the University of East Anglia's creative writing masters program. She teaches at New York University–London.

EMMA CLAIRE SWEENEY's work has been published in the Guardian, the Independent, andthe Times. She has won Arts Council and Royal Literary Fund Awards, and her debut novel, Owl Song at Dawn, came out to critical acclaim in 2016. Emma holds an English literature degree from the University of Cambridge and a creative writing MA from the University of East Anglia, and her Ph.D. focused on Virginia Woolf. Emma now teaches at New York University–London. 
Praise For…
---
"A thought-provoking meditation on literary friendship as well as engagingly intimate glimpses of four of the world's finest writers in a pursuit that, for women of their times, skirted the edges of decency"—San Francisco Chronicle  "A medley of vivid narratives" —The Atlantic "Midorikawa and Sweeney have committed an exceptional act of literary espionage. English literature owes them a great debt." —Financial Times  "Enthralling, illuminating, and a treat for fans of any of the writers who are covered." —STARRED Booklist "Rich and revealing...these forgotten friendships, from illicit and scandalous to radical and inspiring, are revelations." —KIRKUS "[An] evocative and well-researched ode to female solidarity." —Publishers Weekly "Extraordinary detective work...fascinating...readers interested in women writers and these authors in particular will find this work enlightening." —Library Journal "Now that A Secret Sisterhood is in print it will be even more difficult than ever before for critics and biographers, male or female, to dismiss, ignore or bury the friendships that literary women have enjoyed. And that's worth cheering!"  —New York Journal of Books "A Secret Sisterhood is a marvel. On the strength of a hunch, two friends embark on a research mission that winds up becoming a vital and necessary contribution to women's history, literary history, and the literature of friendship. Beautifully written, rich with insight and feeling, this book is a must-read for anyone who knows that behind every great woman stands a great female friend." —Kate Bolick, author of Spinster: Making a Life of One's Own "In this wise and exhilarating book, Midorikawa and Sweeney, literary friends themselves, delve into the friendships of women writers, learning lessons along the way about making art, making and keeping friends, and the perils and pleasures of literary life." —Samantha Ellis, author of How to Be a Heroine: Or, What I've Learned from Reading Too Much "A Secret Sisterhood offers a clever new perspective on established literary figures. While we may inherit family and circumstances, we get to choose our friends; and those these famous women writers have chosen reveal much that is fresh and fascinating about their lives and their work." —Tracy Chevalier, author of Girl with a Pearl Earring and editor of Reader, I Married Him "In digging up the forgotten friendships chronicled in A Secret Sisterhood, Emily Midorikawa and Emma Claire Sweeney have done much service to literary history. . .These four women, however iconic they have now become, were not two-dimensional icons, nor were they plaster angels: they were real people, with all the neediness, anxiety, ardor, and complexity that come with the territory." —Margaret Atwood, from the foreword —