Hurricane: My Story of Resilience (I, Witness) (Paperback)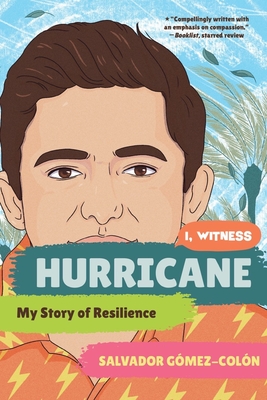 Description
---
Launching a propulsive middle grade nonfiction series, a young man shares how he combated Puerto Rico's public health emergency after Hurricane Maria.
Suffering heavy damage in the wake of Hurricane Maria in 2017, Puerto Rican communities lacked access to clean water and electricity. Salvador Gómez-Colón couldn't ignore the basic needs of his homeland, and knew that nongovernmental organizations and larger foreign philanthropies could only do so much. With unstoppable energy and a deep knowledge of local culture, Salvador founded Light and Hope for Puerto Rico and raised more than $100,000 to purchase and distribute solar-powered lamps and hand-powered washing machines to households in need.
With a voice that is both accessible and engaging, Salvador recalls living through the catastrophic storm and grappling with the destruction it left behind. Hurricane brings forward a captivating first-person account of strength, resilience, and determination, and heralds the start of a new series of compelling narrative nonfiction by young people, for young people.
About the Author
---
Salvador Gómez-Colón is a climate-resilience advocate and the founder of Light and Hope for Puerto Rico. His work has been covered by Time, CNN, the Guardian, and the New York Times, among others. He studies at Yale University.