Kiki Man Ray: Art, Love, and Rivalry in 1920s Paris (Hardcover)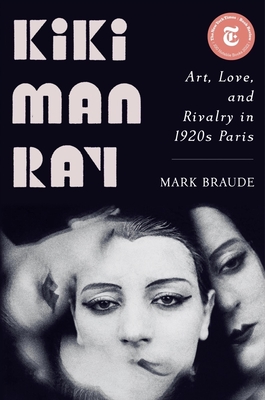 $30.00
Email or call for price.
Description
---
One of The New Yorker's Best Books of 2022

One of The New York Times' 100 Notable Books of 2022

One of ArtNet's Art Books They Couldn't Put Down in 2022

One of Harper Bazaar's Top 100 in 2022



A dazzling portrait of Paris's forgotten artist and cabaret star, whose incandescent life asks us to see the history of modern art in new ways.
In freewheeling 1920s Paris, Kiki de Montparnasse captivated as a nightclub performer, sold out gallery showings of her paintings, starred in Surrealist films, and shared drinks and ideas with the likes of Jean Cocteau and Marcel Duchamp. Her best-selling memoir—featuring an introduction by Ernest Hemingway—made front-page news in France and was immediately banned in America. All before she turned thirty.
Kiki was once the symbol of bohemian Paris. But if she is remembered today, it is only for posing for several now-celebrated male artists, including Amedeo Modigliani and Alexander Calder, and especially photographer Man Ray. Why has Man Ray's legacy endured while Kiki has become a footnote?
Kiki and Man Ray met in 1921 during a chance encounter at a café. What followed was an explosive decade-long connection, both professional and romantic, during which the couple grew and experimented as artists, competed for fame, and created many of the shocking images that cemented Man Ray's reputation as one of the great artists of the modern era. The works they made together, including the Surrealist icons Le Violon d'Ingres and Noire et blanche, now set records at auction.
Charting their volatile relationship, award-winning historian Mark Braude illuminates for the first time Kiki's seminal influence not only on Man Ray's art, but on the culture of 1920s Paris and beyond. As provocative and magnetically irresistible as Kiki herself, Kiki Man Ray is the story of an exceptional life that will challenge ideas about artists and muses—and the lines separating the two.
About the Author
---
Mark Braude is a cultural historian and the author of Kiki Man Ray, The Invisible Emperor, and Making Monte Carlo. He has been a visiting fellow at the American Library in Paris, a postdoctoral fellow at Stanford, a National Endowment for the Humanities Public Scholar, and the recipient of a Silvers Grant. He lives in Vancouver with his family.
Praise For…
---
Exquisitely crafted…[S]harp and succinct…Kiki Man Ray rescues its protagonist from the dustbin of history and advocates eloquently for the vitality and importance of the world she helped to forge.

— Hamilton Cain - Wall Street Journal

Absorbing and insightful…[Braude] has written a biography worthy of [Kiki de Montparnasse], alive with anecdote and incident…You just become so glad to know her.
— Charles Finch - Boston Globe

[A] heady romp through the galleries and nightclubs of interwar France.
— Vogue

[An] exuberantly entertaining biography.
— Joanna Scutts - New York Times Book Review

Braude's biography argues that the pair's long love affair was mutually galvanizing, and that Kiki was not just a muse but an artist in her own right.
— The New Yorker

Splendid…Braude brings [Kiki de Montparnasse] vividly to life and argues that she deserves to be remembered as a significant cultural figure in her own right.
— Ann Levin - Associated Press

If the only 'Kiki de Montparnasse' you are aware of is a lingerie brand, please check out this top-notch, highly readable nonfiction from cultural historian Mark Braude right now.
— Cat Auer - A.V. Club

[A] comprehensive page-turner.
— Sloane Crosley - Departures Magazine

[An] affectionate biography…As irresistible as it is overdue.
— Chicago Review of Books

Spirited and thoroughly researched…Braude's colourful evocation captures the heady atmosphere of a Paris still traumatized by the First World War.
— Elza Adamowicz - Times Literary Supplement (UK)

With vibrant prose as beguiling as Kiki herself…Braude's exuberant, absorbing biography stands Kiki at the 'white-hot center' of 1920s Montparnasse, reclaiming her rightful place.
— Janet Somerville - Toronto Star

[Kiki is] a vibrant force in a colorful world—and the heart of Braude's history. A rich, affectionate look at bohemian Paris.
— Kirkus Reviews

Kiki Man Ray is a thoroughly researched and gracefully written life of the (until now) underestimated model, performer, painter, actress, and influencer known as Kiki de Montparnasse. Mark Braude's biography brings her out of the wings and sets her firmly center stage in this evocative portrait of artistic life in the Paris of the 1920s.

— Carolyn Burke, author of Foursome and Lee Miller

Finally, a detailed and entertaining account of Alice Prin, a/k/a Kiki de Montparnasse, and her artistic and romantic relationship with Man Ray. Best known as a popular (and usually nude) artists' model, Kiki was a singer and performer, a painter, a writer, and the central female instigator for the avant-garde demimonde of Paris in the 1920s. Mark Braude's writing and subject make this book irresistible, as was Kiki herself.
— Jim Jarmusch

Kiki de Montparnasse was more than a muse—she was a vivacious, independent woman whose talent and magnetism helped make Paris the center of the art world in the 1920s. In Mark Braude's riveting cultural history, the Queen of Montparnasse rises again. This is a lively and compassionate tribute to the chanteuse, model, and portraitist who held center stage in her life, and who inspired some of the finest Surrealist art of the twentieth century.
— Heather Clark, author of Pulitzer Prize–finalist Red Comet: The Short Life and Blazing Art of Sylvia Plath

A delightful, marvelously readable, meticulously researched romp of a book, Kiki Man Ray brings to life not just the kaleidoscopically talented Kiki herself, but the endlessly fascinating Montparnasse milieu over which she reigned.
— Whitney Scharer, author of The Age of Light

Man Ray captured 1920s Paris in his photographs, especially those of a singular muse: Kiki de Montparnasse, a hostess, a celebrity, a cabaret performer, a woman whose bawdy, heartfelt songs were the pulse of Paris. Mark Braude turns the tables—and the lens—and gives us a unique portrait: Man Ray from the perspective of that celebrated muse and her ephemeral art of performance.
— Tilar J. Mazzeo, New York Times best-selling author of The Hotel on Place Vendôme: Life, Death, and Betrayal at the Hotel Ritz in Paris

Kiki de Montparnasse—model, muse, artist—is the sole realist in a room of Surrealists. Unafraid of contradiction, she lived the fast life in the stillness of a pose, the intimacy of a public dream. Beautifully written, with a light touch and a wise eye, Mark Braude's Kiki Man Ray arranges the elements of Kiki's life, letting radiant patterns emerge.
— Alexander Nemerov, author of Fierce Poise: Helen Frankenthaler and 1950s New York