Funny Weather: Art in an Emergency (Hardcover)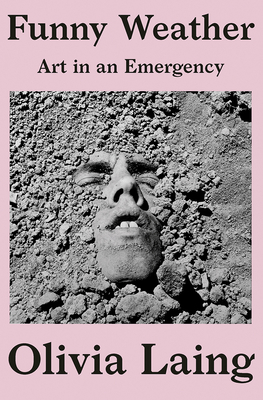 $26.95
Email or call for price.
Description
---
"One of the finest writers of the new nonfiction" (Harper's Bazaar) explores the role of art in our tumultuous modern era.
In this remarkable, inspiring collection of essays, acclaimed writer and critic Olivia Laing makes a brilliant case for why art matters, especially in the turbulent political weather of the twenty-first century.
Funny Weather brings together a career's worth of Laing's writing about art and culture, examining their role in our political and emotional lives. She profiles Jean-Michel Basquiat and Georgia O'Keeffe, reads Maggie Nelson and Sally Rooney, writes love letters to David Bowie and Freddie Mercury, and explores loneliness and technology, women and alcohol, sex and the body. With characteristic originality and compassion, she celebrates art as a force of resistance and repair, an antidote to a frightening political time.
We're often told that art can't change anything. Laing argues that it can. Art changes how we see the world. It makes plain inequalities and it offers fertile new ways of living.
About the Author
---
Olivia Laing is the author of five acclaimed works of nonfiction, including The Lonely City and Funny Weather. Her first novel, Crudo, won the 2019 James Tait Black Prize. The recipient of the 2018 Windham-Campbell Prize in nonfiction, Laing lives in Suffolk, United Kingdom.
Praise For…
---
These essays showcase Laing as an imaginative and empathetic critic of the arts. She gets at texture, technique, feeling, and politics all at once... It's a pleasure to follow Laing as she pokes around companionably, examining the things that interest her.
— Annalisa Quinn - NPR

[Olivia Laing is] a kind of cultural sage...an accidental literary grande dame of the emotional havoc wrought by late capitalism and digital disconnect... Laing is radically empathetic, a writer-activist.
— Hillary Kelly - Vulture

Laing's arts writing is sharp-minded, and her manner is generous toward both subject and reader.
— John Glassie - Washington Post

Laing writes of her creative subjects in a winning, passionate voice that proves both soothing and galvanizing, especially amid a panic... It's not just art we need in an emergency, but writers, like Laing, who gently guide our eyes to what's out there.
— Alina Cohen - Observer

As exterior life shuts temporarily down, Funny Weather is an immensely useful reminder that new space can be intellectual as well as physical... Laing is a tremendously gifted genre-mixer... Funny Weather is an invitation to Laing's imaginary museum, where minds if not bodies meet, and where true hospitality resides.

— Lily Meyer - Hyperallergic

Laing opens each piece with a deceptive ease [and] alights upon poetic insights... [H]er light touch throughout these essays makes room for some stunning perceptions.
— A. V. Club

Like all great critics, Olivia Laing combines formidable intelligence with boundless curiosity and fabulous taste, but she also has a rare quality of intimacy; an ability to connect the reader to a work of art or literature (or for that matter a facet of life itself) with a directness that lights it up like nothing else. It's why I read her.
— James Lasdun, author of Afternoon of a Faun

A fine writer's embrace of the artists who preceded her, friendly visits with their lives, and loving acknowledgement of their foundational contributions. A work of joy in recognition.
— Sarah Schulman, author of Conflict Is Not Abuse

I yield to absolutely no one in my admiration of Olivia Laing; her essays are magical liberations of words and ideas, art and love; they're the essence of great twenty-first century literature: brilliantly expressed, wildly uncontained, willful, and wonderfully unbound.
— Philip Hoare, author of RISINGTIDEFALLINGSTAR