Luster: A Novel (CD-Audio)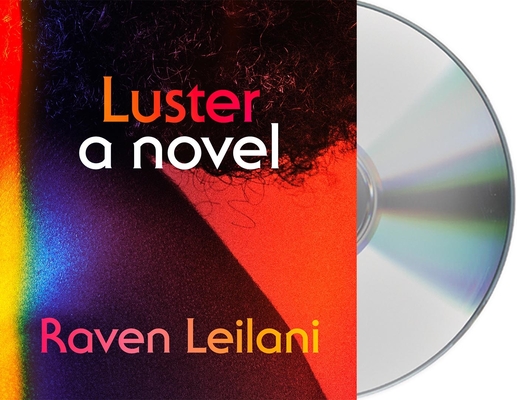 $40.24
Email or call for price.
August 2020 Indie Next List
---
"Luster centers on Edie, a young black woman working in New York publishing and barely making rent each month, who finds herself navigating a suburban white couple's open marriage. This novel is filled with unexpected turns taken at breakneck speeds. It seamlessly examines the plight of millennials living under capitalism along with the complications of intimacy and race, all while finding both the humor and profound sadness in those things. This is a multifaceted and brilliant book, as well as an extraordinary debut from Raven Leilani."
— Billy Butler, Bookshop Santa Cruz, Santa Cruz, CA
Description
---
"There is a universal appeal to [Narrator Ariel] Blake's performance as Edie, a protagonist who may be her own worst antagonist. Blake's delivery has an immensely human, relatable quality that makes the listener want the best for Edie as she struggles to make her way in the world." -- AudioFile Magazine, Earphones Award winner

AN INSTANT NEW YORK TIMES BESTSELLER
A NEW YORK TIMES NOTABLE BOOK OF 2020
NATIONAL INDIE BESTSELLER
LOS ANGELES TIMES BESTSELLER
WASHINGTON POST BESTSELLER

No one wants what no one wants.
And how do we even know what we want? How do we know we're ready to take it?

Edie is stumbling her way through her twenties—sharing a subpar apartment in Bushwick, clocking in and out of her admin job, making a series of inappropriate sexual choices. She is also haltingly, fitfully giving heat and air to the art that simmers inside her. And then she meets Eric, a digital archivist with a family in New Jersey, including an autopsist wife who has agreed to an open marriage—with rules.

As if navigating the constantly shifting landscapes of contemporary sexual manners and racial politics weren't hard enough, Edie finds herself unemployed and invited into Eric's home—though not by Eric. She becomes a hesitant ally to his wife and a de facto role model to his adopted daughter. Edie may be the only Black woman young Akila knows.

Irresistibly unruly and strikingly beautiful, razor-sharp and slyly comic, sexually charged and utterly absorbing, Raven Leilani's Luster is a portrait of a young woman trying to make sense of her life—her hunger, her anger—in a tumultuous era. It is also a haunting, aching description of how hard it is to believe in your own talent, and the unexpected influences that bring us into ourselves along the way.

A Macmillan Audio production from Farrar, Straus and Giroux

"Exacting, hilarious, and deadly . . . A writer of exhilarating freedom and daring." —Zadie Smith, Harper's Bazaar

"So delicious that it feels illicit . . . Raven Leilani's first novel reads like summer: sentences like ice that crackle or melt into a languorous drip; plot suddenly, wildly flying forward like a bike down a hill." —Jazmine Hughes, The New York Times Book Review

"An irreverent intergenerational tale of race and class that's blisteringly smart and fan-yourself sexy." —Michelle Hart, O: The Oprah Magazine
About the Author
---
Raven Leilani's work has been published in Granta, The Yale Review, McSweeney's Quarterly Concern, Conjunctions, The Cut, and New England Review, among other publications. Leilani received her MFA from NYU and was an Axinn Foundation Writer-in-Residence. Luster is her first novel.
Praise For…
---
Longlisted for the 2020 Center for Fiction First Novel Prize
An Indie Bestseller
Best Reviewed Novel of the Week at Book Marks
A Book Club Pick at Goop, Belletrist, Marie Claire, Esquire, Book of the Month Club (add-on), Bull Moose Bookstore, and Books on the Subway

**One of the Most Anticipated Books of Summer 2020**
Vogue, Elle, Time, The New York Times, Good Morning America online, The Washington Post, Esquire, The Chicago Tribune, Harper's Bazaar, Shondaland, Goop, Vulture, The Huffington Post, Parade, USA Today, COLORLINES, Literary Hub, Pittsburgh City Paper, Bust, Buzzfeed, Ms. Magazine, Electric Literature, Refinery29, PopSugar, The Millions, The Rumpus, Observer, Book Riot, Thrillist, Domino, PureWow, PopSugar, New York Amsterdam News, Debutiful, Write or Die Tribe, Book Bub, Odyssey, Suitcase, We Are Bookish, Apartment Therapy, Paperback Paris, Bookshop.org, Green Apple Books

"So delicious that it feels illicit . . . Raven Leilani's first novel reads like summer: sentences like ice that crackle or melt into a languorous drip; plot suddenly, wildly flying forward like a bike down a hill."
—Jazmine Hughes, The New York Times Book Review

"[Raven Leilani] is a sharp phrasemaker . . . [and] Luster, a highly pleasurable interrogation of pleasure . . . There is more than a touch of Ralph Ellison here, the hypervisible invisible woman who is cast by the world in categorical terms while trying to be seen for herself."
—Alexandra Schwartz, The New Yorker

"Darkly funny with wicked insight . . . This keenly observed, dynamic debut is so cutting, it almost stings."
—Lauren Puckett, Elle

"Edie is an African American woman, but not every African American woman is Edie. What's best about Luster is precisely her messy, unabashed individuality. As she explores the world around her, Edie addresses us in a funny, shrewd narrative voice that precisely describes the wide-ranging contours of her life, be it losing her virginity, watching Rebecca cut up cadavers, going to Comic-Con or showing how police respond to two young Black women walking in a suburban neighborhood."
—John Powers, NPR

"Wildly beguiling . . . [Raven Leilani is] a phenomenal writer, her dense, dazzling paragraphs shot through with self-effacing wit and psychological insight."
—Leah Greenblatt, Entertainment Weekly

"This debut novel from powerhouse writer Raven Leilani . . . deftly subverts the white gaze while also crafting an unforgettable protagonist. But the real fire here is Leilani's writing. Her sentences are gorgeous, and both the prose and the content will make you sweat."
—Sarah Neilson, Shondaland

"Blistering . . . thrums with observational humor . . . Luster is not a novel concerned with romantic drama. It's all about attention—why we crave it and what forms it takes. Leilani carefully pulls the strings of Edie, Rebecca, Eric and Akila, revealing how lonely they all are . . . Unsettling and surreal."
—Annabel Gutterman, Time

"Strange, hilarious, important."
—Bethanne Patrick, The Washington Post

"An emotional rollercoaster that will have you on the verge of tears or in stitches with laughter."
—Sian Babish, The Chicago Tribune

"There is nothing on offer like Luster—the story of a Black woman who is neither heroic nor unduly tragic . . . She is destructive but tender, ravenous for experience but deeply vulnerable—and often wickedly funny."
—Parul Sehgal, The New York Times

"On every page a shudder of recognition, then a lol, then an electroshock. It's gutting and hilarious and lush. Every detail builds so beautifully, I don't want to spoil anything, but if you want to forget yourself in a passage . . . 100 times over, this is your next read."
—Tavi Gevinson on Instagram

"This novel is ridiculously good: gorgeous, dark, and funny, with sentences that'll wreck you. I will follow this author anywhere she wants to take me."
—Carmen Maria Machado, author of In the Dream House

"Narrated with fresh and wry jadedness, Edie's every disappointment [is] rendered with a comic twist . . . Edie's life is a mess, her past is filled with sorrow, she's wasting her precious youth, and yet, reading about it all is a whole lot of fun."
—Chloe Schama, Vogue

"Exacting, hilarious, and deadly . . . A writer of exhilarating freedom and daring."
—Zadie Smith, Harper's Bazaar

"A darkly funny, hilariously moving debut from a stunning new voice. Luster follows the unforgettable Edie, a hapless young woman suffocating under her own loneliness, whose caustic observations made me laugh out loud and gasp in recognition. Raven Leilani crafts a beautiful, bighearted story about intimacy and art that will astound and wound you. I couldn't put this one down."
—Brit Bennett, author of The Vanishing Half

"There are pages in this book so good they burn your fingers."
—Garth Greenwell on Twitter

"Promises to be an August hit . . . As Edie searches for her identity as an artist and a Black woman, she spins a tale of intrigue and coming-of-age, all with electric storytelling."
—Zibby Owens, Good Morning America online

"The most thrilling thing I've read in months."
—Stephanie Danler on Instagram

"Compulsively readable."
—Emma Specter, Vogue

"Like all great books, Luster eludes easy categorization. It's a slippery novel about many things—being young, being Black, being a woman, being depressed, feeling lonely, latent trauma, sex . . . What is so immediately striking about Luster—and what sets it apart from the glut of millennial fiction—is the quality of the writing itself."
—Tomi Obaro, Buzzfeed News

"Vibrant, spiky . . . Leilani is a master . . . a major new talent . . . Luster isn't just a sardonic book, but a powerful one about emotional transformation."
—Mark Athitakis, USA Today

"Mercilessly funny and sharp, Raven Leilani's Luster is unexpected and utterly fascinating."
—Megan DiTrolio, Marie Claire

"An unstable ballet of race, sex, and power. Leilani's characters act in ways that often defy explanation, and that is part of what makes them so alive, and so mesmerizing: Whose behavior, in real life, can be reduced to simple cause and effect? Sharp, strange, propellent—and a whole lot of fun."
—Kirkus, starred review

"Luster is the best debut novel of the year. It glitters, it pulses, it lives! Simultaneously full of pain and laughter."
—Emma Straub on Twitter

"A rocket-paced, sensual fever dream of sex, trauma, relationships and conflicting perceptions . . . Luster is intoxicating and surprising, never letting readers settle into recognizable patterns. Leilani has crafted an unforgettable novel about a young woman making her own way."
—Julia Kastner, Shelf Awareness

"What stands out here is Leilani's prose, which is breathless, frantic, and reads like a Twitter wit grew legs and an IRL identity."
—Hillary Kelly, Vulture

"Sexy, funny, and wholly self-aware, Luster couldn't come at a better time."
—Thrillist

"Raven Leilani's sentences pulse and writhe and shimmer and gut-punch. Above all they tell the truth, even when it hurts."
—Angela Flournoy, author of The Turner House

"The narrative voice of this startling novel is layered, complex, pitch-black comic, and deadly earnest, even ardent in its will to sift through the chaos and idiocy of our madhouse culture and find some glimpse of human reality. Raven Leilani is intellectually supple and steely at the same time; she thinks and perceives blessedly outside any kind of norm. She has made a truly lustrous piece of art."
—Mary Gaitskill, author of This Is Pleasure

"An utterly strange and beautiful book, at once grab-your-gut visceral and the work of a razor-sharp intellect. The sentences are simply virtuosic."
—C. Pam Zhang, author of How Much of These Hills Is Gold

"Timeless . . . Luster is lean and focused, yet dense with reference and detail, the lush prose heightening its tangible specificity. Leilani also makes smart use of the well-placed long sentence, the catharsis that can arrive when something comes to an end."
—Laura Adamczyk, A.V. Club

"Leilani's radiant debut belongs to its brilliant, fully formed narrator. Old soul Edie has an otherworldly way of seeing the world and reflecting it back to readers, peppering experiences of past and current despair with acceptance and humor but never sacrificing depth, of which her story has miles. A must for seekers of strongly narrated, original fiction."
—Booklist, starred review

"Sexy, funny and haunting, Luster is a simmering debut."
—Karla Strand, Ms. Magazine

"Hilarious, honest, bursting with desire and sharp insight, Luster is absolutely captivating. I didn't so much read it, as gulp it down. There's so much to learn here, so much to admire. Leilani is an irreverent, impeccable stylist—a voice we need right now."
—Justin Torres, author of We the Animals

"The threat of a sharp edge is on every page . . . Interior monologues are written like the tenebrist masterpieces Edie loves . . . Sex is the answer to many of the book's questions, yet the fact of fucking is nowhere near as thrilling as what Leilani understands: the endless ways the desires of another can be made to feel like our own."
—Haley Mlotek, Frieze

"Wonderful."
—Megan Giddings, The PEN America Podcast

"A beguiling fever dream of a novel, shot through with wistfulness, humor, and a kind of breathless, furious verve. You'll find it impossible to put down."
—Ling Ma, author of Severance

"In Luster, Raven Leilani has created a character unlike any other in recent fiction. A slacker black queen, a depressive painter, a damn funny woman. The narrator of this novel tells us of her history and her present life in hypnotic language that is a pleasure to read. Leilani is such a talented writer, I rushed to the end of every outrageous sentence to figure out how she would pull it off."
—Kaitlyn Greenidge, author of We Love You, Charlie Freeman

"Luster hooked us from the opening sex scene . . . Charged and hypnotic, Luster is poised to become one of the books that defines what it's like to be young in this moment."
—goop.com

"Electric, heralding a singular new literary voice . . . Provocative and surprising. Edie is both emblematic of a generation of detached, fiercely intelligent yet hopelessly drifting young women, who yearn for something more."
—Kristen Iversen, Refinery29

"Raven Leilani is a writer of unusual daring, with a voice that is unique and fully formed. There is humor, intelligence, emotion, and power in her work. I cannot think of a writer better suited to capture our moment."
—Katie Kitamura, author of A Separation

"The perfect antidote to the taut ball of nerves we've all been carrying around since March . . . This story combines social commentary, racial politics and searing humor. E-readers, you might want to forgo the Kindle for the actual book. You'll want something to grip."
—Toby Lowenfels, What's Up Moms

"A coming-of-age story that's sure to keep you turning pages."
—Stephanie Long, Refinery29

"A smart and bold exploration of self-worth and self-appreciation . . . both sexy and sad, angry but funny, with impressive literary prose that is blunt and mischievous, luring you with little intention to let go . . . Leilani has given us a novel of our times."
—Carissa Chesanek, PANK

"A stunning debut from a powerful new voice . . . Narrative drive oozes out of every sentence. This novel is a pleasure to read on all levels."
—Catie Disabato, Cinnamon Magazine

"The narrator of Luster . . . is the fierce, unruly antidote to what Jess Bergman called the 'remote avatars of contemporary malaise'—she is not cool, nor detached, nor noncommittal, but absolutely bursting with thoughts and feelings and desires, some of which often spill over and make a mess, or a scene, or a bonfire. Edie talks shit but also takes it—she's hilariously caustic about the world around her, but her criticism never feels empty. I loved every minute."
—Emily Temple, Lit Hub

"Leilani's writing is cerebral and raw, and this debut novel will establish her as a powerful new voice . . . [She] has proven herself to be a keen social observer—especially about the truths that some people don't want to see."
—Jessica Wakeman, BookPage

"Sometimes there's a book that everyone in the publishing world is talking about. Luster is that book."
—Adam Vitcavage, Electric Literature

"Debuts as accomplished as Luster make you exclaim 'what a find' at the end of the novel . . . It is disruptive, darkly funny, and searing—five stars! Read it if you like to navigate social landscapes, sexual politics and interracial relationships clothed as an entertaining, and riveting book."
—Resh Susan, The Book Satchel

"Leilani has an uncanny, genius way with sentences. Her more humorous lines unravel and fork like snake tongues into many directions at once; but in moments of absolution, they strike like a burning torch."
—Alex Zafiris, Observer

"Tackling questions of race, age, and power, Luster is a must-read new novel that perfectly captures our strange age."
—K.W. Colyard, Bustle

"Funny, raw and brutally honest, Raven Leilani brilliantly captures the trials of your twenties."
—Kailey Brennan, Write or Die Tribe

"You should absolutely run out (or log on quickly) to buy Raven Leilani's Luster . . . Brilliant, captivating."
—Emily Temple, BOMB

"Open relationships, racial dynamics and class form the backbone of Leilani's darkly humorous yet insightful debut."
—Rae Boocock, Suitcase

"Nothing if not an ambitious work . . . Refreshingly honest about Edie's ambivalence, desperation, and longing . . . Luster is a novel about what it means to be a black-female flaneur . . . The real architecture of this novel rests on Edie—the young black vixen, usually relegated to the observed and the consumed, becoming the observer and hungrily eating up the worlds around her."
—Kaitlyn Greenidge, Virginia Quarterly Review

"New Yorkers, I dare you to not find this novel relatable af."
—Sara Levine, Betches

"Leilani is a voice America desperately needs and Luster delivers."
—Paperback Paris

"It reads like a lyrical bildungsroman, one that feels almost painfully resonant to the contemporary young adult experience, particularly one of a young Black woman . . . Staggeringly brilliant . . . Luster feels like—and has rightfully been hailed as—the entrance of a singular, breakthrough literary voice . . . Leilani's writing is haunted and poetic, brimming with incisive jabs at the indignities and disorientations of young Black womanhood, but one of the great and subtle feats of the novel is its ability to observe these realities as pedestrian, grounded within the interior of Edie's life. Moments never feel, in themselves, like stand-ins for a treatise of the 'isms' of America. Instead, encounters unfold strangely in Edie's lonesome, mournful world."
—Brandon Yu, Datebook

"One of the year's most anticipated titles for good reason: this story of race, privilege, art, and sexuality is brilliant."
—Sabienna Bowman, PopSugar

"This book made me gasp. The prose! To arrange 10 words I've known for most of my life and make me see something new in them is startling . . . I recommend this novel to anyone who is looking for a disruptive take on a summer book. It brings the heat and then some."
—Sacha Vega, The Cha Cha Reader

"[Luster is] so good . . . It's refreshing, it's honest, it's very funny. Her sentences rarely end the way I think they're going to."
—Katie Yee, Lit Hub's "The Week in Books LIVE"