24: Life Stories and Lessons from the Say Hey Kid (CD-Audio)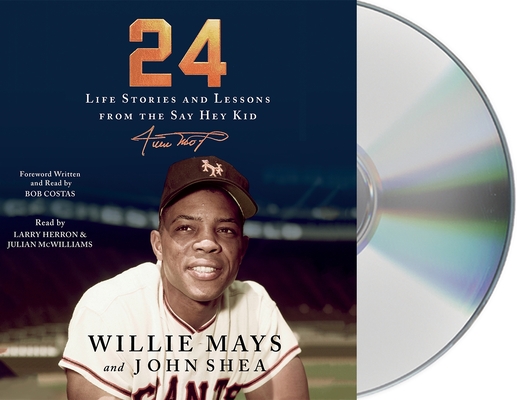 $45.99
Email or call for price.
Description
---
THE INSTANT NEW YORK TIMES BESTSELLER

The legendary Willie Mays shares the inspirations and influences responsible for guiding him on and off the field in this reflective and inspirational memoir.

"Even if, like me, you thought you had pretty much read and heard all there was to read and hear about Willie Mays, this warmhearted book will inform and reward you. And besides, what true baseball fan can ever get enough of Willie Mays? Say Hey! Read on and enjoy."—From the Foreword by Bob Costas

"It's because of giants like Willie that someone like me could even think about running for President." — President Barack Obama

This program includes a bonus conversation between the authors

Widely regarded as the greatest all-around player in baseball history because of his unparalleled hitting, defense and baserunning, the beloved Willie Mays offers people of all ages his lifetime of experience meeting challenges with positivity, integrity and triumph in 24: Life Stories and Lessons from the Say Hey Kid.

Presented in 24 chapters to correspond with his universally recognized uniform number, Willie's memoir provides more than the story of his role in America's pastime. This is the story of a man who values family and community, engages in charitable causes especially involving children and follows a philosophy that encourages hope, hard work and the fulfillment of dreams.

"I was very lucky when I was a child. My family took care of me and made sure I was in early at night. I didn't get in trouble. My father made sure that I didn't do the wrong thing. I've always had a special place in my heart for children and their well-being, and John Shea and I got the idea that we should do something for the kids and the fathers and the mothers, and that's why this book is being published. We want to reach out to all generations and backgrounds. Hopefully, these stories and lessons will inspire people in a positive way."— Willie Mays

A Macmillan Audio production from St. Martin's Press
About the Author
---
WILLIE MAYS, nicknamed "The Say Hey Kid", was an MLB center fielder for 22 seasons with the New York/San Francisco Giants and the New York Mets. He won two National League MVP awards, ended his career with 660 home runs, and won a record-tying 12 Gold Glove awards. Mays shares the record of most All-Star Games played with 24, the same number as his jersey. He was inducted into the Baseball Hall of Fame in 1979.

JOHN SHEA is the award-winning national baseball columnist at the San Francisco Chronicle and Willie Mays's longtime acquaintance. He has written several books, including the autobiography of Hall of Famer Rickey Henderson, Off Base: Confessions of a Thief. He is seen regularly on MLB Network and NBC Sports Bay Area and has contributed to ESPN.com, The Sporting News, and USA Today.