The Echo Wife (Hardcover)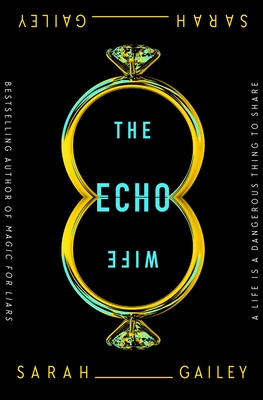 $24.99

Usually Ships in 1-5 Days
Staff Reviews
---
A creepily futuristic premise that is executed flawlessly, Gailey puts together a great combination of science fiction and murder along with a very unlikely alliance. The plot's twists and turns will keep you wanting to turn the next page and guessing until the very end.
— From
Carol's Book List
March 2021 Indie Next List
---
"Just wow! I am so delighted that there are writers like Sarah Gailey producing science fiction of this caliber. Their latest novel, The Echo Wife, kept me riveted from beginning to end with elegant prose and a compelling, vulnerable protagonist who narrates the story in a wonderfully intimate first-person point of view. This is a refreshing, fast-paced thriller that gives center stage to questions of our humanity without asking them from a male-only perspective."
— Christine Havens, BookPeople, Austin, TX
Description
---
Sarah Gailey's The Echo Wife is "a trippy domestic thriller which takes the extramarital affair trope in some intriguingly weird new directions."--Entertainment Weekly

I'm embarrassed, still, by how long it took me to notice. Everything was right there in the open, right there in front of me, but it still took me so long to see the person I had married.

It took me so long to hate him.

Martine is a genetically cloned replica made from Evelyn Caldwell's award-winning research. She's patient and gentle and obedient. She's everything Evelyn swore she'd never be.

And she's having an affair with Evelyn's husband.

Now, the cheating bastard is dead, and both Caldwell wives have a mess to clean up.

Good thing Evelyn Caldwell is used to getting her hands dirty.
About the Author
---
Hugo Award-winning and bestselling author Sarah Gailey is the author of the novels The Echo Wife and Magic for Liars. Their nonfiction has been published by Mashable and The Boston Globe, and they won a Hugo Award for Best Fan Writer. Their fiction credits also include Vice and The Atlantic. Their debut novella, River of Teeth, was a 2018 finalist for both the Hugo and Nebula Awards.
Praise For…
---
Top Ten LibraryReads Pick!

"A razor-sharp psychological thriller... Gailey's expertise with suspense and their success in presenting the reader with impossible choices about the ethics of cloning, biological programming and editing, and of Evelyn's specific, difficult situation, will leave the reader thinking about the novel long after the final page."—Booklist, starred review

"For those familiar with Gailey's work, expect this one to offer familiar pleasures and some new surprises. And for those who aren't, well, get ready." —Entertainment Weekly

"Creepy, exhilarating science fiction... A series of dark reveals that leave both the characters and the audience reeling. Readers won't want to put this one down." —Publisher's Weekly

"A tight, thrilling and funny ride...Gailey's writing is controlled, visceral and especially dazzling when Martine and Evelyn are in a room together. Fans of "Big Little Lies," The Island, Frankenstein and "Killing Eve" will love this gripping, skillfully told firecracker of a book." —Bookpage

" It's gross, and totally engrossing." —Wired

"For fans of HBO's Westworld; Netflix's Black Mirror; Taylor Swift's song 'No Body, No Crime'...What happens when An Affair to Remember and genetic cloning collide? A mind-bending psychological page-turner that examines toxic relationships, loneliness, and female ambition." —Marie Claire

"Gailey will have readers pondering what truly makes someone human." —Shelf Awareness for Readers

"If you loved Big Little Lies, but wished it was more like Westworld, then best-selling author Sarah Gailey's latest novel might be the perfect 2021 read for you." —BookRiot

"This unique and inventive tale is a genre-bending, roller coaster of unsettling fun." —Newsweek

"The Echo Wife puts a fresh sci-fi twist to a well-worn dramatic story about the cheating husband."—Cosmopolitan.com

"The Echo Wife is a non-stop thrill ride, perfect for readers of Big Little Lies and enthusiasts of Killing Eve and Westworld­."—The Nerd Daily

"Adark comedy, romance and sci-fi story rolled into one unputdownable novel."—Tech Radar

"Leave it to Sarah Gailey to turn the simple pitch of "clone of wife is having an affair with real wife's husband" into an incredible dissertation on gender, relationships, and selfhood...The Echo Wife is a tightly crafted, cerebral thriller with an intelligent narrator."—Tor.com

"Taking a simple concept, Gailey manages to masterfully turn it into an emotionally charged story full of considerations about one's role in life and the meaning of life more generally. The Echo Wife took me apart and broke my heart several times over and I devoured it like the masochist I am. I couldn't put the story down...a brilliant book."—Grimdark

"A non-stop thrill ride." –The Mary Sue

"The Echo Wife" is a unique, thrilling adventure, with truly unexpected twists and turns the whole way through...Gailey has created an enjoyable, edge-of-your-seat tale that will keep readers on their toes."—Associated Press

"Cooked right, science fiction and murder mysteries taste great together, and Gailey layers those ingredients together with a chef's kiss." —NPR

"LOVE, death and human cloning have never been brought together so well as they are in The Echo Wife, a fast-paced thriller that is as funny as it is thought-provoking." —New Scientist

"A rip-roaring, razor-sharp powerhouse of a book." —Bookreporter.com

Advance bookseller praise for The Echo Wife

"Fans of The Wife Between Us and Black Mirror will love this brutally human story of betrayal and revenge!" —Jessica Dushame, White Birch Books

"Sarah Gailey continues to astound and unsettle with THE ECHO WIFE…[it] leaves you missing the bus stop, reading at dinner, and squirming in your seat uncomfortably…and I
"A great debut . . . a unique spin on magical noir." —The Verge loved every moment of the experience." —Mariana N Calderon, Second Star to the Right Books

"The Echo Wife is a speculative thriller reminiscent of Ex Machina that'll have dark thoughts sliding under your skin and remaining there indefinitely." —Leah Atlee, Bright Side Bookshop


Praise for Magic for Liars

"An eerie and highly entertaining magical mystery." —Buzzfeed, Summer Books to Get Excited About

"A brilliant whodunnit in the vein of The Magicians." —BoingBoing

"It's Harry Potter meets Megan Abbott." —The AV Club

"A great debut...a unique spin on magical noir." —The Verge

"A private investigator takes a job investigating a murder at a magic school in California. Our PI never developed magic ability, much to her dismay—so we enter that world with the same longing for specialness that she does. Whether it's the 'murder investigation' part of that summary that grabs you or the 'magic school' part, this winsome, clever book will definitely engage you."--Veronica Roth, #1 New York Times best-selling author of the Divergent series

"Full of suspense and magic, with a protagonist as sharp and tart as a lemon, Sarah Gailey has written an unmissable debut."—Adrienne Celt, author of Invitation to a Bonfire
"I loved Sarah Gailey's Magic for Liars…it broke my heart, and I longed for the world of this story anyway."—Kat Howard, author of An Unkindness of Magicians

"Weird and wonderful…Sarah Gailey is a writer to watch." —Chuck Wendig, New York Times bestselling author of Star Wars: Aftermath