One Question a Day for Kids: A Three-Year Journal: Create Your Own Personal Time Capsule (Hardcover)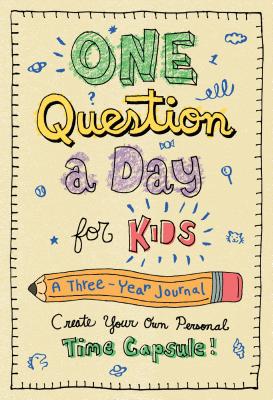 $16.99

Usually Ships in 1-5 Days
Description
---
A fun and clever way for kids to keep track and look back.

One Question a Day for Kids is a guided journal with fun and thoughtful questions for each day of the year. By answering the same question every day for three years, children will be able to see how their thoughts, creativity, and even handwriting changes from year to year. Prompts are short and sweet, allowing kids to answer as concisely (or elaborately) as they want.

Questions include:

If you could have a super power, what would it be?

What's the grossest thing you've ever seen?

Which of your friends do you trust the most?

What's one thing your parents don't know about you?

Rate your teachers from favorite to least favorite.
About the Author
---
Aimee Chase is a writer and editor with a perfectly imperfect life. She lives in the Boston area with her husband and two spontaneous little boys who remind her to live in the moment. Aimee's books include One Question a Day: A Five Year Journal, and Present, Not Perfect: A Journal for Slowing Down, Letting Go, and Loving Who You Are.