Twentieth Century Town Halls: Architecture of Democracy (Hardcover)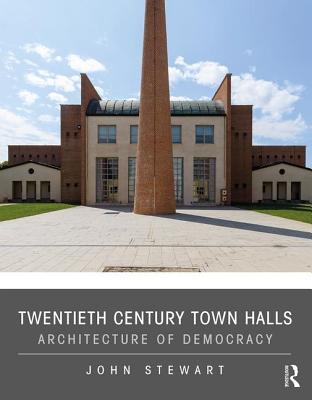 $132.93
Email or call for price.
Description
---
This is the first book to examine the development of the town hall during the twentieth century and the way in which these civic buildings have responded to the dramatic political, social and architectural changes which took place during the period. Following an overview of the history of the town hall as a building type, it examines the key themes, variations and lessons which emerged during the twentieth century. This is followed by 20 case studies from around the world which include plans, sections and full-colour illustrations. Each of the case studies examines the town hall's procurement, the selection of its architect and the building design, and critically analyses its success and contribution to the type's development. The case studies include:
Copenhagen Town Hall, Denmark, Martin Nyrop Stockholm City Hall, Sweden, Ragnar Ostberg Hilversum Town Hall, the Netherlands, Willem M. Dudok Walthamstow Town Hall, Britain, Philip Dalton Hepworth Oslo Town Hall, Norway, Arnstein Arneberg and Magnus Poulsson Casa del Fascio, Como, Italy, Guiseppe Terragni Aarhus Town Hall, Denmark, Arne Jacobsen with Eric Moller Saynatsalo Town Hall, Finland, Alvar Aalto Kurashiki City Hall, Japan, Kenzo Tange Toronto City Hall, Canada, Viljo Revell Boston City Hall, USA, Kallmann, McKinnell and Knowles Dallas City Hall, USA, IM Pei Mississauga City Hall, Canada, Ed Jones and Michael Kirkland Borgoricco Town Hall, Italy, Aldo Rossi Reykjavik City Hall, Iceland, Studio Granda Valdelaguna Town Hall, Spain, Victor Lopez Cotelo and Carlos Puente Fernandez The Hague City Hall, the Netherlands, Richard Meier Iragna Town Hall, Switzerland, Raffaele Cavadini Murcia City Hall, Spain, Jose Rafael Moneo London City Hall, UK, Norman Foster
About the Author
---
John Stewart is an architect and writer who until recently led one of the UK's largest multi-disciplinary architectural practices. In his architecture he specialised in major public building projects such as schools, libraries, law courts and theatres. His own designs have won numerous awards and been widely published and he was twice selected as one of the best 40 architects under forty in the UK. He has lectured, taught and examined at numerous Schools of Architecture in the UK.