Ring of Fire (A Pike Logan Thriller #11) (Paperback)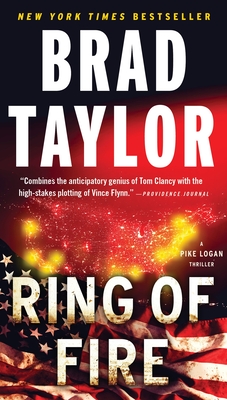 $9.99
Email or call for price.
Other Books in Series
This is book number 11 in the A Pike Logan Thriller series.
Description
---
Former Delta Force officer and New York Times bestselling author Brad Taylor delivers a relentlessly fast-paced, gripping thriller featuring Taskforce operators Pike Logan and Jennifer Cahill as they come face-to-face with an insidious threat to strike terror into the heart of America.  

Fifteen years ago, in order to win a contract in the Kingdom, a desperate defense contractor used a shell company to provide a bribe to a wealthy Saudi businessman. Now a powerful player in the defense industry, he panics when the Panama Papers burst onto the public scene. Providing insight into the illicit deeds of offshore financing, they could prove his undoing. 

To prevent the exposure of his illegal activities, he sets in motion a plan to interdict the next leak, but he is not the only one worried about spilled secrets. The data theft has left the Taskforce potentially vulnerable, leaving a trail that could compromise the unit. Back in the good graces of the new president, Pike Logan and Jennifer Cahill are ordered to interdict the next leak as well, in order to control the damage. 

Unbeknownst to either group, the Saudi has been using the shell company to fund terrorists all over the world, and he has a spectacular attack planned, coinciding with the fifteenth anniversary of 9/11. The information Pike and Jennifer uncover will put them on the trail of the imminent threat, but it's one that they might be unable to stop. 

Called Ring of Fire, it will cause unimaginable destruction across the United States, and the ensuing chaos and terror will distract the Taskforce from a truth no one sees: Ring of Fire was only the beginning, and the danger is far from over.

 
About the Author
---
Brad Taylor is the author of the New York Times bestselling Pike Logan series. He served for more than twenty years in the U.S. Army, including eight years in 1st Special Forces Operational Detachment–Delta, commonly known as Delta Force. He retired as a Special Forces lieutenant colonel and now lives in Charleston, South Carolina.
Praise For…
---
Praise for Ring of Fire

"Brad Taylor continues to tackle one of the pressing fears of today—terrorism. The plots and the characters are fictional but Taylor's meticulous research brings that sense of chilling believability to his Pike Logan thrillers...Taylor delivers a high-energy thriller in Ring of Fire."—Oline Cogdill, South Florida Sun-Sentinel

"With Taylor's latest Taskforce novel featuring Pike Logan and Jennifer Cahill, he has further established himself as an elite military-thriller author. At this point, nobody is better at tackling hardcore action mixed with timely themes...Fine work from a thriller writer at the very top of his game."—Booklist (starred review) 

"Bestseller Taylor's 11th Pike Logan thriller serves as a chilling primer for an all-too-feasible terrorist strike...the ever-escalating chaos will leave fans breathless for the next installment."—Publishers Weekly

"Those looking only for action-filled suspense won't be disappointed, but Taylor does expand his story with brief and intriguing discourses on the role of women in combat and whether violence is an intrinsic element of the Islamic faith. A page-turner that's enriched by the author's obvious familiarity with the intricacies of combating 21st-century terrorism."—Kirkus Reviews

"Brad Taylor's aptly titled Ring of Fire continues his ambitious evolution from master of the military thriller to more of an American John le Carré, with just enough Robert Ludlum sprinkled in for good measure...Ring of Fire dispenses once and for all with the notion that action and more thoughtful political thrillers are mutually exclusive, as Taylor weaves a complex, twist-laden tale that's as wondrously executed as it is beautifully conceived. Another surefire winner from a writer at the absolute top of his game."—Providence Journal

More Praise for Brad Taylor and the Pike Logan series

"Pike ranks right up there with Jason Bourne, Jack Reacher, and Jack Bauer."—John Lescroart, New York Times bestselling author

"Fresh plot, great action and Taylor clearly knows what he is writing about...When it comes to tactics and hardware he is spot on."—Vince Flynn, #1 New York Times bestselling author

"Logan is a tough, appealing hero you're sure to root for."—Joseph Finder, New York Times bestselling author

"[Pike Logan is a] feisty, devil-may-care hero."—Steve Berry, New York Times bestselling author

"Taylor has become one of the very best writers of thrillers with a military and special-ops background...Comparisons to Vince Flynn and Brad Thor are expected and not inaccurate, but Taylor is now in a class by himself."—Booklist

"Slick, exciting action and credible complexity are the hallmarks of Taylor's high-caliber thrillers."—Library Journal

"Few authors write about espionage, terrorism, and clandestine hit squads as well as Taylor does."—Houston Press

"Action packed...Those who prize authentic military action will be rewarded."—Publishers Weekly