Sandor Katz and the Tiny Wild (Food Heroes #4) (Hardcover)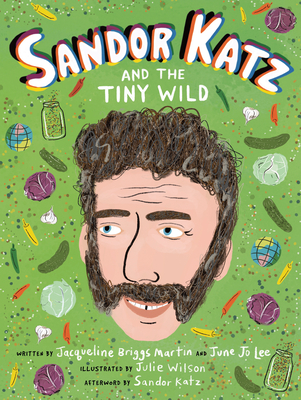 $19.95

Usually Ships in 1-5 Days
Other Books in Series
This is book number 4 in the Food Heroes series.
Description
---
PICTURE BOOK BIOGRAPHY OF THE "FERMENTATION REVIVALIST," FROM THE AWARD-WINNING AUTHORS OF CHEF ROY CHOI AND THE STREET FOOD REMIX.
- "Best Picture Book Biographies, 2022" --Kirkus Reviews- "Best Children's Books of the Year 2023"-- Bank Street College of Education, Children's Book Committee
Sandor Katz's love of fermented food started with kosher dill pickles he ate as a New York City kid. As an adult, he left the busy city and moved to a queer community in the mountains of Tennessee. There, his friends grew their own food, cooked and ate together, and sometimes danced in drag when the work was done. One day, the cabbages were all, ALL ready to be harvested. What to do? Sandor tried to make sauerkraut. Delicious He kept experimenting, finding old recipes, combining old ideas to make something new. Then, he shared what he learned in bestselling books, in classes, and with a growing group of friends around the world.
Written by award-winning authors Jacqueline Briggs Martin and June Jo Lee, Sandor Katz and the Tiny Wild folds timely themes of ecology, community-building, and resilience into a lively biography that closes with a hands-on recipe: just chop, salt, pack, and wait for tiny, wild, invisible microbes to turn raw ingredients into zingy, zangy foods that we love. Sandor believes that making fermented foods connects all, ALL of us on planet Earth--people, plants, and The Tiny Wild. Won't you join Sandor's crew and share your own dash of dazzle with the world?

About the Author
---
Jacqueline Brigs Martin is the author of many award-winning children's books, including SNOWFLAKE BENTLEY, winner of the Caldecott Medal. SANDOR KATZ is part of her award-winning "Food Heroes" series, published by Readers to Eaters, includes Farmer Will Allen and the Growing Table, Alice Waters and the Trip to Delicious, and Chef Roy Choi and the Street Food Remix, which she co-authored with June Jo Lee. She lives in Mount Vernon, Iowa. jacquelinebirggsmartin.com June Jo Lee is a food ethnographer, studying how America eats. She's a national speaker on food trends and consults with organizations such as Google Foods. She co-founded READERS to EATERS, a publisher promoting food literacy through stories about our diverse food cultures. She also co-authored, with Jacqueline Briggs Martin, Chef Roy Choi and the Street Food Remix, a 2018 Sibert Award Honor Book for Most Distinguished Information Book. She lives in San Francisco. food ethnographer.com Julie Wilson has created billboards in Times Square in New York and the Sunset Strip in Los Angeles; murals at Coney Island; graphics for Central Park SummerStage, restaurants, a church, and a toy store; and many editorial illustrations for magazines and newspapers. Her artwork has been heavily influenced by TV cartoons and Pop Art. This is her first picture book. She lives in Santa Monica, California, where she works in a garage with the big door open, the sun shining in, and music or old movies playing in the background. juliewilsonillustration.com Sandor Katz is the bestselling author of many books including The Art of Fermentation, which won a James Beard Foundation Book Award in 2013. Through his writing and workshops, Sandor shares his love for the transformative power of microbes to make delicious fermented foods. He lives in Middle Tennessee.