X Doesn't Mark the Spot: Tales of Pirate Gold, Buried Treasure, and Lost Riches (Paperback)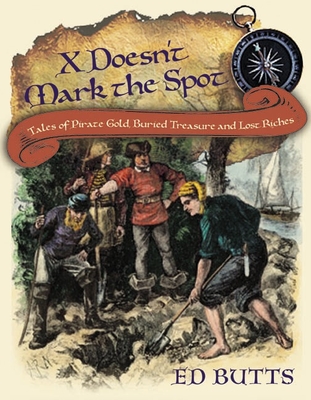 $14.89
Email or call for price.
Description
---
Anyone who has fantasized about becoming fabulously rich overnight can relate to this collection of treasure hunt stories — tales of buried pirate gold, of hidden outlaw loot, of wrecked ships loaded with valuable coins and jewels, and of "lost" gold mines.

Some of the stories are tall tales based on little evidence. Many a dreamer wasted money, energy, and perhaps even a lifetime chasing after a pot of gold that did not exist. But some hidden treasures are real, even if the stories about them are exaggerated.

Many of the stories came down to us from an age in which pirates were said to be in league with the devil and supposedly used black magic to protect their hidden plunder.

Ed Butts's tales of adventure, of shattered hopes, and, occasionally, of dreams come true expose the greed and the challenges that motivated the searchers. A few of them got lucky. But X didn't mark the spot for most of these adventurers — and that means undiscovered treasures still lie ready to ignite the imagination.
About the Author
---
Ed Butts is a writer and editor with a special interest in Canadian history. He lived for several years in the Dominican Republic, where he taught English and social studies and wrote regularly for local magazines. He has published several books of fiction and nonfiction and has written for numerous publications in Canada and the United States. Ed Butts lives in Guelph, Ontario.
Praise For…
---
Praise for SOS! Stories of Survival:
". . . compulsive reading for young teens. . . . The historical detail is fascinating, and a seamless mix of fact and creative license brings the stories to life." — Quill & Quire

"[Ed Butts'] fast-paced journalistic style, compelling portraits of real-life heroes, rich historic detail and archival photos keep readers engrossed." — Today's Parent

Praise for She Dared: True stories of Heroines, Scoundrels, and Renegades:
"Butts's writing is crisp and moves quickly through each story as it follows the interesting adventures of the subjects. " — CM Magazine