Sew Sister: The Untold Story of Jean Wright and NASA's Seamstresses (Hardcover)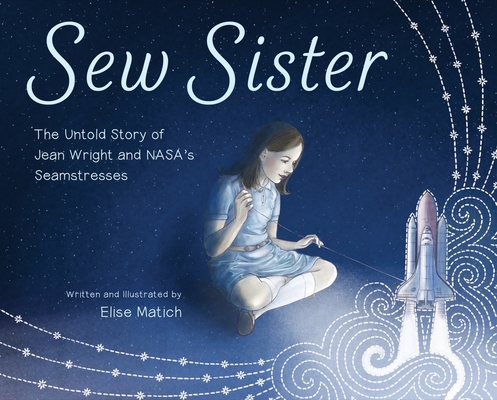 $18.95

Usually Ships in 1-5 Days
Description
---
The true story of a girl whose mastery of a domestic art propelled her to the elite NASA sisterhood who shielded the space shuttle astronauts from heat and radiation.
Did you know that the white material on the outside of space shuttles was not metal or glass but actually fabric? Specialized quilts, two inches thick, covered the space shuttles and protected the astronauts from deadly heat and radiation. Jean Wright was one of the eighteen "Sew Sisters" who crafted these thermal blankets, mostly by hand, with incredible precision and skill. Capturing both the grandeur of space flight and the intimacy of a needle and thread,
Sew Sister
tells the story of Jean's childhood passion for space and sewing, and her fascinating work for NASA's shuttle program.Elise Matich's elegant prose and stunning, detailed artwork harmonize with the STEAM concept at the heart of this story: the role of skilled hands and artistry in STEM fields like aeronautics.
Sew Sister
offers a heroine in the context of space exploration who doesn't go to college or excel at math; instead, it is her excellence in a trade—one traditionally practiced by women—that allows her to achieve her dream. NASA's space shuttle fleet was retired in 2011.
About the Author
---
Elise Matich is an educator, artist, writer, and mother. SEW SISTER is the first in a series of picture book biographies she is working on that explore the lives of figures who have been overlooked or overshadowed in their fields.