Retablos: Stories from a Life Lived Along the Border (Paperback)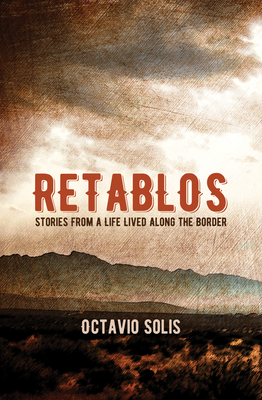 $15.95
Email or call for price.
Description
---
Recommended by the New York Times and NBC News, and called one of the Best Books of the Year by Buzzfeed
The New York Times directs readers to Retablos if you want to know "what's life really like on the Mexican border." "Solis grew up just a mile from the Rio Grande in El Paso, Texas, and he tells stories about his childhood and coming of age, including his parents migration to the United States from Mexico, his first encounter with racism and finding a Mexican migrant girl hiding in the cotton fields."--Concepci n de Le n, New York Times
Seminal moments, rites of passage, crystalline vignettes--a memoir about growing up brown at the U.S./Mexico border.
More praise for Octavio Solis's Retablos:
"This is American and Mexican literature a stone's throw from the always hustling El Paso border."--Gary Soto, author of The Elements of San Joaquin
"We inhabit a border world rich in characters, lush with details, playful and poignant, a border that refutes the stereotypes and divisions smaller minds create. Solis reminds us that sometimes the most profound truths are best told with crafted fictions--and he is a master at it."--Julia Alvarez, author of How the Garc a Girls Lost Their Accents
" ... it's hard not to consider the border itself as a representation of a 'terrible rift, ' a split between homes, communities, identities, generations. While reading this generous and eye-opening account, it's easy to see how, for the country at large, the rift has only deepened."--Arianna Rebolini, Buzzfeed Best Books of Fall 2018
"Landing somewhere between Neil Gaiman and Juan Rulfo, Solis secularizes the mythological by turning men and women into saintly figures--like their criada maid], Consuelo, and a white priest who shows his family empathy--and monsters: border agents who take his friends away and school bullies."--Michael Adam Carroll, The Millions
"There has never been a border book like Retablos, a collection of smoldering epiphanies suffering the baptizing waters of recall. . . ."--Roberto Ontiveros, San Antonio Current
"The book is rendered in tight, stand-alone recollections rich with poetry and honesty. . . . If retablos are offerings, then Solis' book is a gift of memory, not always pleasant, but always true."--Beatriz Terrazas, Dallas Morning News
"The experience of reading his tightly contained memories in succession is a bit like drawing old coins up from a wishing well. Filtered through veils of distance and time, these scenes and reflections are wonderful and weird flashes of childhood, adolescence and early adulthood in the life of this particular Mexican American boy."-- Sophie Haigney, San Francisco Chronicle
"Octavio Solis' Retablos recounts a 'beautiful, messy' youth on the border. Though its title evokes Mexican folk art, Retablos is closer in effect to that of French pointillism. Its small dabs of vivid color produce a brilliant cumulative effect."--Steven G. Kellman, The Texas Observer
"In this debut memoir, playwright Solis delivers top-notch vignettes of his youth with riveting imagery and empathy, recounting--and embellishing, he says--memories of growing up brown in El Paso, Tex. . . . These brilliantly told stories of missteps and redemption are a treat."--Publishers Weekly
". . .what struck me most about each chapter was Solis's ability to plant a specific image in your mind. With every retablo, you can see in ferocious detail exactly what the author wants you to see, like a special kind of telepathy. I found myself wanting to paint them."--Caitlyn Reynolds, The Los Angeles Review of Books
"In all, a beautiful, evocative, and timely expression of border culture for every collection."--Sara Martinez, Booklist
"In this coming-of-age memoir, a playwright illuminates the culture of the El Paso border as he perceived it when he was young. . . . An intriguing work that transcends category, drawing from facts but reading like fiction."--Kirkus Reviews
About the Author
---
Author of more than twenty plays, Octavio Solis is considered one of the most prominent Latino playwrights in America. His works have been produced in theatres across the country, including the Center Group Theatre and the Mark Taper Forum in Los Angeles, South Coast Repertory, the Magic Theatre and the California Shakespeare Theatre in the San Francisco Bay Area, Yale Repertory Theatre, Oregon Shakespeare Festival, Dallas Theater Center, and other venues nationwide. Among his many awards and grants, Solis has received an NEA Playwriting Fellowship, the Kennedy Center's Roger L. Stevens award, the TCG/NEA Theatre Artists in Residence Grant, the National Latino Playwriting Award, the PEN Center USA Award for Drama, and the William Inge Center for the Arts 2019 Distinguished Achievement in the American Theater Award.His fiction and short plays have appeared in the Louisville Review, Zyzzyva, Eleven Eleven, Catamaran, Chicago Quarterly Review, Arroyo Literary Review and Huizache. This is his first book.He is based near Ashland, Oregon.For more information: www.octaviosolis.net