The House That She Built (Hardcover)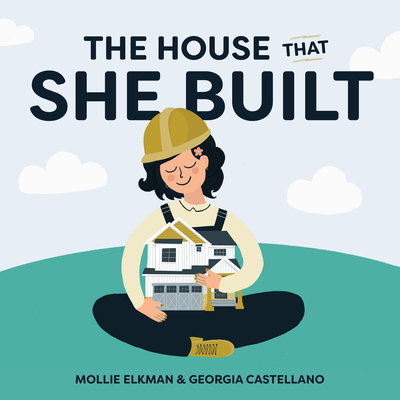 $17.95
Email or call for price.
Description
---
Did you ever wonder how a home is built? Who thinks of the house first? Who can use the big cement mixers in their job?

Follow a house – a special house – as it goes from idea to becoming someone's very own home.

The House that She Built educates young readers about all the people and skills that go into building a home. One by one, we learn about:
the architect
framer
roofer
plumber
interior designer
electrician… and many more workers at a construction site.

As they contribute their individual skills, each one is needed to complete the collective project — a new home.

With illustrations that connect and empower and words that build upon each other with each page, this book will leave all kids (she, he, and they) excited about their own skills and interested in learning new ones. In addition to showing kids careers they can dream about and explore, this story bridges the gap between the classic books Mike Mulligan and His Steam Shovel and Bob the Builder and an inclusive world where everyone can follow their dreams and use their skills. The House That She Built shows how STEM and STEAM jobs that use science, technology, math, and the arts all work together for a common goal.

Based on a true story! The House that She Built was inspired by the team of real women who came together from around the country to build a one-of-a-kind home. The book is supported by industry leaders, 84 Lumber and Andersen Windows & Doors.Proceeds from the book will support workforce development initiatives.

REVIEWERS AGREE that kids should read The House That She Built!

"While my daughters loved to hear about The House That Jack Built, I wish we could also have read The House That She Built, a story that helps broaden horizons for girls and boys." —Denise Dersin, Executive Editor, Professional Builder Magazine

"The books we read as children can shape the people we grow up to be. The House That She Built is empowering, encouraging, informative, and inspiring. Every child needs a book like this on their shelf that says, "You can do anything you set your mind to." —Amy Riley, Preschool Teacher

"A one-of-a-kind, incredible book for educating children and parents about the skilled trades. Sharing stories of successful women and careers in construction is important for building our workforce and for making the world a better place. As a woman-owned company, it is especially rewarding for 84 Lumber to participate in this project." —Maggie Hardy Knox, President and Owner of 84 Lumber

"We are delighted to share this story of women in construction to inspire the next generation of young women to pursue rewarding careers in the trades.Throughout our history, women have played a pivotal role in shaping our company and the building industry." —Annie Zipfel, Senior Vice President and Chief Marketing Officer atAndersen Corporation

"This book is the key to help children explore the world of construction and all it has to offer. They can identify with the relatable characters and all the things that they can do in the construction industry. It shows that women can do anything that they put their minds to! A much-needed resource." —Charner Rodgers, Ph.D., Associate Professor, Tuskegee University, Robert R Taylor School of Architecture and Construction Science
About the Author
---
Mollie Elkman spent her childhood surrounded by home builders, yet it wasn't until she joined the industry herself that she recognized how often she was the only woman in the room. She quickly discovered that just as she was brought into a family business by her father, so were the majority of other women she was meeting throughout all areas of home building.

Over her career, Mollie formed friendships with people who proved that not only are jobs genderless, but everyone benefits from a workforce that embraces diversity and inclusion.

One of those friends shared an exciting and ambitious project they were involved in...an all-woman-built home. As Mollie learned about each of the women involved in the project, she could feel herself becoming more and more inspired by their stories. She hopes that young readers everywhere will feel inspired too.

Mollie Elkman is the President and Owner of Group Two, a leading new home marketing partner for builders. You can find Mollie Elkman at grouptwo.com or on Linked In @mollieelkman.
Praise For…
---
"While my daughters loved to hear about The House That Jack Built, I wish we could also have read The House That She Built, a story that helps broaden horizons for girls and boys." —Denise Dersin, Executive Editor, Professional Builder Magazine

"The books we read as children can shape the people we grow up to be. The House That She Built is empowering, encouraging, informative, and inspiring. Every child needs a book like this on their shelf that says, "You can do anything you set your mind to." —Amy Riley, Preschool Teacher

"A one-of-a-kind, incredible book for educating children and parents about the skilled trades. Sharing stories of successful women and careers in construction is important for building our workforce and for making the world a better place. As a woman-owned company, it is especially rewarding for 84 Lumber to participate in this project." Maggie Hardy Knox, President and Owner of 84 Lumber

"This book is the key to help children explore the world of construction and all it has to offer. They can identify with the relatable characters and all the things that they can do in the construction industry. It shows that women can do anything that they put their minds to! A much-needed resource." Charner Rodgers, Ph.D., Associate Professor, Tuskegee University, Robert R Taylor School of Architecture and Construction Science