God's Promises for Every Day (Paperback)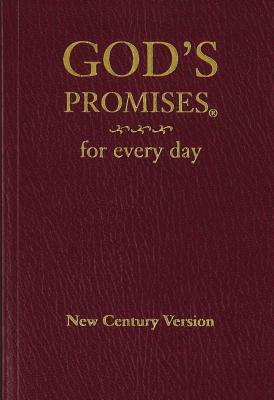 $4.99

Usually Ships in 1-5 Days
Description
---
God's Promises(R) for Every Day by Jack Countryman quickly guides you to helpful verses for your everyday needs, whether you're seeking God's promises and answers for your own life or for a friend.
No matter what season of life we are in, we need reassurance of God's promises to us--reminders that God is with us, ready to meet our needs with His love, provision, and direction.
God's Promises for Every Day provides:
A collection of hundreds of verses
Short readings and prayers which make it a perfect companion for time alone with God
Verses to address every season of life and answer readers' most pressing questions
Scriptures to comfort in times of worry, offer direction in times of crisis, and reassure you of God's love in times of discouragement
Whether you're considering this for a gift or self-purchase, you should know God's Promises for Every Day is:
Perfect for men and women of all ages
A quick and easy-to-use Scripture reference
With 15 million copies of God's Promises(R) books sold, Jack Countryman is a perfect guide for when you crave a word of encouragement or you need biblical direction. When you live with God's promises in your life, you will be blessed beyond your wildest imagination.