The Queen of Tuesday: A Lucille Ball Story (Paperback)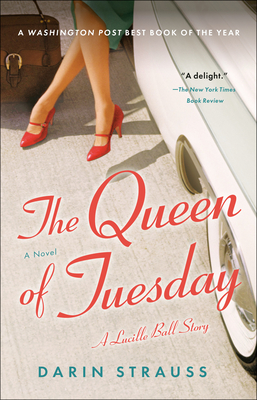 $17.00
Email or call for price.
Description
---
Lucille Ball, Hollywood's first true media mogul, stars in this "bold" (The Boston Globe), "boisterous novel" (The New Yorker) with a thrilling love story at its heart—from the award-winning, bestselling author of Chang & Eng and Half a Life

A WASHINGTON POST BEST BOOK OF THE YEAR • "A gorgeous, Technicolor take on America in the middle of the twentieth century."—Colson Whitehead, Pulitzer Prize–winning author of The Nickel Boys

This indelible romance begins with a daring conceit—that the author's grandfather may have had an affair with Lucille Ball. Strauss offers a fresh view of a celebrity America loved more than any other.

Lucille Ball—the most powerful woman in the history of Hollywood—was part of America's first high-profile interracial marriage. She owned more movie sets than did any movie studio. She more or less single-handedly created the modern TV business. And yet Lucille's off-camera life was in disarray. While acting out a happy marriage for millions, she suffered in private. Her partner couldn't stay faithful. She struggled to balance her fame with the demands of being a mother, a creative genius, an entrepreneur, and, most of all, a symbol.

The Queen of Tuesday—Strauss's follow-up to Half a Life, winner of the National Book Critics Circle Award—mixes fact and fiction, memoir and novel, to imagine the provocative story of a woman we thought we knew.
About the Author
---
Darin Strauss is the author of the bestselling novels Chang and Eng, The Real McCoy, and More Than It Hurts You; the memoir Half a Life, winner of the National Book Critics Circle Award; and a bestselling comic-book series, Olivia Twist. These have been New York Times Notable Books and Newsweek, Los Angeles Times, San Francisco Chronicle, Chicago Tribune, and NPR best books of the year, among other honors. The recipient of a Guggenheim Fellowship, an American Library Association award, and numerous additional prizes, Strauss has been translated into fourteen languages and published in nineteen countries. He is the clinical professor of fiction in the graduate writing program at New York University.
Praise For…
---
"A delight."—The New York Times Book Review
 
"The best book yet by one of our best writers."—The Millions
 
"'Half memoir and half make-believe,' this boisterous novel relates an imagined affair between Lucille Ball . . . and the author's grandfather. . . . A touching account of the sacrifices that Lucille makes to preserve her 'most genuine' relationship: the one 'between her and the public.'"—The New Yorker
 
"An impossibly daring premise for a novel—an act of almost Lucy-level audaciousness! . . . exceptionally well told . . . [Darin] Strauss conjures up those heady days . . . with such vibrancy it's impossible not to hope that everything might work out after all. . . . Brilliant."—Ron Charles, The Washington Post
 
"As in Strauss's other books, the movement here is perpetual and multidirectional; it never stops. . . . The author asserts himself, here as elsewhere in his books, through his rigorously playful approach to language. . . . [The Queen of Tuesday] reads like a dream painted in bold and fearsome strokes."—The Boston Globe
 
"Timeless . . . Strauss' ingenious and bittersweet fourth novel, The Queen of Tuesday, seems genuinely to lament a love affair that never happened. It'd be the perfect '50s screen romance! But Strauss knows what time we're living in."—Los Angeles Times
 
"A rollicking read."—Newsday

"Anything Darin Strauss writes is magic. I have been his fan since the beginning of time, and I will be his fan until the sun explodes."—Elizabeth Gilbert, author of Eat, Pray, Love
 
"A great read!"—Jenny Offill, author of Weather
 
"The Queen of Tuesday is a beautiful cinematic story. In a gorgeous imagined history of a not long ago world, the novelist Strauss allows us to remember our deeply held wishes to invent our lives and memories for our privately held loves. Like The Great Gatsby, Strauss reminds us here that ghosts unseen who remain deeply felt renew our heart's most passionate yearnings and ambitions."—Min Jin Lee, author of Pachinko
 
"A home run!"—Gary Shteyngart, author of Lake Success
 
"Darin Strauss has resurrected a lost world—the grand movie that never aired, the truncated epic of what might have been between Lucille Ball and his grandfather. Part elegy, part mystery, part speculative memoir, here is a love story unlike any you've read before—spiked with Hollywood scandal and the secrets families keep across generations. Strauss is a beautiful and funny and piercing writer, and this book is a gift."—Karen Russell, author of Orange World and Other Stories
 
"Wonderful!"—Andrew Sean Greer, author of Less