Bakkhai (Hardcover)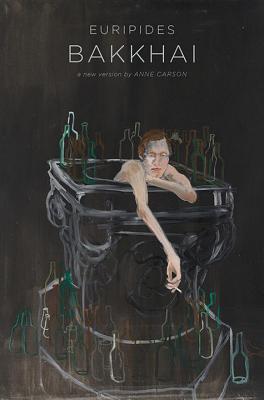 $14.95
Email or call for price.
Description
---
A stunning, new translation by the poet and classicist Anne Carson, first performed in 2015 at the Almeida Theatre in London
Anne Carson writes, "Euripides was a playwright of the fifth century BC who reinvented Greek tragedy, setting it on a path that leads straight to reality TV. His plays broke all the rules, upended convention and outraged conservative critics.
The Bakkhai
is his most subversive play, telling the story of a man who cannot admit he would rather live in the skin of a woman, and a god who seems to combine all sexualities into a single ruinous demand for adoration. Dionysos is the god of intoxication. Once you fall under his influence, there is no telling where you will end up."
About the Author
---
Anne Carson was born in Canada and teaches ancient Greek for a living.
Praise For…
---
As a translator, Carson is well aware that her work must issue from the ever-changing afterlife of the original, an approach that requires cultural and textual fluidity. In short, Carson, like Euripedes, is unafraid to take risks.
— Bomb

Her translation of this Greek tragedy, first performed in 405 BC, reawakens the original's sublimity and gives us the opportunity to be absorbed and shocked anew by the story of Dionysus.
— Lit Hub

In traversing the eternal pull between what humans call reason and what that reason deems primal, Carson's trademark simplicity allows this work to feel simultaneously ancient and contemporary.
— Publisher's Weekly

For two decades Carson's work has moved—phrase by phrase, line by line, project by improbable project—in directions that a human brain would never naturally move. The approach has won her accolades and an electric reputation in the literary world.
— Sam Anderson - The New York Times Magazine

Anne Carson is a daring, learned, unsettling writer.
— Susan Sontag

The poetry in her translation is light, swift, and beautiful.
— The New Yorker

Anne Carson is, for me, the most exciting poet writing in English today.
— Michael Ondaatje