Plagued by Fire: The Dreams and Furies of Frank Lloyd Wright (Paperback)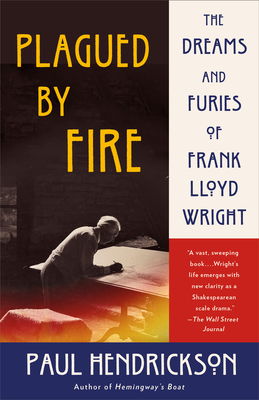 Description
---
Frank Lloyd Wright has long been known as a rank egotist who held in contempt almost everything aside from his own genius. Harder to detect, but no less real, is a Wright who fully understood, and suffered from, the choices he made.

This is the Wright whom Paul Hendrickson reveals in this masterful biography: the Wright who was haunted by his father, about whom he told the greatest lie of his life. And this, we see, is the Wright of many other neglected aspects of his story: his close, and perhaps romantic, relationship with friend and early mentor Cecil Corwin; the eerie, unmistakable role of fires in his life; the connection between the 1921 Black Wall Street massacre in Tulsa, Oklahoma, and the murder of his mistress, her two children, and four others at his beloved Wisconsin home.

In showing us Wright's facades along with their cracks, Hendrickson helps us form a fresh, deep, and more human understanding of the man. With prodigious research, unique vision, and his ability to make sense of a life in ways at once unexpected, poetic, and undeniably brilliant, he has given us the defining book on Wright.
About the Author
---
Paul Hendrickson is the author of the New York Times bestseller and National Book Critics Circle Award finalist, Hemingway's Boat, and Sons of Mississippi, which won the 2003 National Book Critics Circle Award. Since 1998 he has been on the faculty of the Creative Writing Program at the University of Pennsylvania. For two decades before that, he was a staff writer at The Washington Post. Among his other books are Looking for the Light (1992 finalist for the NBCC award) and The Living and the Dead (1996 finalist for the National Book Award). He has been the recipient of writing fellowships from the Guggenheim Foundation, the National Endowment for the Arts, the Lyndhurst Foundation, and the Alicia Patterson Foundation. He is the father of two grown sons, both of whom work in media, and he lives with his wife, Cecilia, a retired nurse, in Washington, D.C., and outside Philadelphia.
Praise For…
---
"A vast, sweeping book. . . . Wright's life emerges with new clarity as a Shakespearean scale drama." —The Wall Street Journal

"Important, revelatory. . . . Hendrickson employs tremendously rigorous research to interrogate the myths that hang around his larger-than-life subject." —The Washington Post

"Hendrickson's style is Faulknerian in its sweep, lyricism and detail." —The Seattle Times

"A whole new way of seeing an American icon." —The National Book Review

"Hendrickson is one of our great stylists." —The Boston Globe

"A wonderful addition to our understanding of Wright." —St. Louis Magazine

"The book's most moving passages come from fresh insights from the architect's archives. . . . Plagued by Fire aims not to examine the work of an architect but rather to render the architect with human character." —Architectural Digest

"The contradictory Wright who emerges, both hateful and human, is probably the truest portrait of the man we have yet." —Evening Standard

 "Compelling. . . . Hendrickson gives us a sense of how the single-mindedness, drive, and sensibility that informed and enabled Wright's work also affected his life." —Architect Magazine

"Dazzling. . . .  Ingenious. . . . Plagued by Fire has . . . raw emotional power." —The American Scholar

"Beautifully written. . . . Absolutely riveting." —Literary Hub

"Attempts to shed new light on the architect. . . . [Hendrickson's] book is not a straight biography. . . . Instead, he looks at the cracks in the facade (the sometimes insufferable Wright persona), reexamining the history, questioning it." —Common Edge

"As [Hendrickson] travels the arc of Wright's life, his investigation into its deepest mysteries achieves a powerful momentum. . . . Hendrickson's inspired storytelling is worthy of its subject." —Booklist (starred review)