House Justice (Mass Market Paperbound)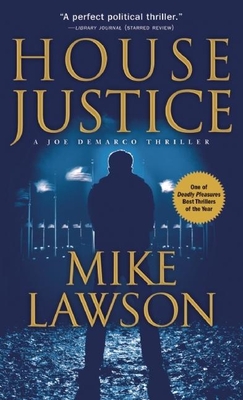 $7.99
Email or call for price.
Other Books in Series
This is book number 3 in the Joe DeMarco Thrillers (Paperback) series.
Description
---
"Lawson has honed his skill to write a perfect political thriller--fast-moving, cynical, but ultimately moral." --Library Journal (starred review)
In his thrillers starring Joe DeMarco, Mike Lawson has made a name for himself as one of the most entertaining and insightful writers focusing on the dirty games played in our nation's capital. In House Justice, an American defense contractor goes to Iran to sell missile technology, and the CIA knows all about it thanks to a spy in Tehran. But the story is leaked to an ambitious journalist and the spy is burned, brutally tortured, and executed.
The director of the CIA isn't about to let the callous sacrifice of his valuable spy go unpunished. DeMarco's boss, Speaker of the House John Fitzpatrick Mahoney has his own reasons to get to the bottom of the leak: he once had a fling with the journalist, and now that she's in jail for refusing to reveal her source, she is threatening to tell all unless he helps get her out.
DeMarco and the CIA aren't the only ones looking for the source of the leak. Someone else wants to avenge the spy's death, and is tailing DeMarco hoping he'll lead him to his prey. House Justice is classic Mike Lawson-- fascinating characters, inside-the-beltway intrigue, and a gripping plot packed with surprises.
Praise For…
---
�Mike Lawson has certainly made a claim as the best political thriller writer working today. That would certainly be my contention. � I�m especially impressed with the consistently high quality of this series. The stories are not only scarily believable, but exciting and very well told. I�m a big fan.� �George Easter, Deadly Pleasures

�A devilishly intricate, whirlwind tale, wittily told.� �Kirkus Reviews

�Some two dozen characters, major and minor, are introduced, and Lawson makes all of them memorable . . . The dialogue is sharp, cynical, and often funny. . . . A superb example of the post�cold war espionage novel.� �Booklist (starred review)

�Lawson has honed his skill to write a perfect political thriller�fast-moving, cynical, but ultimately moral.� �Library Journal (starred review)

�A lightning-paced Washington conspiracy thriller filled with spies and traitors and a hero you�ll cheer for. Mike Lawson knows what he�s talking about, and he tells it irresistibly.� �Joseph Finder, New York Times bestselling author of Vanished, Power Play, and Paranoia

�The quorum is assembled and the votes tallied�Mike Lawson tips the scales in House Justice with one of the finest thrillers I�ve had the pleasure of reading this year.��Craig Johnson, author of The Cold Dish and Junkyard Dogs

�Good news for thriller readers: Joe DeMarco has returned, and he's as entertaining as ever. House Justice marks the fifth time that author Mike Lawson has featured DeMarco, a law school grad whose practice consists of doing dirty jobs for the speaker of the U.S. House of Representatives. � This tale rolls through a wham-bam plot packed with violence and intrigue. DeMarco must deal with Russian-American mobsters, corrupt industrialists, greedy and conniving lawyers, hired killers and a mysterious assassin with whom he keeps crossing paths, all set to a backdrop of governmental bureaucratic backstabbing.� �Harry Levins,