Modern Whore: A Memoir (Hardcover)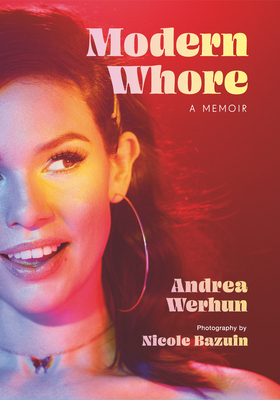 $35.00
Email or call for price.
Description
---
SOON TO BE A MAJOR MOTION PICTURE.
Oh, the places a whore will go: Strip clubs, four-star hotels, stinking basement apartments, luxury cottages. A striking memoir by Andrea Werhun and Nicole Bazuin documents Andrea's sex work career in lush photography and powerful words—in all its slippery, sexy, silly and sometimes heartbreaking glory.

Andrea Werhun's sex work career gave her money, freedom, joy, and a lot of dick. A natural performer, she revelled in the opportunity to invent Mary Ann, her escort counterpart, and introduce her to men all over the city. She whores, she learns, she writes it all down, and then, as per a signed document she handed to her Catholic mother in her early twenties, she quits. To become a stripper.

Andrea and Nicole revisit the idea of the modern whore, with the enhanced perspective of Andrea's experience at the strip club. This new, engorged edition of the sold-out memoir-cum-art book expands on the original concept--a series of vignettes exploring the many identities sex workers adopt in the service of their clients and in the eyes of the public--in both a literal and literary way. But Andrea doesn't shy away from the serious side of sex work, either, exploring the risks sex workers take, and the rights our culture is constantly taking away from them.

This series of stories and portraits investigate the many ways we imagine—and mistake—the modern whore. It's Playboy if the Playmates were in charge.
About the Author
---
Writer, performer, and sex worker advocate ANDREA WERHUN is a former peer outreach worker with Maggie's: Toronto Sex Workers Action Project and has given university lectures, led workshops, hosted and participated on panels, and performed countless readings of her work. She holds an undergraduate degree from the University of Toronto (2012), with a major in English and a double minor in Religion and Paradigms & Archetypes. She has been interviewed by The New York Times, The Guardian, The Daily Mail, VICE, CBC, and Hazlitt, and posed nude alongside her essay about sex work for the 65th Anniversary print issue of Playboy. Award-winning artist and filmmaker NICOLE BAZUIN is the creator/director of the comedy art show This Art Works! (CBC), and the doc series Climate Talks With Kids (Bell TV). Her film Sleeping With Family was an official selection at the Hot Docs Film Festival. Nicole's media artworks have been exhibited in the Art Gallery of Ontario, and commissioned by festivals such as Nuit Blanche and Luminato. She is co-founder of Madeleine Co., an all-female interdisciplinary art collective reimagining social issues through experiential storytelling and multimedia art.
Praise For…
---
"Packaged with political purpose…both tasteful and titillating."
—Radheyan Simonpillai, NOW Magazine

"Hilarious and charming."
—Patricia Kozicka, The Guardian

"A love letter to sex workers and the art and glory of the hustle."
—Noelle Perdue, Xtra

"Modern Whore is for the daring heart in all of us. This is not just a sex worker's story, it is the work of an artist, of partnership, of sisterhood, of where storytelling becomes the body and the body becomes the story. The romance in this memoir isn't literal, it's unapologetic. This is about advocacy. It's about choice. Andrea Werhun pulls you in with her cabaret-esque personality, full of wit and wisdom, championed by Nicole Bazuin's keen understanding of the moment. It is a privilege to witness someone dance their way into their authentic self, saying: this is where it hurts, this is where it feels good, and this is where it matters. In parts a whore's victory guide, but it is also a fierce reminder of why we create." 
—Téa Mutonji, author of Shut Up You're Pretty
 
"Delightful and righteous, Andrea Werhun spits in the face of tyrants and single-handedly unpacks the body/mind conundrum for girls. Proving that there is no story without the body, Modern Whore is a CanLit shakedown." 
—Tamara Faith Berger, author of Maidenhead
 
"By turns breathtakingly fun and poignantly serious, Modern Whore is an original—a feminist memoir that fearlessly explores sex, money and taking life into your own hands. But the book also deserves to be recognized as a classic coming-of-age story about an adventurous young woman, who just happens to be chasing her dreams in the sex industry. I loved how Modern Whore turns the tables on men, making the hard-working, shrewd and hilariously honest women in the sex industry like Werhun the centre of the story. Werhun never lets us forget that life in the strip club has more than one dimension."                        
—Chanelle Gallant, writer, strategist, and sex worker advocate

"Andrea is not only a gorgeous woman, but also a most talented and witty writer. Her story in mindblowing, revealing because it's real. Whilst I was reading her book, a lot of memories from my past as The Happy Hooker came back. Flashbacks of my time as a famous madame. Not only does Andrea have a great story, she also knows how to write about it.
I introduced real sex talk, 4-letter words like dick, cock, suck and cunt—no Latin BS. And Andrea did the same for her generation and her time: her story entertains and shows how empowering sex work can be.
 
This whore's playbook can educate future sex workers and make readers aware of the pros and cons of being a prostitute. If you want to find out more about the sex industry, this is the right book for you: a real whore's playbook.
Andrea is more than just the sum of her beautiful private parts. She has got all the weapons and knows how to use them. She certainly knows the sex worker's "fuck and suck" etiquette!
If I had a daughter, it would be you, Andrea. Who else could carry the legacy of the Happy Hooker! I would be a proud mother. No sad little girl without a choice—a smart, beautiful woman who knew exactly what she was doing, because she wanted to.
—Xaviera Hollander, author of The Happy Hooker

"With wit, insight, and honesty, Andrea Werhun takes us behind the scenes of her 'journey into the sexual underworld,' along with the ironic 'thrills and revelations' of her experiences as an escort. Following a very 'simple desire to live happily and independently,' she discusses family confessions while exposing the quirky motivations of her clients. In an era where 'Equity, Diversity, and Inclusion' are buzzwords, it's time for Canadians to remove the stigma and provide legal protection for this forgotten sector of the #MeToo movement."
—Gerald Cupchik, Professor of Psychology, University of Toronto

"Nicole Bazuin's photographic body of work in Modern Whore is as much a love letter to friendship as it is to sex workers. Her challenging and alluring portraits define the nouveau aesthetic of visual sex culture and spank the worn-out male gaze back to the 20th-century where it belongs. If you have an issue with sex workers being seen as smart, sassy, hilarious, free-thinking, free-spirited characters and well, let's be frank: as human beings then you are going to hate this book.
 
Bazuin is a firecracker of a photographer. With every photograph, she renounces tired visual tropes of the romanticised and sensationalised images of sex work. 
A natural-born visual storyteller, with Modern Whore, Bazuin has spectacularly helped establish a new era of the sex worker gaze." 
—Camille Melissa Waring, Feminist Visual Arts Academic, The Photographic Theorist
 
"In one sense this is a familiar kind of story, a story about growing up, finding your place in the world, accepting yourself for who you are and asking others to do the same. But the similarities to Anne of Green Gables pretty much end there. Prepare yourself for a candid, entertaining, intelligent window on a set of experiences too often left in darkness by a writer who is as honest and straightforward with her reader as she is with those she encounters and with herself. Also, a lot of cocks."
—Nick Mount, author of national bestseller Arrival: The Story of CanLit

"Werhun, in collaboration with Bazuin, brings a powerful sex work skill to the art of book-making: the ability to find harmony in meta-layers of story. Their book brazenly denies that the sex working artist must choose between humor or politics, cheesecake or intellect, vulnerability or persona. This Modern Whore is all that and more." 
—Tina Horn, creator of SfSx and Why Are People Into That?!