A History of Toilet Paper (and Other Potty Tools) (Hardcover)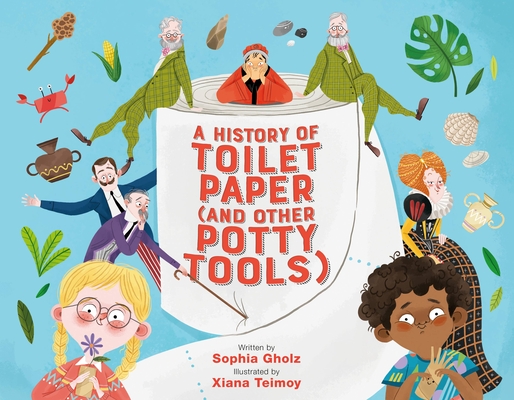 $17.99

Usually Ships in 1-5 Days
Description
---
In the beginning, potty time meant the great outdoors . . . 

People have been going potty since, well, since the beginning of people! Ever wonder what humans used before potties or paper? You might be surprised at the clever tools that humans came up with over the centuries. From the great outdoors to ceramic pots, bum brushes and bidets, prepare for an adventure as we explore the interesting and sometimes shocking history of human potty practices! Award-winning children's author Sophia Gholz and illustrator Xiana Teimoy team up to put a humorous spin on the fun and fascinating facts surrounding the history of toilet paper (and other potty tools) in this delightful book. 
About the Author
---
Sophia Gholz is the award-winning children's book author of The Boy Who Grew a Forest: The True Story of Jadav Payeng, Jack Horner, Dinosaur Hunter!, and This Is Your World: The Story of Bob Ross. Sophia loves searching for interesting or wacky historical facts. She also loves to laugh. 

Xiana Teimoy is an illustrator from a cute little city in the Spanish far northwest. She has a degree in Biology as well as a Master's in Design and Illustration. She works from her cozy studio located in sunny Valencia, where she develops her work using digital media.
Praise For…
---
"An engaging look at how various bathroom technology has changed over time; this is sure to appeal to the elementary school sense of humor."—School Library Journal

"[A] delightful and funny microhistory about toilet paper. . . . A seriously hilarious and engrossing read."—Book Riot

" For sheer potty humor, Gholz has hit gold. . . . A humorous and clever tale about toilet tools."—Kirkus Reviews