How Rory Thorne Destroyed the Multiverse (The Thorne Chronicles #1) (Paperback)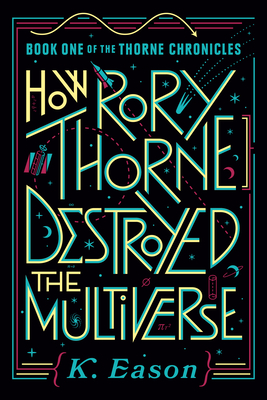 List Price: $18.00
Our Price: $17.00
(Save: $1.00 6%)
Other Books in Series
This is book number 1 in the The Thorne Chronicles series.
Description
---
First in a duology that reimagines fairy tale tropes within a space opera—The Princess Bride meets Princess Leia.
 
Rory Thorne is a princess with thirteen fairy blessings, the most important of which is to see through flattery and platitudes. As the eldest daughter, she always imagined she'd inherit her father's throne and govern the interplanetary Thorne Consortium.
 
Then her father is assassinated, her mother gives birth to a son, and Rory is betrothed to the prince of a distant world.
 
When Rory arrives in her new home, she uncovers a treacherous plot to unseat her newly betrothed and usurp his throne. An unscrupulous minister has conspired to name himself Regent to the minor (and somewhat foolish) prince. With only her wits and a small team of allies, Rory must outmaneuver the Regent and rescue the prince.
 
How Rory Thorne Destroyed the Multiverse is a feminist reimagining of familiar fairytale tropes and a story of resistance and self-determination—how small acts of rebellion can lead a princess to not just save herself, but change the course of history.
About the Author
---
K. Eason lives with her husband and a trio of disreputable cats in Southern California, where she teaches first-year college students about zombies and food (not at the same time!). Her short fiction has appeared in Cabinet-des-Fées, Postcards from Hell: The First Thirteen, Jabberwocky 4, Crossed Genres, Kaleidotrope, Ink: Queer Sci Fi Anthology, and Shapers of Worlds: Volume III. She has written the On the Bones of Gods trilogy, The Thorne Chronicles, and The Weep duology, the second book of which, Nightwatch over Windscar, is forthcoming from DAW Books in November 2022. When she's not writing or commenting on essays, she's probably playing D&D.
Praise For…
---
Praise for How Rory Thorne Destroyed the Multiverse

"Fun and feminist, unique and stylish, with a heroine who'll steal your heart. If fairy tales and space opera had a clever baby with a big vocabulary and a rebellious streak, this would be it." —Delilah S. Dawson, New York Times-bestselling author of Galaxy's Edge: Black Spire

"This is big, imaginative space opera at its best. Filled with complex characters and twisty politics, Rory Thorne is an awesome ride." —Michael Mammay, author of Planetside

"Rory Thorne raises the bar for self-rescuing princesses everywhere. This clever fusion of unforgiving fairy tale and fanciful space opera destroyed me emotionally in all the best ways." —Curtis C. Chen, author of Waypoint Kangaroo

"Readers will be clamoring for the second installment before Chapter One is over. Told with just enough editorializing from a Dickensian narrator, this story delights from cover to cover. The political intrigue never fails to surprise, each character is layered and compelling, and there's a perfect balance between science-fiction action and fairy-tale fantasy. Do not, under any circumstances, miss out on this." —Kirkus (starred review)

"Eason adds a feminist modern twist to fairy tale and sf tropes while presenting an intergalactic adventure that enthralls in its own right, striking that ideal balance between original and familiar.... A delightful start to what promises to be a smart, unique series." —Booklist (starred review)

"Beautifully layered, endlessly entertaining....  Using a mixture of hacking skills and hexes, political maneuvering, martial arts, and flirting, Rory manages to destroy the multiverse and control her own fate. How she gets there is a journey well worth the read. Exquisitely written with complex characters, sardonic wit, and immersive worldbuilding. Highly recommended." —Library Journal (starred review)

"Take a deep breath, close your eyes, and picture outer space plus fairy tales plus political intrigue plus magic. Whatever you're thinking of, How Rory Thorne Destroyed the Multiverse is all those things, but better." —Hey Alma

"Joyfully, delightfully amazing.... Definitely one of my favorite books of the year thus far." —Roarbot