The Art of the Erotic (Hardcover)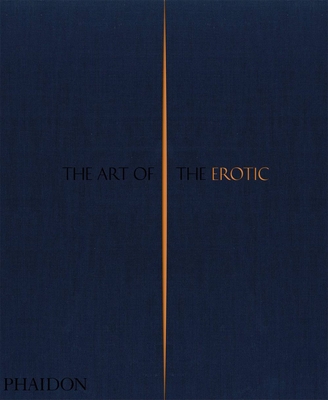 $79.95
Email or call for price.
Description
---
Carefully curated and beautifully packaged erotic art through the ages – 200 works from the world's most important artists.
This carefully curated and beautifully packaged book spotlights nearly 200 works from the world's most important artists, including Titian, Paul Cézanne, Picasso, Andy Warhol, Michelangelo, Rembrandt, Edgar Degas, Edvard Munch, Georgia O'Keeffe, Jackson Pollock, Lucian Freud, Louise Bourgeois, Francis Bacon, David Hockney, Gerhard Richter, Cecily Brown, Anselm Kiefer, George Condo, and Anish Kapoor. With its chronological organization, The Art of the Erotic provides insights into human sexuality throughout the ages.
About the Author
---
Rowan Pelling is a journalist, broadcaster and commentator on the arts. She has just launched a new middle-shelf magazine, The Amorist, intended for devotees of love and passion. She first rose to prominence as the editor of the monthly literary/erotic magazine, Erotic Review, and has written for a range of magazines and newspapers, including the Independent on Sunday, Daily Mail, GQ and The Spectator. Pelling lives in Cambridge, England.
Praise For…
---
"A ravishing new book from Phaidon that celebrates the long line of artists who have understood that sensuality is to art as salt is to eggs." —Out
"Chronicles our love affair with love affairs." —Timeline
"A comprehensive and chronological insight into the fluid ways in which creators depict human sexuality." —Red
"Giving a glimpse into the more salacious work of legendary photographers and visual artists - The Art of the Erotic is a new title from Phaidon featuring beautiful examples of eroticism throughout history from Georgia O'Keeffe, Nobuyoshi Araki, Wolfgang Tillmans and many more... An enlightening reminder of our universal attraction to artful arousal."—HungerTV.com
"Ravishing... Although many works aim to titillate, the erotic remains tantalisingly transcendent."—AnOtherMag
"Hats off to the publishers Phaidon for making the cover of their latest tome, The Art of the Erotic, a more subtle affair. The fold-out cover, which unravels and re-assembles into a slit, is inspired by Lucio Fontana's 1950s series, Concetto Spaziale. More than 170 sexed-up works are featured including an Athenian cup dating from 470BC, Gustave Courbet's The Origin of the World (1866) and Thomas Ruff's Nudes ru 05 (Nud 053) (2000). Bruce Nauman, Titian, Nan Goldin and Cecily Brown also pop up in the arty erotic overview."—The Art Newspaper
"[A] luxurious tribute to the subject of sex."—Crave
"The ultimate compendium of erotic artworks... They say you should never judge a book by its cover, The Art of the Erotic is an exception, with a cover inspired by Lucio Fontana's painting series, Concetto Spaziale, whereby the artist would puncture the canvas to leave a slit, often several on the one work... An incredible insight into human sexuality over time and one to definitely keep under the covers."—DazedDigital.com
"This sumptuous volume demands toe be gently teased open... A beautifully printed showcase of the world's most seductive art erotica... Ravishes the eyes."—The Amorist
"[A] magnificent pictorial celebration."—MatureTimes.co.uk
"Organised chronologically, the 170 works in this survey of erotic art have also been cleverly selected so that, on facing pages, their images frequently mirror one another in terms of composition, setting or costume... Presenting the texts, which describe and contextualise each work, separate from the images, all together at the back of the book, risks it being read primarily as a selection of titillating imagery. The images, however, are strong enough to hold their own, giving an overview of the timeless artistic preoccupation with erotica and reminding us of the observation of Edward Lucie-Smith [...] that eroticism lies not in words or images - 'but in the mind of the beholder'."—Art Quarterly
"A wittily packaged, eclectic collection... It shows the varied, elegant, and often cleverly restrained way that artists have approached sexuality through the ages."—Vogue Online
"Astounding... The Art of the Erotic reveals the universal attraction of the erotic in the visual arts and may also offer surprises from the artists included." —Juxtapoz Online
"Clever... A very thorough and well curated voyage through the titillating aspects of art history." —Daily Beast
"If you think that erotic art is limited to the female nude or pornography, Art of the Erotic will open your eyes and whet your palate while imparting new understanding about historic, and often misunderstood or maligned art... [A] thoughtfully-curated, beautifully-packaged, and provocative art book... The Art of the Erotic is a titillating and intellectually mind-blowing collection, but of course we should expect nothing less from Phaidon." —JustLuxe.com
"A sexy tome to get pulses racing even in the coldest season. From the saucy, split-front Fontana-inspired cover to the luxurious pages of more than one hundred and seventy erotically charged images inside, this book has been designed with pleasure in mind... Pure festive frisson." —Elephant.art
"A wittily packaged, eclectic collection... It shows the varied, elegant, and often cleverly restrained way that artists have approached sexuality through the ages." —Vogue