Fathers and Children: Introduction by John Bayley (Everyman's Library Classics Series) (Hardcover)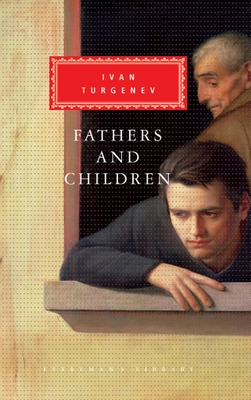 $23.00
Email or call for price.
Description
---
One of the grestest of the classic Russian novels, this universal tale of generational conflict is set at a moment of historic social upheaval, just before the emancipation of the serfs in 1861.

When Arkady Kirsanov returns home from university, his father and uncle find to their bafflement and dismay that the naive and impressionable young man has come under the sway of the charismatic new friend he brings with him. A fervent nihilist, Yevgeny Bazarov passionately rejects traditional values and authority and wants to overturn the oppressive landowning system that supports Russian society (and his own parents). As Bazarov provokes the disapproval of his elders, falls unsuccessfully in love, and fights a duel, he moves like a storm cloud through this sensuous, dramatically paced account of Russia on the brink of change. Ivan Turgenev's greatest fictional character is as compelling and as enigmatic as the country whose turmoil he so vividly represents. 

Introduction by John Bayley; Translation by Avril Pyman
About the Author
---
Ivan Sergeyevich Turgenev was born in 1818 in the Province of Orel, in Russia. After his family had moved to Moscow in 1827 he entered Petersburg University where he studied philosophy. When he was nineteen he published his first poems and, convinced that Europe contained the source of real knowledge, went to the University of Berlin. After two years he returned to Russia and took his degree at the University of Moscow. In 1843 he fell in love with Pauline Garcia-Viardot, a young Spanish singer, who influenced the rest of his life; he followed her on her singing tours in Europe and spent long periods in the French house of herself and her husband, both of whom accepted him as a family friend. After 1856 he lived mostly abroad, and he became the first Russian writer to gain a wide reputation in Europe; he was a well-known figure in Parisian literary circles, where his friends included Flaubert and the Goncourt brothers, and an honorary degree was conferred on him at Oxford. His series of six novels reflect a period of Russian life from 1830s to the 1870s: they are Rudin (1855), A House of Gentlefolk (1858), On the Eve (1859), Fathers and Children (1861, sometimes translated as Fathers and Sons), Smoke (1867), and Virgin Soil (1876). He also wrote plays, which include the comedy A Month in the Country; short stories and Sketches from a Hunter's Album; and literary essays and memoirs. He died in Paris in 1883 after being ill for a year, and was buried in Russia.
Praise For…
---
"The striking thing about Turgenev's best work, and Fathers and Children in particular, is what Wordsworth called 'the deep power of joy." ... It is first and foremost an extremely moving story, and seems effortlessly so: moving in regard to an unchanging world of family affection, love, sorrow and bereavement. Moving and also joyful. Neither the outline of its plot nor its social significance means as much as the remarkable skill and delicacy which which Turgenev conveys feeling." --from the Introduction by John Bayley