Awesome Is Everywhere (Hardcover)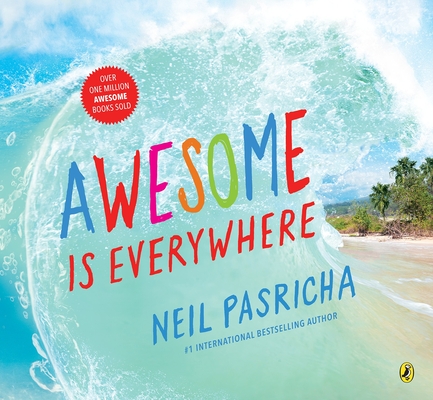 $17.99
Email or call for price.
Description
---
A stunning first picture book from the New York Times bestselling author of The Book of Awesome.

     Are you ready? With the simple touch of your fingers go on a stunning interactive journey to see the world as you never have before. Fly through wispy clouds, dive deep into the sparkling ocean, feel wet grains of sand on a hot and sunny beach... You will discover you can fly your mind to anywhere on Earth. And by the time you reach the surprise ending in this unforgettable journey you'll learn that awesome truly is everywhere.
About the Author
---
NEIL PASRICHA is one of the world's leading experts on happiness and the power of positive thinking. He is the #1 International Bestselling Author of The Book of Awesome series with over a million copies sold in a dozen languages. He has given one of the most popular TED Talks of all time called "The 3 A's of Awesome." He wrote this book to teach his son the power of attitude, awareness, and authenticity. Online: https://twitter.com/1000awesome https://www.facebook.com/1000awesomethings http://1000awesomethings.com/
Praise For…
---
Praise for The Book of Awesome:
   • "Little things, it turns out, are extremely important to happiness, and The Book of Awesome will remind you of a thousand little things that will make you happier." --Gretchen Rubin, author of The Happiness Project"Neil Pasricha is to blogging what Jerry Seinfeld is to standup." --The Globe and Mail 

   • "Neil Pasricha is the guru of small joys." --The Toronto Star 

   • "Strangely heartwarming... perfect for rainy days." --The New Yorker

Praise for The Book of (Even More) Awesome:
   • "This may be the greatest piece of literature on awesome the world has ever seen." --Justin Halpern, author of the #1 New York Times bestseller Sh*t My Dad Says 

   • "This entertaining follow-up collection offers more reflections on life's little pleasures such as "Getting the keys to your first apartment" Pasricha finds fun in frustrations, going from grit to wit." --Publisher's Weekly 

   • "By showing how daily life is packed with thousands of small, bright moments, Neil Pasricha makes ordinary days light up with awesomeness." --Gretchen Rubin, author of the #1 New York Times bestseller The Happiness Project