Forgotten War (A Matt Drake Novel #4) (Hardcover)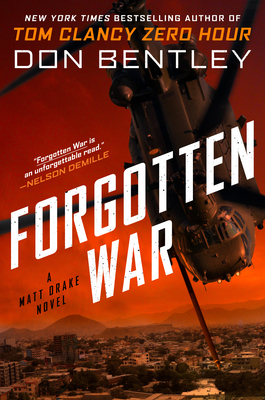 $28.00

Usually Ships in 1-5 Days
Other Books in Series
This is book number 4 in the A Matt Drake Novel series.
Description
---
"A fascinating, action-packed thriller from one of the genre's most talented authors. Don Bentley delivers a blistering adventure loaded with excitement and fabulous characters. You will not want it to end!"—Brad Thor, New York Times #1 bestselling author of Dead Fall

A brotherhood born in battle is endangered by a deadly secret in the latest astonishing thriller from the New York Times bestselling author of Tom Clancy Zero Hour and Hostile Intent.

As a team, Matt Drake and his partner, Frodo, have watched each other's backs through some very dark days. But one thing they've never doubted was their commitment to each other...until now. 

Frodo has been accused of a war crime ten years after leaving Afghanistan. Matt is determined to prove his friend innocent, but what will he do when he finds that his closest friend has secrets he won't share?
About the Author
---
Don Bentley is the New York Times bestselling author of the Matt Drake series (Forgotten War, Hostile Intent, The Outside Man, Without Sanction) and three Tom Clancy novels. Bentley spent a decade as an Army Apache helicopter pilot and deployed to Afghanistan as an air cavalry troop commander. Following his time in the military, Bentley worked as an FBI special agent and was a SWAT team member. Bentley is also a graduate of the Seton Hill University Writing Popular Fiction MFA program. He resides in Austin, Texas, with his family.
Praise For…
---
Praise for Don Bentley and the Matt Drake series

"A fascinating, action-packed thriller from one of the genre's most talented authors. Don Bentley delivers a blistering adventure loaded with excitement and fabulous characters. You will not want it to end!"
—Brad Thor, New York Times #1 bestselling author of Dead Fall

"Don Bentley does it again and does it well with Forgotten War, his fourth Matt Drake novel that ripsaws between war and peace and everything in between. Bentley, an Afghanistan vet, Apache pilot, and former FBI agent brings all this to the table for a word feast that few writers can match. There's a lot going on in this fast-paced and well-plotted tale, and the bonus is the sharply drawn characters who you may—or may not—want to meet in a bar or on the battlefield. Forgotten War is an unforgettable read." 
—Nelson DeMille, #1 New York Times bestselling author of The Maze

"Don Bentley rocks – this guy knows his stuff! His military thrillers are among the best in the business. And Forgotten War is as good as it gets. Intense. Explosive. Riveting. Absolutely unforgettable!"
—Joel C. Rosenberg, New York Times bestselling author of The Kremlin Conspiracy and The Libyan Diversion

"Sensationally good—I want more Matt Drake."
—#1 New York Times bestselling author Lee Child

"An addictive, high octane thrill ride. With his trademark combination of loyalty, lethality, and sardonic wit, Matt Drake is a hero with soul...This is the kind of inspired adventure you stay up all night reading."
—Tosca Lee, New York Times Bestselling author of The Line Between

"Don Bentley's Without Sanction is seriously one of the most compelling debuts in recent memory. Brilliantly crafted and written, this book is a thoroughly riveting read, and Don Bentley is an exciting new voice in the thriller world."
—Mark Greaney, #1 New York Times bestselling author of Mission Critical

"You can smell the cordite, hear the explosions, and feel the fight in this one. Action jumps from every page, thanks to an engaging premise and crosscutting suspense. Way ahead of the pack."
—Steve Berry, New York Times bestselling author of The Malta Exchange

"Without Sanction is a relentless, crackling debut about the fight against terrorism, its unacknowledged costs, and the price paid by its operatives. Don Bentley has lived this life, and he writes with deep authenticity, a serious swagger, wry wit, and a lyrical heart. This is one hell of a book."
—Nick Petrie, national bestselling author of Tear It Down

"Bentley proves himself a worthy successor to Tom Clancy."
—Publishers Weekly

"Don Bentley has created another action-packed and suspenseful novel, Forgotten War. This fourth book in the Matt Drake thriller series has an intensity that few writers can achieve."
—Mystery and Suspense Magazine