The Summer Job (Paperback)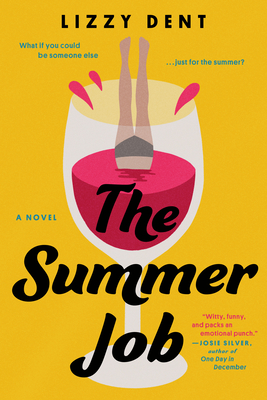 Description
---
"My perfect summer read! Sure to be one of the sweetest, funniest, and sexiest books of the year." —Emily Henry, #1 New York Times bestselling author of People We Meet on Vacation

Named a Best Beach Read by Cosmopolitan, Entertainment Weekly, New York Post, Bustle, Country Living, Parade, Fortune, and more.

What if you could be someone else? Just for the summer...

Birdy has made a mistake. Everyone imagines running away from their life at some point. But Birdy has actually done it. And the life she's run into is her best friend Heather's. The only problem is, she hasn't told Heather.

The summer job at the highland Scottish hotel that her world class wine-expert friend ditched turns out to be a lot more than Birdy bargained for. Can she survive a summer pretending to be her best friend? And can Birdy stop herself from falling for the first man she's ever actually liked, but who thinks she's someone else?

One good friend's very bad decision is at the heart of this laugh-out-loud love story and unexpected tale of a woman finally finding herself in the strangest of places.
About the Author
---
Lizzy Dent (mis)spent her early twenties working in Scotland in hospitality. After years travelling the world making Music TV for MTV and Channel 4, and creating digital content for Cartoon Network, the BBC and ITV, she wrote three Young Adult novels as Rebecca Denton published in the UK. This is her debut adult novel. Now in her late thirties she lives between London, Austria, and New Zealand with her young family.
Praise For…
---
One of Cosmopolitan's New Books to Feed Your Wanderlust
One of Marie Claire's Ultimate Summer Beach Reads
One of Entertainment Weekly's 20 Best New Books to Read in May
One of New York Post's 30 Best Books on Our Summer Reading List 
One of Bustle's 20 Best Beach Reads of 2021
One of PopSugar's Best Romance Books about Travel to Read This Month
One of Real Simple's 31 Best Beach Reads
One of Country Living's 30 Can't Miss Beach Reads for This Summer
One of Parade's 25 Books You'll Want to Read This Sizzling Season
One of Fortune's 10 Entertaining New Books to Read This Summer
One of The Pioneer Woman's 20 Best Beach Reads of Summer 2021
One of SheReads's Most Anticipated Romance Books of 2021
One of PureWow's 18 Best Beach Reads of Summer 2021
One of Life Savvy's 17 Can't Miss Books Hitting Shelves This May
One of Glitter Guide's 9 Books To Add To Your May Reading List
One of Hello Giggles's 11 Best New Books to Read in May
One of Bon Appetit's 15 Must-Read Novels to Gift Everyone on Your List
 
"My perfect summer read! Sure to be one of the sweetest, funniest, and sexiest books of the year." —Emily Henry, author of Beach Read

"Witty and funny and it packs an emotional punch…Loved it, I'm in the queue for more Lizzy Dent." —Josie Silver, author of One Day in December

"Fresh, funny and filled with delicious food and wine." —Beth O'Leary, author of The Flatshare

"A rom-com-esque adventure in which a girl steals her best friend's identity to spend the season at a luxury Scottish Highland resort. Lol, same." –Cosmopolitan

"Funny, romantic, hilariously chaotic and full to the brim with Scottish charm." –Parade

"The secluded Scotland setting makes it easy to immerse yourself in Birdy's world…Plenty of bad decisions and dramatic disasters, a cast of supporting characters to love and hate, and a sweet and tender romance despite all odds. But through it all, you can't help but root for Birdy!" –PopSugar

"If you're a fan of Outlander but want an adventure in the Scottish Highlands with a little more Wi-Fi, this is the read for you." –Shondaland

"A soul-soothing delight…When you can't choose between the many rom-coms on the many streaming services, reach for The Summer Job to get a similarly wholesome dose of fluff." —Bon Appetit

"Dent hits a home run with her first novel...A sure bet for fans of Jenny Colgan." –Library Journal, starred

"Escapist fun…Fans of Emily Henry and Katie Fforde should add this to their summer-read list." —Booklist

"Fans of Emily Henry or Sophie Kinsella will fall for debut novelist Lizzy Dent." —Shelf Awareness

"Fun with a capital F…If you've ever felt you're getting left behind in life, or don't have everything worked out quite yet, this is the book for you." —Sophie Cousens, author of This Time Next Year

"Birdy has kicked off her summer job as sommelier at a remote Scottish hotel with a bit of a fib — well, a whopper … What could possibly go wrong?"—New York Post

"This book is begging to be read on the beach. But it's so much more than a beach read…The Summer Job is fun, feel-good, and full of heart." –Hello Giggles

"Endearing and funny but still packing a surprising emotional punch, this sparkling debut from Lizzy Dent is the perfect title to kick off the summer reading season." –Book Riot

"A hilarious rom-com." –PopSugar

"Engaging, heart-warming and so much fun. I bloody loved it."—Marian Keyes, author of Sushi for Beginners
 
"A charming and funny read about how our worst mistake can be the very thing that helps us become a better person." —Julia Whelan, author of My Oxford Year
 
"An enthralling escapist story…Perfectly balances emotion with wit, humor, and joy." —Sarah Smith, author of The Faker

"Gossipy, warm and funny. Like Goldie Hawn's Private Benjamin, but with wine!" —Beth Morrey, author of The Love Story of Missy Carmichael
 
"I fell for Birdy on the very first page and inhaled the rest of her story…A brilliantly original plot paired with fabulously funny writing - a pure joy to read!" —Helly Acton, author of The Shelf

"The literary equivalent of going out on an amazing night out with your best friends…I'll be recommending it to everyone!" —Katherine Webber, author of The Heartbeats of Wing Jones