Big Ideas for Little Environmentalists: Preservation with Aldo Leopold (Board book)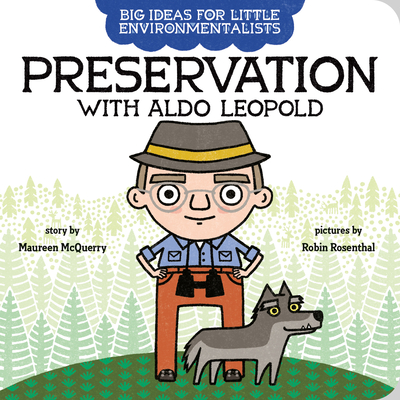 Description
---
Discover Aldo Leopold's big ideas about preserving nature and ways even the youngest kids can help, too!

Little children can make a big impact on the environment. Aldo Leopold transformed his childhood love for nature into a life dedicated to protecting and preserving the environment. He encouraged the idea of keeping wilderness areas untouched, so that all people could visit areas free of human interference.

Kids will come away from this book excited about the nature they have access to and how to help preserve other wilderness areas.

Look for all of the books in the Big Ideas for Little Environmentalists series: Conservation with Jane Goodall, Restoration with Wangari Maathai, and Ecosystems with Rachel Carson.
About the Author
---
Maureen McQuerry is an award-winning children's author, poet, and teacher. She is a former middle and high school teacher with a specialty in gifted education and has a master's degree in early education. In 2000 she was awarded the McAuliffe Teaching Fellowship for Washington State. Maureen currently supervises student teachers for Washington State University.

Robin Rosenthal is an illustrator and art director. She has illustrated Two Dogs on A Trike and the Big Ideas for Little Philosophers series of board books. She grew up in Connecticut and now lives in Brooklyn with her husband and daughter. You can see more of her work at robinrosenthal.com.
Praise For…
---
Praise for the Big Ideas for Little Environmentalists series: 
"This valuable series introduces young readers to celebrated environmentalists, describing their awareness and care for nature as children to their inspirational work as adults to protect the Earth. . . Children need to hear these names early on." —School Library Journal on Conservation wth Jane Goodall

"McQuerry explains in clear, straightforward diction, tracing the author's thoughts on nature from childhood onward, with interspersed questions directing the audience to consider their own paths: 'What part of nature do you like to watch and learn about?' . . . Rosenthal offers boldly geometric art, with children of varying abilities and skin tones participating in protesting and trash pickup along the intertidal zone. Plants the seeds of environmentalism for listeners new to the subject." —Publishers Weekly on Ecosystems with Rachel Carson