The Book of Jose: A Memoir (Hardcover)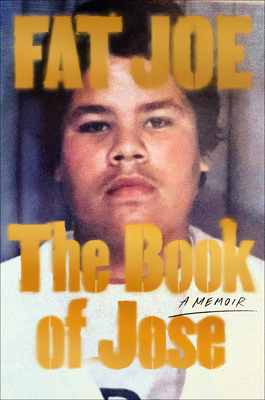 $28.99

Usually Ships in 1-5 Days
Description
---
Grammy-nominated, multi-platinum–selling artist, entrepreneur, and philanthropist Fat Joe pulls back the curtain on his larger-than-life persona in this gritty, intimate memoir about growing up in the South Bronx and finding his voice through music.

"An adrenaline rush . . . buckle up and lean back."—Spin

Fat Joe is a hip-hop legend, but this is not a tale of celebrity; it is the story of Joseph Cartagena, a kid who came of age in the South Bronx during its darkest years of drugs, violence, and abandonment, and how he navigated that traumatizing landscape until he found—through art, friendship, luck, and will—a rocky path to a different life.

Joe is born into a sprawling Puerto Rican and Cuban family in the projects of the South Bronx. From infancy his life is threatened by violence, and by the time he starts middle school, he is faced with the grim choice that defined a generation: to become predator or prey. Soon Joe and his crew dominate the streets, but he finds his true love among the park jams where the Bronx's wild energy takes musical form. His identity splits in two: a hustler roaming record stores, looking for beats; and a budding rapper whose violent rep rings in the streets. As Joe's day-to-day life becomes more fraught with betrayal, addiction, and death, until he himself is shot and almost killed, he gravitates toward the music that gives him both a voice to tell the stories of his young life and the tools he needs to create a new one. The challenges never stop—but neither does Joe.

This memoir, written in Joe's own intensely compelling voice, moves with the momentum of pulp fiction, but underneath the tragicomedy and riveting tales of the streets and the industry is a thought-provoking story about a generation of survivors raised in warlike conditions—the life-and-death choices they had to make, the friends they lost and mourned, and the glittering lives they created from the ruins.
About the Author
---
Fat Joe is a rapper, actor, and entrepreneur from the birthplace of hip-hop, the Bronx. He released his first solo album, Represent, in 1993, and founded the record label Terror Squad. Fat Joe is perhaps best known for his platinum-selling album Jealous Ones Still Envy (J.O.S.E.) and hits like "Lean Back" with Terror Squad, "What's Luv?" featuring Ashanti and Ja Rule, and "All the Way Up" with Remy Ma, French Montana, and Dre.

Shaheem Reid is a journalist and industry mover. His career in hip hop spans over two decades. Highlights include reporting at MTV, Vibe, and XXL; serving as the president of Busta Rhymes Conglomerate record label; and launching Polaris, the first Black-owned, free-ad supporting streaming channel, in 2021.
Praise For…
---
"Fat Joe opens the book like a blockbuster movie, packed with tales of violence, drug-dealing, fast cars, and more. . . . [His] career has had its highs and lows, and he describes each in equally painstaking detail. . . . Though the lessons he has learned never came easy, he writes about them with the directness of someone who has come to terms with them. . . . The way he tells his story so far, the author seems ready [to] make his next big move. Fat Joe's memoir reads just like his hits sound, brimming with flashy style, street smarts, and survivor's strength."—Kirkus Reviews