She Persisted (Abridged / Board book)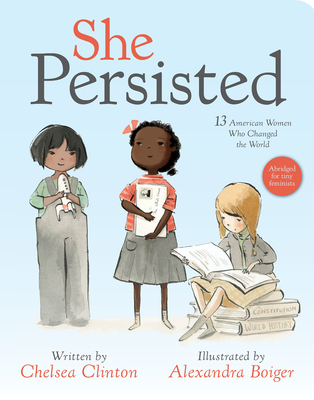 $9.99
Email or call for price.
Description
---
Chelsea Clinton introduces tiny feminists, mini activists and little kids who are ready to take on the world to thirteen inspirational women who never took no for an answer, and who always, inevitably and without fail, persisted.
 
Throughout United States history, there have always been women who have spoken out for what's right, even when they have to fight to be heard. In this book, Chelsea Clinton celebrates thirteen American women who helped shape our country through their tenacity, sometimes through speaking out, sometimes by staying seated, sometimes by captivating an audience. They all certainly persisted.
 
She Persisted is for everyone who has ever wanted to speak up but has been told to quiet down, for everyone who has ever tried to reach for the stars but was told to sit down, and for everyone who has ever been made to feel unworthy or unimportant or small.
 
With vivid, compelling art by Alexandra Boiger, this book shows readers that no matter what obstacles may be in their paths, they shouldn't give up on their dreams. Persistence is power.
 
This book features: Harriet Tubman, Helen Keller, Clara Lemlich, Nellie Bly, Virginia Apgar, Maria Tallchief, Claudette Colvin, Ruby Bridges, Margaret Chase Smith, Sally Ride, Florence Griffith Joyner, Oprah Winfrey, Sonia Sotomayor—and one special cameo.

Praise for She Persisted:

★ "[A] lovely, moving work of children's literature [and a] polished introduction to a diverse and accomplished group of women." —Publishers Weekly, starred review

"Exemplary . . . This well-curated list will show children that women's voices have made themselves emphatically heard." —Booklist 

"[She Persisted] will remind little girls that they can achieve their goals if they don't let obstacles get in the way." —Family Circle 

"We can't wait to grab a copy for some of the awesome kids in our lives . . . and maybe some of the grown-ups, too." —Bustle 

"A message we all need to hear." —Scary Mommy 

"This will be a great read for kids (especially young girls)." —Romper 

"We cannot wait for the launch of Smart Girl Chelsea Clinton's new book to help remind kids everywhere that the fearlessness that characterizes the thirteen women in the book is what has emboldened us to constantly strive for progress and justice." —Amy Poehler's Smart Girls
About the Author
---
Chelsea Clinton is the author of the #1 New York Times bestseller She Persisted: 13 American Women Who Changed the World; She Persisted Around the World: 13 Women Who Changed History; She Persisted in Sports: American Olympians Who Changed the Game; Don't Let Them Disappear: 12 Endangered Species Across the Globe; It's Your World: Get Informed, Get Inspired & Get Going!; Start Now!: You Can Make a Difference; with Hillary Clinton, Grandma's Gardens and Gutsy Women; and, with Devi Sridhar, Governing Global Health: Who Runs the World and Why? She is also the Vice Chair of the Clinton Foundation, where she works on many initiatives, including those that help empower the next generation of leaders. She lives in New York City with her husband, Marc, their children and their dog, Soren. You can follow Chelsea Clinton on Twitter @ChelseaClinton or on Facebook at facebook.com/chelseaclinton.

Alexandra Boiger has illustrated nearly twenty picture books, including the popular Tallulah series by Marilyn Singer and the Max and Marla books, which she also wrote. Originally from Munich, Germany, she now lives outside of San Francisco, California, with her husband, Andrea, daughter, Vanessa, and two cats, Luiso and Winter. You can visit Alexandra Boiger online at alexandraboiger.com.
Praise For…
---
Praise for She Persisted:

★ "[A] lovely, moving work of children's literature [and a] polished introduction to a diverse and accomplished group of women." —Publishers Weekly, starred review

"Exemplary . . . This well-curated list will show children that women's voices have made themselves emphatically heard." —Booklist 

"[She Persisted] will remind little girls that they can achieve their goals if they don't let obstacles get in the way." —Family Circle 

"We can't wait to grab a copy for some of the awesome kids in our lives . . . and maybe some of the grown-ups, too." —Bustle 

"A message we all need to hear." —Scary Mommy 

"This will be a great read for kids (especially young girls)." —Romper 

"We cannot wait for the launch of Smart Girl Chelsea Clinton's new book to help remind kids everywhere that the fearlessness that characterizes the thirteen women in the book is what has emboldened us to constantly strive for progress and justice." —Amy Poehler's Smart Girls