River of the Gods: Genius, Courage, and Betrayal in the Search for the Source of the Nile (Paperback)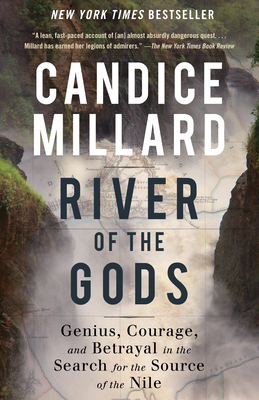 Staff Reviews
---
We are extremely excited to welcome to Skylark the New York Times best selling author of multiple acclaimed histories, Candice Millard, to discuss her newest work, River of the Gods. Many of you will know Candice from her pervious books and her appearance at an early edition of the Unbound Book Festival. We've been anxiously awaiting this new book and can't wait to welcome her back to Columbia. Candice will be in conversation with Alex at 6:30 p.m. on Thursday, June 2. Mark your calendars, people. It's a fabulous book and this will be an engrossing evening.
Purchasing a book via this page will guarantee you a book on June 2 that you can have signed and/or personalized by the author as you wish. And if you are not able to come on June 2 but would like a signed or personalized book, please just let us know how you would like Candice to sign, and we'll get it taken care of for you.
Description
---
NEW YORK TIMES BESTSELLER • The harrowing story of one of the great feats of exploration of all time and its complicated legacy—from the New York Times bestselling author of The River of Doubt and Destiny of the Republic

A BEST BOOK OF THE YEAR: THE WASHINGTON POST • GOODREADS

"A lean, fast-paced account of the almost absurdly dangerous quest by [Richard Burton and John Speke] to solve the geographic riddle of their era." —The New York Times Book Review

For millennia the location of the Nile River's headwaters was shrouded in mystery. In the 19th century, there was  a frenzy of interest in ancient Egypt. At the same time, European powers sent off waves of explorations intended to map the unknown corners of the globe – and extend their colonial empires.

Richard Burton and John Hanning Speke were sent by the Royal Geographical Society to claim the prize for England. Burton spoke twenty-nine languages, and was a decorated soldier. He was also mercurial, subtle, and an iconoclastic atheist. Speke was a young aristocrat and Army officer determined to make his mark, passionate about hunting, Burton's opposite in temperament and beliefs.

From the start the two men clashed. They would endure tremendous hardships, illness, and constant setbacks. Two years in, deep in the African interior, Burton became too sick to press on, but Speke did, and claimed he found the source in a great lake that he christened Lake Victoria. When they returned to England, Speke rushed to take credit, disparaging Burton. Burton disputed his claim, and Speke launched another expedition to Africa to prove it. The two became venomous enemies, with the public siding with the more charismatic Burton, to Speke's great envy. The day before they were to publicly debate,Speke shot himself.

Yet there was a third man on both expeditions, his name obscured by imperial annals, whose exploits were even more extraordinary. This was Sidi Mubarak Bombay, who was enslaved and shipped from his home village in East Africa to India. When the man who purchased him died, he made his way into the local Sultan's army, and eventually traveled back to Africa, where he used his resourcefulness, linguistic prowess and raw courage to forge a living as a guide. Without Bombay and men like him, who led, carried, and protected the expedition, neither Englishman would have come close to the headwaters of the Nile, or perhaps even survived.

In River of the Gods Candice Millard has written another peerless story of courage and adventure, set against the backdrop of the race to exploit Africa by the colonial powers.
About the Author
---
CANDICE MILLARD is the author of the New York Times bestsellers The River of Doubt, Destiny of the Republic, and Hero of the Empire. She lives in Kansas City, Kansas, with her husband and three children.
Praise For…
---
New York Times Bestseller • A Best Book of the Year: WASHINGTON POST, NPR, GOODREADS, BOOKPAGE, Audible  • One of The Washington Post's 50 Notable Works of Nonfiction • One of Smithsonian's 10 best History Books of 2022 •

"River of the Gods is a lean, fast-paced account of the almost absurdly dangerous quest by [Richard Burton and John Speke] to solve the geographic riddle of their era. . . Candice Millard has earned her legions of admirers. She is a graceful writer and a careful researcher, and she knows how to navigate a tangled tale."
—The New York Times Book Review

"Millard's research and very readable storytelling are admirable. . . Ultimately, the identity of the person who first discovered the source of the White Nile may be a trivial matter. Ms. Millard conscientiously investigates the issue, of course, but River of the Gods is compelling because she does justice to the psyches and behavior of Burton and Speke—keenly flawed but enthralling, sometimes marvelous people."
—Wall Street Journal

"Millard recounts all of these travails with a fluid grace that wears its learning lightly."
—The Washington Post

"Millard . . . introduces a cast of characters and succeeds in making each of them unforgettable. . . . Millard excels at describing it all, balancing narrative flow with abundant details that give a vast landscape its weight and power, clarify complicated people and arduous journeys, and add those who have gone largely unseen to the historical stage."
—Book Page 

"Meticulous research and suspenseful prose"
—The National Book Review

"Millard exhibits admirable skill in crafting narratives of uncommon drama and detail ... A first-rate tale of 19th-century exploration that rivals the best of the polar exploits."
—Air Mail

"When it comes to narrative nonfiction, she's the best… I  love her books. She has this way of finding a really fresh way of telling an old story."
—Erik Larson, New York Times bestselling author of The Splendid and the Vile

"Millard is an outstanding narrative historian, with the gift of breathing new life into long-forgotten stories, but what she does best is communicate to the reader the horrid details of suffering."
—Bookreporter

"Bestseller Millard (Hero of the Empire) recounts one of the greatest 19th-century British colonial explorations in this fascinating history. In 1854, the Royal Geographical Society chose Richard Francis Burton to lead an expedition to locate the source of the White Nile, the longest branch of the Nile River. After one member of his original team died before the journey, Burton hired Lt. John Hanning Speke of the Bengal Native Infantry, an avid hunter and member of the British aristocracy. Tensions between the two strong-willed men quickly surfaced, but Burton was more fortunate in his hiring of Sidi Mubarak Bombay, a formerly enslaved East African, as head gun carrier. While Burton recuperated from an illness, Speke and Bombay reached Lake Nyanza (also known as Lake Victoria), which Speke claimed as the Nile's source. Burton maintained that Speke had failed to settle the question, but before the two men could publicly debate the issue in 1864, Speke died in a hunting accident. Subsequent explorations, in which Bombay took part, proved Speke's theory. Millard's lushly detailed adventure story keeps a steady eye on the racial power dynamics involved in this imperialist endeavor and brilliantly illuminates the characters of Burton, Speke, and Bombay. Readers will be riveted. Illus."
—Publishers Weekly (starred)

"Millard, the former National Geographic journalist who took readers down an uncharted tributary of the Amazon with Teddy Roosevelt in River of Doubt, now turns her attention to the exploration of Africa's Nile River. Europe became obsessed with ancient Egypt in the 19th century following the 1799 discovery of the Rosetta Stone. Britain's Royal Geographic Society resolved to locate the headwaters of the Nile, aiming to land an expedition on the east coast of Africa and explore inland, amid rumors of a lake region in the central part of the continent. Enter Captain Richard Burton and John Hanning Speke, two men with different temperaments and interests, who had already crossed paths during an ill-fated expedition in Somaliland along with their trusted guide Sidi Mubarak Bombay, who was formerly enslaved. Millard sets the stage for their bitter rivalry after they return from their harrowing East African expedition in 1859 and Speke announces he has found the source of the Nile, naming it Lake Victoria.
VERDICT It's been nearly six years since popular Millard published Hero of the Empire, and eager fans and armchair travelers will gladly sign up for this enthralling and heartbreaking adventure."
—Library Journal (starred)

"The lure of uncharted territory.
The Rosetta Stone—discovered by French soldiers in 1799, seized by a British envoy, and deciphered 23 years later—set off an obsessive interest in Egypt, including by the newly established Royal Geographical Society, to find the headwaters of the Nile. Bestselling author Millard, a former writer and editor for National Geographic, offers a tense, vibrant history of several dramatic expeditions across East Africa that finally resulted in a successful discovery. Drawing on archival sources and her own multiple trips to Africa following the explorers' paths, Millard creates a palpable sense of the daunting task undertaken by three ambitious men: the magnetic, impulsive, and often combative Richard Burton; John Hanning Speke, an aristocratic infantry lieutenant and passionate hunter whose initial interest in East Africa was largely for the animals he could kill; and their devoted and resourceful native guide, Sidi Mubarak Bombay a former enslaved person whose intimate knowledge of tribes and terrain proved to be indispensable. Guides like Bombay, Millard argues persuasively, formed the indisputable backbone of British exploration. After abortive starts, the expedition left Zanzibar on June 27, 1857. The explorers and their team, woefully underfunded, faced innumerable hardships: scorching heat, drenching storms, near starvation, massive desertions, and threats from "large, powerful, and politically complex" East African kingdoms. Illness and injury dogged them, as they suffered from typhoid, smallpox, infected wounds, and bone-shattering fevers. Speke suffered near blindness from ophthalmia, and he became deaf in one ear after a beetle burrowed into his ear canal. For nearly a year, Burton lay paralyzed. Although they became the first Europeans to reach Lake Tanganyika, they could not proceed together to Lake Nyanza, which Speke insisted was the Nile's source. Back in London, Speke cruelly denounced Burton's leadership, securing funding for his own expedition. Although Burton died poor and angry, his legacy, unlike Speke's, has endured.
An engrossing, sharply drawn adventure tale.
—Kirkus Review (starred)