Four Plays by Aristophanes: The Birds; The Clouds; The Frogs; Lysistrata (Paperback)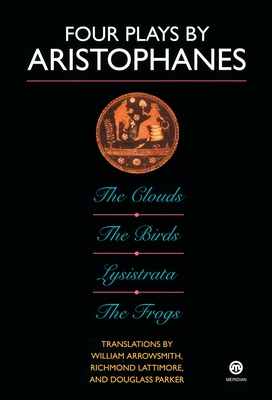 Description
---
Whether his target is the war between the sexes or his fellow playwright Euripides, Aristophanes is the most important Greek comic dramatist—and one of the greatest comic playwrights of all time. His writing—at once bawdy and delicate—brilliantly fuses serious political satire with pyrotechnical bombast, establishing the tradition of comedy as high art. His messages are as timely and relevant today as they were in ancient Greece, and his plays still provoke laughter—and thought.
 
This volume features four celebrated masterpieces: Lysistrata, The Frogs, The Birds, and The Clouds, translated by three of the most distinguished translators and classicists of our time.
 
About the Author
---
Aristophanes was born, probably in Athens, c. 449 BC and died between 386 and 380 BC. Little is known about his life, but there is a portrait of him in Plato's Symposium. He was twice threatened with prosecution in the 420s for his outspoken attacks on the prominent politician Cleon, but in 405 he was publicly honored and crowned for promoting Athenian civic unity in The Frogs. Aristophanes had his first comedy produced when he was about twenty-one, and wrote forty plays in all. The eleven surviving plays of Aristophanes are published in the Penguin Classics series as The Birds and Other Plays, Lysistrata and Other Plays, and The Wasps/The Poet and the Women/The Frogs.