He Started It (Hardcover)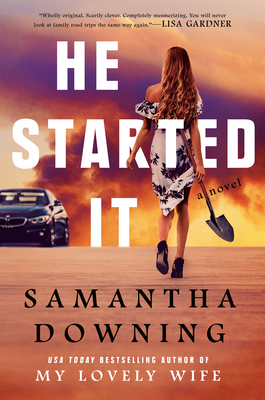 $26.00
Email or call for price.
Staff Reviews
---
Thriller lovers will go nuts for the whiplash-worthy thriller from the author of My Lovely Wife. Samantha Downing is the queen of the never-saw-it-coming ending.
— From
Mary's Book List
Description
---
AN INSTANT INTERNATIONAL BESTSELLER

"Wholly original. Scarily clever. Completely mesmerizing. You will never look at family road trips the same way again."—Lisa Gardner, #1 New York Times bestselling author

A most anticipated book by Hello Sunshine ∙ Cosmo ∙ Entertainment Weekly ∙ Betches ∙ Hollywood Reporter ∙ Parade ∙ PopSugar ∙ OK! Magazine ∙  Hello Giggles ∙ Bustle ∙  Yahoo! ∙ She Reads ∙ Book Page ∙ CrimeReads ∙ New York Post Best Book of the Week ∙ Goodreads  

From the twisted mind behind mega hit My Lovely Wife comes the story of a family—not unlike your own—just with a few more violent tendencies thrown in....

Beth, Portia, and Eddie Morgan haven't all been together in years. And for very good reasons—we'll get to those later. But when their wealthy grandfather dies and leaves a cryptic final message in his wake, the siblings and their respective partners must come together for a cross-country road trip to fulfill his final wish and—more importantly—secure their inheritance.

But time with your family can be tough. It is for everyone.

It's even harder when you're all keeping secrets and trying to forget a memory, a missing person, an act of revenge, the man in the black truck who won't stop following your car—and especially when at least one of you is a killer and there's a body in the trunk. Just to name a few reasons.

But money is a powerful motivator. It is for everyone.
About the Author
---
Samantha Downing currently lives in New Orleans, where she is furiously typing away on her next thrilling book.
Praise For…
---
"Wholly original. Scarily clever. Completely mesmerizing. You will never look at family road trips the same way again."—Lisa Gardner, #1 New York Times bestselling author

"A twisty, sneaking tale of greed, lies and betrayal, with each character as conniving as the next and an ending that will make your heart stop.  This one needs to be on the top of everyone's to-read list!"—Mary Kubica, New York Times bestselling author of The Good Girl and The Other Mrs.

"Fast-paced and whip-smart. If you don't mind spending time in dangerous company then I highly recommend this wild ride of a thriller"—Gilly Macmillan, New York Times bestselling author of What She Knew

"A thrill ride through the darkest parts of the American landscape—funny, scary and twisted until the explosive final page."—Michele Campbell, internationally bestselling author of A Stranger on the Beach

"Once you start reading, you won't want to stop. Dark, twisted, original, and so addictive it should come with a warning."—Alice Feeney, New York Times bestselling author of Sometimes I Lie

"Best for people who love Criminal Minds, research scams in their free time, and have a super f*cked up family." —Betches 

"A twisted mashup of a family drama and a thriller that you won't be able to put down."—Pop Sugar

"With our need to know ramped up through a series of teasers offering more to come, this tale is virtually impossible to put down"—Booklist (starred review)

"None of the characters are likeable, relatable or reliable, but that is what makes this read so much fun….The short chapters and pace of the story will keep readers turning the pages as they wonder how this family trip from hell will conclude."—San Francisco Book Review

"Buckle up and settle in for one diabolically fun road trip."—Kirkus

"Deliciously devious."—Publisher's Weekly

"Downing is one bold and fearless author, who doesn't blink in the face of fictional mayhem."—CrimeReads

"All hail the new Queen of the psycho thriller!!"—C.J. Tudor, Sunday Times bestselling author of The Chalk Man

"Downing ups her game in this deliciously twisted tale of family deception. He Started It has layers upon layers of clever, shocking twists that begin in the first chapter and never let up. Breathless pacing and terse, impeccable writing create a phenomenal reading experience. I am obsessed!"—Wendy Walker, USA Today bestselling author of The Night Before

"A wicked-fun read with razor-sharp wit and a killer twist, He Started It is compelling, captivating, and deliciously dark. Samantha Downing writes with a wry, sparse elegance that steadily entangles you until you're utterly addicted."—Christina McDonald, USA Today bestselling author of The Night Olivia Fell

"A diabolical drive into a dysfunctional family's past. The story is chillingly twisted, perfectly paced. Once I started reading, I couldn't put it down."—Kaira Rouda, USA Today bestselling author of Best Day Ever

"I absolutely loved it: whip-smart, lean, deliciously dark and addictive. One of the best thrillers I've read in a long time."—Ali Land, bestselling author of Good Me, Bad Me

"A tour de force in voice and structure. The brilliant Samantha Downing takes a glorious risk in this superbly captivating and endlessly surprising road trip from hell. It's sibling rivalry pushed  to the max— dark and crazy and twisted—and  I could not put it down."—Hank Phillippi Ryan, USA Today bestselling author of The First to Lie

"A dark, twisting road trip into hell with a family you wouldn't want to live next door to. I've never read anything like it!"—Mark Edwards, bestselling author of Here to Stay

"Sibling rivalry reaches new and downright despicable heights...Creepy, unnerving and deliciously evil, Samantha Downing is one of the boldest authors I know. A must read!"—Hannah Mary McKinnon, national bestselling author of Her Secret Son, and The Neighbors.

"Samantha Downing is an absolute genius at creating twisted characters you're desperate to follow...A psychological thriller like none other, this addictive read is impossible to put down."—Samantha M. Bailey, author of forthcoming Woman on the Edge

"Downing's style remains in a league of its own, with to-the-point crisp language and snappy dialogue readers are taken on a gripping and edgy adventure."—Maureen Joyce Connolly, author of Little Lovely Things