Mission Critical (Gray Man #8) (Paperback)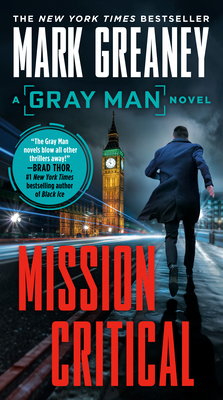 $9.99

Usually Ships in 1-5 Days
Other Books in Series
This is book number 8 in the Gray Man series.
Description
---
THE NEW YORK TIMES BESTSELLER 

From Mark Greaney, the New York Times bestselling author of Gunmetal Gray and a coauthor of Tom Clancy's Jack Ryan novels, comes a high-stakes thriller featuring the world's most dangerous assassin: the Gray Man.

Court Gentry's flight on a CIA transport plane is interrupted when a security team brings a hooded man aboard. They want to kick Gentry off the flight but are overruled by CIA headquarters. The mystery man is being transported to England where a joint CIA/MI6 team will interrogate him about a mole in Langley.

When they land in an isolated airbase in the U.K., they are attacked by a hostile force who kidnaps the prisoner. Only Gentry escapes. His handlers send him after the attackers, but what can one operative do against a trained team of assassins? A lot, when that operative is the Gray Man.
About the Author
---
Mark Greaney has a degree in international relations and political science. In his research for the Gray Man novels, including Agent in Place, Gunmetal Gray, Back Blast, Dead Eye, Ballistic, On Target, and The Gray Man, he traveled to more than fifteen countries and trained alongside military and law enforcement in the use of firearms, battlefield medicine, and close-range combative tactics. He is also the author of the New York Times bestsellers Tom Clancy Support and Defend, Tom Clancy Full Force and Effect, Tom Clancy Commander in Chief, and Tom Clancy True Faith and Allegiance. With Tom Clancy, he coauthored Locked On, Threat Vector, and Command Authority.
Praise For…
---
"I LOVE THE GRAY MAN."—#1 New York Times bestselling author Lee Child
 
"BOURNE FOR THE NEW MILLENNIUM."—New York Times bestselling author James Rollins

Praise for Mission Critical

"This novel is vintage Greaney, with a tight plot, a ticking clock, and a sympathetic antihero…This is good, Clancy-esque entertainment. May the evildoers of the world have nightmares that Violator becomes a real person."—Kirkus Reviews

"The latest in the Gray Man series continues to demonstrate why Greaney belongs in the upper echelon of special-ops thriller authors."—Booklist (starred review)

"Greaney knows what military action fans want and delivers in spades."—Publishers Weekly

"Mesmerizing…Equal parts revenge drama and conspiracy tale, Mission Critical combines the best of John le Carré and Robert Ludlum. Greaney has fashioned a masterpiece of an action thriller, mixed with deep-seated global politics, placing him on level footing with the likes of Brad Thor, Brad Taylor and the late, great Vince Flynn."—Providence Journal

"The latest in the Gray Man series continues to demonstrate why Greaney belongs in the upper echelon of special-ops thriller authors."—Booklist (starred review)

Praise for Agent in Place

"Reminiscent of John le Carré…Exquisite in its execution, the relentlessly riveting, "Agent in Place" firmly plants Greaney alongside Brad Taylor and Brad Thor as the masters of this thriller subgenre."—Providence Journal 

"Readers of the great Tom Clancy will salivate over this fast-moving and well-plotted yarn, which is part of a consistently appealing series in which each assignment is billed as the most dangerous ever. Somehow, Greaney cranks out one winner after another. That's a lot of work for the Gray Man and plenty of vicarious pleasure for thriller fans."—Kirkus Reviews (starred review)

"Greaney's steady escalation of the risks that Court faces, and the exceedingly clever ways he tackles them, make this entry in the exemplary Gray Man series a can't-miss."—Publishers Weekly (starred review)

Praise for Gunmetal Gray
 
"Fans of RPG, Hong Kong action films, and high-octane storytelling will love the Gray Man, who battles full-bore through this fast-paced series."—The Washington Post
 
"A nonstop barrage of action."—The Memphis Commercial Appeal
 
"Jam-packed with action and adventure. It is as modern as tomorrow's headlines and moves with fascinating speed from country to country."—Lincoln Journal Star 
 
"This one is fat, fast, and fun. Clancy's spirit lives on."—Kirkus Reviews (starred review)