Neuromancer (Sprawl Trilogy #1) (Paperback)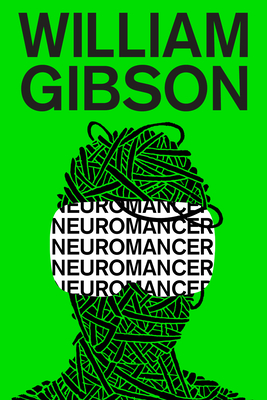 Other Books in Series
This is book number 1 in the Sprawl Trilogy series.
Staff Reviews
---
While not the first cyberpunk book, Gibson's Neuromancer is one that set the standard for many. While the novel inspired countless other stories, including the digital world of The Matrix, the true joy of Gibson's work isn't in the fantastic and often accurate predictions of our digital futures. It is in the basic questions of what it means to be intelligent and alive. Whether a digital imprint of a mind is less human than the person who left it. Whether who we are is confined to our bodies. And if something that never had a body can still be alive after all.
— From
Matthew's Book List
Description
---
Winner of the Hugo, Nebula, and Philip K. Dick Awards, Neuromancer is a science fiction masterpiece—a classic that ranks as one of the twentieth century's most potent visions of the future.

Case was the sharpest data-thief in the matrix—until he crossed the wrong people and they crippled his nervous system, banishing him from cyberspace. Now a mysterious new employer has recruited him for a last-chance run at an unthinkably powerful artificial intelligence. With a dead man riding shotgun and Molly, a mirror-eyed street-samurai, to watch his back, Case is ready for the adventure that upped the ante on an entire genre of fiction.

Neuromancer was the first fully-realized glimpse of humankind's digital future—a shocking vision that has challenged our assumptions about technology and ourselves, reinvented the way we speak and think, and forever altered the landscape of our imaginations.
About the Author
---
William Gibson's first novel, Neuromancer, won the Hugo Award, the Nebula Award, and the Philip K. Dick Award. He is the New York Times bestselling author of Count Zero, Burning Chrome, Mona Lisa Overdrive, Virtual Light, Idoru, All Tomorrow's Parties, Pattern Recognition, Spook Country, Zero History, Distrust That Particular Flavor, and The Peripheral. He lives in Vancouver, British Columbia, with his wife.
Praise For…
---
Praise for Neuromancer

"Freshly imagined, compellingly detailed, and chilling in its implications."—The New York Times
 
"Kaleidoscopic, picaresque, flashy, decadent...an amazing virtuoso performance."—The Washington Post
 
"Science fiction of exceptional texture and vision...Gibson opens up a new genre, with a finely crafted grittiness."—San Francisco Chronicle
 
"Epic in scale...shimmers like chrome in a desert sun."—The Wall Street Journal
 
"A revolutionary novel."—Publishers Weekly
 
"In with the ruthless violence, the hyperreality, the betrayal and death, is an unquenchable love of language. Gibson has that in common with Le Guin and with J. G. Ballard. Neuromancer sings to us as a collage of voices, a mixed chorus, some trustworthy and others malicious, some piped through masks."—James Gleick
 
"Streetwise SF... one of the most unusual and involving narratives to be read in many an artificially induced blue moon."—London Times
 
"Unforgettable...the richness of Gibson's world is incredible."—Chicago Sun-Times