Mistress of Rome (Empress of Rome #1) (Paperback)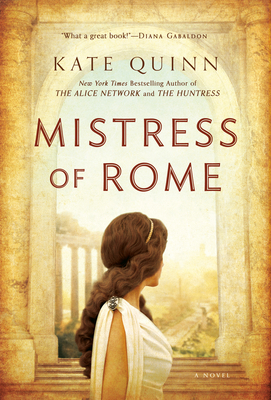 $17.00

Usually Ships in 1-5 Days
Other Books in Series
This is book number 1 in the Empress of Rome series.
Description
---
The first in an unforgettable historical saga from the New York Times bestselling author of The Alice Network and The Diamond Eye.

"So gripping, your hands are glued to the book, and so vivid it burns itself into your mind's eye and stays with you long after you turn the final page."—Diana Gabaldon, #1 New York Times bestselling author
 
First-century Rome: One young woman will hold the fate of an empire in her hands.

Thea, a captive from Judaea, is a clever and determined survivor hiding behind a slave's docile mask. Purchased as a toy for the spoiled heiress Lepida Pollia, Thea evades her mistress's spite and hones a secret passion for music. But when Thea wins the love of Rome's newest and most savage gladiator and dares to dream of a better life, the jealous Lepida tears the lovers apart and casts Thea out.

Rome offers many ways for the resourceful to survive, and Thea remakes herself as a singer for the Eternal 'City's glittering aristocrats. As she struggles for success and independence, her nightingale voice attracts a dangerous new admirer: the Emperor himself. But the passions of an all-powerful man come with a heavy price, and Thea finds herself fighting for both her soul and her destiny.

Many have tried to destroy the Emperor: a vengeful gladiator, an upright senator, a tormented soldier, a Vestal Virgin. But in the end, the life of Rome's most powerful man lies in the hands of one woman: the Emperor's mistress.
About the Author
---
Kate Quinn is a native of Southern California. She attended Boston University, where she earned a bachelor's and master's degree in Classical Voice. A lifelong history buff, she has written four novels in the Empress of Rome Saga and two Novels of the Borgias, before moving to the twentieth century with The Alice Network and The Huntress. All her books have been translated into multiple languages.
Praise For…
---
Praise for Mistress of Rome

"So gripping, your hands are glued to the book, and so vivid it burns itself into your mind's eye and stays with you long after you turn the final page."—#1 New York Times bestselling author Diana Gabaldon

"Stunning...a masterful storyteller...It is no mean feat to write a novel that is both literary and a page-turner."—New York Times bestselling author Margaret George

"An intensely emotional spectacle…An exhilarating read."—New York Times bestselling author Kate Furnivall

"Equal parts intrigue and drama, action and good old-fashioned storytelling."—John Shors, author of Beneath a Marble Sky

"For sheer entertainment, drama, and page-turning storytelling, this tumultuous debut novel is well worth reading."—Library Journal

"Quinn's command of first-century Rome is matched only by her involvement with her characters; all of them, historical and invented, are compelling."—Publishers Weekly