Pass It On (Hardcover)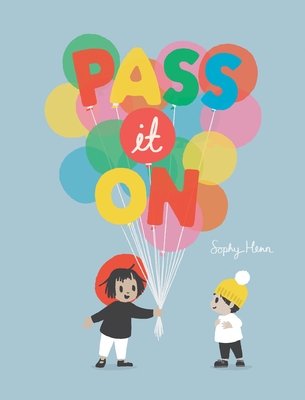 $21.84
Email or call for price.
Description
---
Here's a fun idea: When you laugh or smile--pass it on! A story about giving, sharing, and joy.

When you see something terrific, smile a smile and pass it on! If you chance upon a chuckle, hee hee hee and pass it on. Should you spot a thing of wonder, jump for joy and pass it on!

So begins Sophy Henn's ode to the excitement of sharing happiness with others. With a refrain that begs to be uttered before every turn of the page, children will eagerly read alongside their parents as they discover how wonderful--and fun!--it is to share the good things in life. After all, if you spread happiness to others, even on a gray, rainy day, when you least expect it, like a bolt out of the blue, a smile or a chuckle might be passed right back to you! This heartwarming, upbeat book is the perfect way to bring a warm ray of sunshine into every reader's life.

Praise for Pass It On

"A bright message of the power of positive emotion is conveyed in this lovely title . . . A wonderful storytime offering that will inspire little ones to connect gleefully with those around them. Be sure to read this book aloud and pass it on."--School Library Journal

"The adorable cast of multicultural kids get up to all kinds of fun . . . This celebratory, feel-good story sends a sweet reminder to young audiences about the importance of finding joy in small things and sharing it with others."--Booklist
About the Author
---
Sophy Henn (www.sophyhenn.com) lives and works in Sussex, England. She studied Fashion at Central Saint Martins, accidentally had a London based career as an Art Director in advertising, then completed an MA at University of Brighton in Illustration. Now she writes and illustrates children's books in her studio, with a large cup of tea by her side, and can't quite believe her luck. She is also the author/illustrator of Where Bear? and the Pom Pom Panda series. Follow @sophyhenn.
Praise For…
---
"A bright message of the power of positive emotion is conveyed in this lovely title . . . A wonderful storytime offering that will inspire little ones to connect gleefully with those around them. Be sure to read this book aloud and pass it on." --School Library Journal

"The adorable cast of multicultural kids get up to all kinds of fun . . . This celebratory, feel-good story sends a sweet reminder to young audiences about the importance of finding joy in small things and sharing it with others." --Booklist

"I always say, 'If you see someone without a smile, give them yours!' That's why I love this precious book, Pass It On, by Sophy Henn (ages 3 to 7), selected for my Imagination Library [a book-gifting program], about sharing your kindness, joy, and love with the world." —Singer-songwriter Dolly Parton, PARENTS Magazine