Twenty-Odd Ducks: Why, every punctuation mark counts! (Hardcover)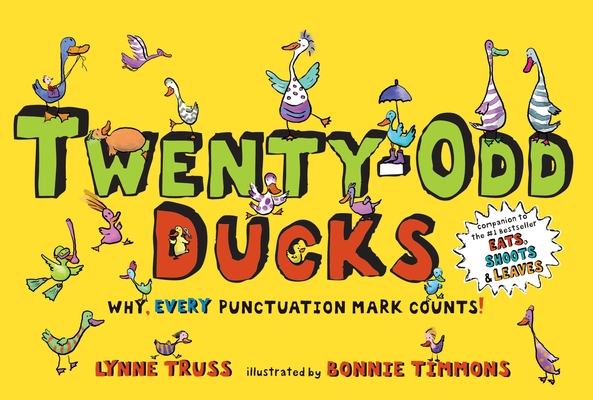 $16.99
Email or call for price.
Description
---
Language play iincludes many punctuation marks in this companion to the New York Times #1 bestseller Eats, Shoots & Leaves!

Commas and apostrophes aren't the only punctuation marks that can cause big trouble if they're put in the wrong place. 

"Twenty-odd ducks" is an estimate of how many are waddling by, but "twenty odd ducks" would not only be a big group, but they'd look very strange! Imagine this without the middle period and the comma: "The king walked and talked. A half hour after, his head was cut off." Oh no—a beheaded king that can still walk and talk! 

Truss and Timmons put hyphens, parentheses, quotation marks, periods, and more in the spotlight, with silly scenes showing how which marks you choose and where you put them can cause hilarious mix-ups.
About the Author
---
Lynne Truss is a writer and journalist who started out as a literary editor with a blue pencil and then got sidetracked. The author of three novels and numerous radio comedy dramas, she spent six years as the television critic of The Times of London, followed by four (rather peculiar) years as a sports columnist for the same newspaper. She won Columnist of the Year for her work for Women's Journal. Lynne Truss also hosted Cutting a Dash, a popular BBC Radio 4 series about punctuation. She now reviews books for the Sunday Times of London and is a familiar voice on BBC Radio 4. She lives in Brighton, England.
BONNIE TIMMONS is best known for inspiring and creating images for the television show Caroline in the City and illustrating numerous national ad campaigns.