Crudo: A Novel (Hardcover)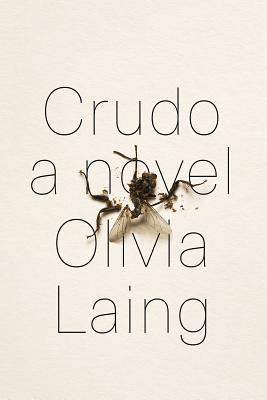 $24.15
Email or call for price.
Description
---
A New York Times Notable, Washington Post, NPR, Guardian, and Bustle Best Book of 2018



A brilliant, funny, and emphatically raw novel of love on the brink of the apocalypse, from the acclaimed author of The Lonely City.
"She had no idea what to do with love, she experienced it as invasion, as the prelude to loss and pain, she really didn't have a clue."
Kathy is a writer. Kathy is getting married. It's the summer of 2017 and the whole world is falling apart. Fast-paced and frantic, Crudo unfolds in real time from the full-throttle perspective of a commitment-phobic artist who may or may not be Kathy Acker.
From a Tuscan hotel for the superrich to a Brexit-paralyzed United Kingdom, Kathy spends the first summer of her forties adjusting to the idea of a lifelong commitment. But it's not only Kathy who's changing. Fascism is on the rise, truth is dead, the planet is heating up, and Trump is tweeting the world ever-closer to nuclear war. How do you make art, let alone a life, when one rogue tweet could end it all?
In Crudo, her first work of fiction, Olivia Laing radically rewires the novel with a fierce, compassionate account of learning to love when the end of the world seems near.
About the Author
---
Olivia Laing is the author of five acclaimed works of nonfiction, including The Lonely City and Funny Weather. Her first novel, Crudo, won the 2019 James Tait Black Prize. The recipient of the 2018 Windham-Campbell Prize in nonfiction, Laing lives in Suffolk, United Kingdom.
Praise For…
---
Crudo could turn out to be a novel that we pick up years from now to remind ourselves how these times felt... Love may not be original, but this funny, fervent novel is.

— Alexandra Schwartz - The New Yorker

Written with bristling intelligence... [Crudo is] about the longing to escape our ossified selves—to become, if only for  moment or within the pages of a novel, someone wilder and more radically free. And in staging that longing so directly and so honestly, Olivia Laing makes Crudo her own.

— New York Times Book Review

Like the foodstuff for which it is named, Olivia Laing's Crudo is weird, intense, served in a small portion, and totally delicious... Beautifully written and artfully focused.

— Rebecca Mead - The New Yorker

Breathless and gripping... [Crudo] traps the first summer of Trump and Brexit like a fly in amber.

— NPR

[A] pretzel twist of form and meaning... Laing strikes some terrific chords in this novel.
— Dwight Garner - New York Times

Crudo seduces from the very first sentence. Laing as Acker is not a literary device—it is literary detonation... Crudo is a hot, hot book.

— Guardian

[A] single moment in modernity, deconstructed by the savagely entertaining, Acker-inspired voice of Laing.
— Paris Review Daily

A narrative written with immense vitality and, miraculously, the lightest of touches... It's a subversive love story that shouldn't work, but does.
— Deborah Levy - Wall Street Journal

Laing's experiment, and it's a good one, is to describe the world—her world, between May 17 and September 23, 2017—as precisely as she can... [Crudo is] a short, entirely readable, and lovably eccentric book.

— Nick Hornby - The Believer

Laing...dunks you into the narrative and its fast-moving waters. It's only once you get to the end that you realize you've been holding your breath.
— Vanity Fair

[Crudo] manages to capture the delirium and anxiety of carrying on through [this] turbulent period with searing clarity.

— Time