Luster: A Novel (Hardcover)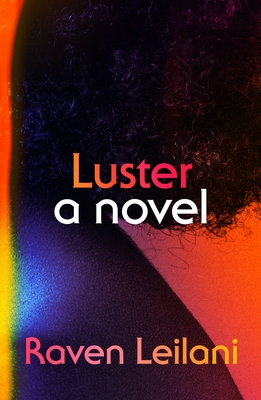 $26.00
Email or call for price.
August 2020 Indie Next List
---
"Luster centers on Edie, a young black woman working in New York publishing and barely making rent each month, who finds herself navigating a suburban white couple's open marriage. This novel is filled with unexpected turns taken at breakneck speeds. It seamlessly examines the plight of millennials living under capitalism along with the complications of intimacy and race, all while finding both the humor and profound sadness in those things. This is a multifaceted and brilliant book, as well as an extraordinary debut from Raven Leilani."
— Billy Butler, Bookshop Santa Cruz, Santa Cruz, CA
Description
---
AN INSTANT NEW YORK TIMES BESTSELLER
A New York Times Notable Book of the Year

WINNER of the NBCC John Leonard Prize, the Kirkus Prize, the Center for Fiction First Novel Prize, the Dylan Thomas Prize, and the VCU Cabell First Novelist Award

One of Barack Obama's Favorite Books of 2020
A BEST BOOK OF THE YEAR: NPR, The New York Times Book Review, O Magazine, Vanity Fair, Los Angeles Times, Glamour, Shondaland, Boston Globe, and many more!

"So delicious that it feels illicit . . . Raven Leilani's first novel reads like summer: sentences like ice that crackle or melt into a languorous drip; plot suddenly, wildly flying forward like a bike down a hill." —Jazmine Hughes, The New York Times Book Review

No one wants what no one wants.
And how do we even know what we want? How do we know we're ready to take it?

Edie is stumbling her way through her twenties—sharing a subpar apartment in Bushwick, clocking in and out of her admin job, making a series of inappropriate sexual choices. She is also haltingly, fitfully giving heat and air to the art that simmers inside her. And then she meets Eric, a digital archivist with a family in New Jersey, including an autopsist wife who has agreed to an open marriage—with rules.

As if navigating the constantly shifting landscapes of contemporary sexual manners and racial politics weren't hard enough, Edie finds herself unemployed and invited into Eric's home—though not by Eric. She becomes a hesitant ally to his wife and a de facto role model to his adopted daughter. Edie may be the only Black woman young Akila knows.

Irresistibly unruly and strikingly beautiful, razor-sharp and slyly comic, sexually charged and utterly absorbing, Raven Leilani's Luster is a portrait of a young woman trying to make sense of her life—her hunger, her anger—in a tumultuous era. It is also a haunting, aching description of how hard it is to believe in your own talent, and the unexpected influences that bring us into ourselves along the way.

"An irreverent intergenerational tale of race and class that's blisteringly smart and fan-yourself sexy." —Michelle Hart, O: The Oprah Magazine
About the Author
---
Raven Leilani's work has been published in Granta, The Yale Review, McSweeney's Quarterly Concern, Conjunctions, The Cut, and New England Review, among other publications. Leilani received her MFA from NYU and was an Axinn Foundation Writer-in-Residence. Luster is her first novel.
Praise For…
---
A NEW YORK TIMES NOTABLE BOOK OF 2020

A National Book Award 5 Under 35 Honoree

Winner of the NBCC John Leonard Prize, the Kirkus Prize, the Center for Fiction First Novel Prize, the Dylan Thomas Prize, and the VCU Cabell First Novelist Award

Finalist for the PEN/Hemingway Award, and the Gotham Book Prize
Longlisted for the ALA Carnegie Medal for Excellence, the PEN/Jean Stein Award, the Women's Prize for Fiction, and the Brooklyn Public Library Literary Prize
An Instant New York Times Bestseller, Los Angeles Times Bestseller, National Indie Bestseller

A Best Book of 2020: NPR, O Magazine, Vanity Fair, Los Angeles Times, Glamour, Shondaland, The New York Times Book Review, Boston Globe, Buzzfeed, Kirkus, Time, Good Housekeeping, InStyle, The Guardian, Literary Hub, Electric Literature, Self, The New York Public Library, Town & Country, Wired, Boston.com, Happy Mag, New Statesman, Vox, Shelf Awareness, Chatelaine, The Undefeated, Apartment Therapy, Brooklyn Based, The End of the World Review, Exile in Bookville, Lit Reactor, BookPage, i-D

A Favorite Book of the Year: The New Yorker, Barack Obama

A Best Book for Holiday Gifts: AV Club, Chicago Tribune, New York Magazine/The Strategist, The Rumpus

A Book Club Pick at Goop, Belletrist, Marie Claire, Vox, Esquire, Book of the Month Club (add-on), Get Lit! with WNYC, Green Apple Books, Odyssey Bookshop, Bull Moose Bookstore, Amerie, and Books on the Subway

**One of the Most Anticipated Books of Summer 2020**
Vogue, Elle, Time, The New York Times, Good Morning America online, The Washington Post, Esquire, The Chicago Tribune, Harper's Bazaar, Shondaland, Goop, Vulture, The Huffington Post, Parade, USA Today, COLORLINES, Literary Hub, Pittsburgh City Paper, Bust, Buzzfeed, Ms. Magazine, Electric Literature, Refinery29, PopSugar, The Millions, The Rumpus, Observer, Book Riot, Thrillist, Domino, PureWow, PopSugar, New York Amsterdam News, Debutiful, Write or Die Tribe, Book Bub, Odyssey, Suitcase, We Are Bookish, Apartment Therapy, Paperback Paris, Bookshop.org, Green Apple Books

"Exacting, hilarious, and deadly . . . A writer of exhilarating freedom and daring."
—Zadie Smith, Harper's Bazaar

"So delicious that it feels illicit . . . Raven Leilani's first novel reads like summer: sentences like ice that crackle or melt into a languorous drip; plot suddenly, wildly flying forward like a bike down a hill."
—Jazmine Hughes, The New York Times Book Review

"[Raven Leilani] is a sharp phrasemaker . . . [and] Luster, a highly pleasurable interrogation of pleasure . . . There is more than a touch of Ralph Ellison here, the hypervisible invisible woman who is cast by the world in categorical terms while trying to be seen for herself."
—Alexandra Schwartz, The New Yorker

"Darkly funny with wicked insight . . . This keenly observed, dynamic debut is so cutting, it almost stings."
—Lauren Puckett, Elle

"Edie is an African American woman, but not every African American woman is Edie. What's best about Luster is precisely her messy, unabashed individuality. As she explores the world around her, Edie addresses us in a funny, shrewd narrative voice that precisely describes the wide-ranging contours of her life, be it losing her virginity, watching Rebecca cut up cadavers, going to Comic-Con or showing how police respond to two young Black women walking in a suburban neighborhood."
—John Powers, NPR

"Wildly beguiling . . . [Raven Leilani is] a phenomenal writer, her dense, dazzling paragraphs shot through with self-effacing wit and psychological insight."
—Leah Greenblatt, Entertainment Weekly

"This debut novel from powerhouse writer Raven Leilani . . . deftly subverts the white gaze while also crafting an unforgettable protagonist. But the real fire here is Leilani's writing. Her sentences are gorgeous, and both the prose and the content will make you sweat."
—Sarah Neilson, Shondaland

"Blistering . . . thrums with observational humor . . . Luster is not a novel concerned with romantic drama. It's all about attention—why we crave it and what forms it takes. Leilani carefully pulls the strings of Edie, Rebecca, Eric and Akila, revealing how lonely they all are . . . Unsettling and surreal."
—Annabel Gutterman, Time

"Strange, hilarious, important."
—Bethanne Patrick, The Washington Post

"An emotional rollercoaster that will have you on the verge of tears or in stitches with laughter."
—Sian Babish, The Chicago Tribune

"Leilani has a blistering talent for describing a moment while refusing to name its undercurrents . . . Leilani [has a] remarkable ability to turn straight sex into something terrifyingly strange yet familiar, almost as if Edie is reproducing an othering, fetishized gaze for what is considered normal. But Luster is also an interesting meditation on social ethics . . . Luster seems like the first crashing of a new wave of fiction defined by a world where all the traditional vocabularies for morality have gone defunct."
—Josephine Livingstone, The New Republic

"Raven writes with the confidence of someone who's been at this game for decades. This is a sizzling book."
—Brad Thor, Today

"There is nothing on offer like Luster—the story of a Black woman who is neither heroic nor unduly tragic . . . She is destructive but tender, ravenous for experience but deeply vulnerable—and often wickedly funny."
—Parul Sehgal, The New York Times

"On every page a shudder of recognition, then a lol, then an electroshock. It's gutting and hilarious and lush. Every detail builds so beautifully, I don't want to spoil anything, but if you want to forget yourself in a passage . . . 100 times over, this is your next read."
—Tavi Gevinson on Instagram

"This novel is ridiculously good: gorgeous, dark, and funny, with sentences that'll wreck you. I will follow this author anywhere she wants to take me."
—Carmen Maria Machado, author of In the Dream House

"Narrated with fresh and wry jadedness, Edie's every disappointment [is] rendered with a comic twist . . . Edie's life is a mess, her past is filled with sorrow, she's wasting her precious youth, and yet, reading about it all is a whole lot of fun."
—Chloe Schama, Vogue

"Luster is the kind of novel that makes a writer jealous . . . [It] brims with the kinds of masterful sentences one can imagine mentors like Zadie Smith and Jonathan Safran Foer underlining with linguistic glee. It gleams, as the title suggests, with words and ideas both profound and deeply honest."
—Isabel Jones, InStyle

"A darkly funny, hilariously moving debut from a stunning new voice. Luster follows the unforgettable Edie, a hapless young woman suffocating under her own loneliness, whose caustic observations made me laugh out loud and gasp in recognition. Raven Leilani crafts a beautiful, bighearted story about intimacy and art that will astound and wound you. I couldn't put this one down."
—Brit Bennett, author of The Vanishing Half

"There are pages in this book so good they burn your fingers."
—Garth Greenwell on Twitter

"Luster feels new. For one thing, Edie, as she says in a tongue-in-cheek paraphrase of the language her date might use, 'happens to be Black,' and her sharp analysis of race and class cuts through every interaction. For another, the novel grapples deeply with the very idea of surface, of what might lie beneath the breathless present tense of youth, the trappings that make up a life . . . The prose wrestles Edie's soul against this barrage of descriptors until the title, Luster, can be read only as a noun, not about sheen or sparkle but about what it means to be one who is driven by desire."
—Nadja Spiegelman, The Paris Review

"Promises to be an August hit . . . As Edie searches for her identity as an artist and a Black woman, she spins a tale of intrigue and coming-of-age, all with electric storytelling."
—Zibby Owens, Good Morning America online

"The most thrilling thing I've read in months."
—Stephanie Danler on Instagram

"Leilani's novel showcases a new portrayal of Black women millennials . . . To be Black is to be boundless in our multitudes. Edie isn't a role model and in her, I see past versions of myself, and the evolution of current heartaches."
—Vanessa Willoughby, bitch

"An irreverent intergenerational tale of race and class that's blisteringly smart and fan-yourself sexy."
—Michelle Hart, O: The Oprah Magazine

"Compulsively readable."
—Emma Specter, Vogue

"Like all great books, Luster eludes easy categorization. It's a slippery novel about many things—being young, being Black, being a woman, being depressed, feeling lonely, latent trauma, sex . . . What is so immediately striking about Luster—and what sets it apart from the glut of millennial fiction—is the quality of the writing itself."
—Tomi Obaro, Buzzfeed News

"Vibrant, spiky . . . Leilani is a master . . . a major new talent . . . Luster isn't just a sardonic book, but a powerful one about emotional transformation."
—Mark Athitakis, USA Today

"Mercilessly funny and sharp, Raven Leilani's Luster is unexpected and utterly fascinating."
—Megan DiTrolio, Marie Claire

"Sinking into the pleasures of Leilani's darkly funny and bitingly insightful prose over an aimless shut-down weekend is a treat you deserve. With a highlighter in one hand and Luster in the other, chapter one alone becomes a riot of yellow stripes."
—Erin Keane, Salon

"Luster is brilliant. Leilani writes as if she's stabbing the keyboard with scalpels made of class resentment and memories of racism and misogyny . . . Edie is unforgettable, and so is Luster, a novel that shines with a distinctive darkness."
—Gabino Igelsias, NPR

"An unstable ballet of race, sex, and power. Leilani's characters act in ways that often defy explanation, and that is part of what makes them so alive, and so mesmerizing: Whose behavior, in real life, can be reduced to simple cause and effect? Sharp, strange, propellent—and a whole lot of fun."
—Kirkus, starred review

"Luster is the best debut novel of the year. It glitters, it pulses, it lives! Simultaneously full of pain and laughter."
—Emma Straub on Twitter

"A rocket-paced, sensual fever dream of sex, trauma, relationships and conflicting perceptions . . . Luster is intoxicating and surprising, never letting readers settle into recognizable patterns. Leilani has crafted an unforgettable novel about a young woman making her own way."
—Julia Kastner, Shelf Awareness

"What stands out here is Leilani's prose, which is breathless, frantic, and reads like a Twitter wit grew legs and an IRL identity."
—Hillary Kelly, Vulture

"Sexy, funny, and wholly self-aware, Luster couldn't come at a better time."
—Thrillist

"Raven Leilani's sentences pulse and writhe and shimmer and gut-punch. Above all they tell the truth, even when it hurts."
—Angela Flournoy, author of The Turner House

"The narrative voice of this startling novel is layered, complex, pitch-black comic, and deadly earnest, even ardent in its will to sift through the chaos and idiocy of our madhouse culture and find some glimpse of human reality. Raven Leilani is intellectually supple and steely at the same time; she thinks and perceives blessedly outside any kind of norm. She has made a truly lustrous piece of art."
—Mary Gaitskill, author of This Is Pleasure

"An utterly strange and beautiful book, at once grab-your-gut visceral and the work of a razor-sharp intellect. The sentences are simply virtuosic."
—C. Pam Zhang, author of How Much of These Hills Is Gold

"Timeless . . . Luster is lean and focused, yet dense with reference and detail, the lush prose heightening its tangible specificity. Leilani also makes smart use of the well-placed long sentence, the catharsis that can arrive when something comes to an end."
—Laura Adamczyk, A.V. Club

"The author of Luster has emerged as the year's most exciting new literary voice . . . Luster is succeeding with all its darkness and sharp corners intact, an unflinching chronicle of a young woman's attempt to make sense of the cards she's been dealt."
—Roxanne Fequiere, Elle

"There are no perfect Black women in Raven Leilani's debut novel, Luster, and that is by design . . . Leilani tries to liberate the Black woman figure's range of behaviors, thoughts, and feelings from an inherent virtuousness or exceptionalism. This choice challenges readers to recognize Edie's agency and see her as a young Black woman in progress."
—Lovia Gyarkye, The Atlantic

"[Luster] deserves all the hype, and more."
—Jeva Lange, The Week

"Leilani's radiant debut belongs to its brilliant, fully formed narrator. Old soul Edie has an otherworldly way of seeing the world and reflecting it back to readers, peppering experiences of past and current despair with acceptance and humor but never sacrificing depth, of which her story has miles. A must for seekers of strongly narrated, original fiction."
—Booklist, starred review

"Sexy, funny and haunting, Luster is a simmering debut."
—Karla Strand, Ms. Magazine

"Hilarious, honest, bursting with desire and sharp insight, Luster is absolutely captivating. I didn't so much read it, as gulp it down. There's so much to learn here, so much to admire. Leilani is an irreverent, impeccable stylist—a voice we need right now."
—Justin Torres, author of We the Animals

"In Luster, hunger, longing, desire, pleasure, discomfort, pain and alienation are all brilliantly, physically expressed in the protagonist Edie's body—literally in her gut. The brilliance of this book (or, one element of it) is the way issues of race and power are felt so physically, and rendered so intimately you feel them in the pit of your own stomach."
—Shruti Swamy, Electric Literature

"Wonderful."
—Megan Giddings, The PEN America Podcast

"A beguiling fever dream of a novel, shot through with wistfulness, humor, and a kind of breathless, furious verve. You'll find it impossible to put down."
—Ling Ma, author of Severance

"[A] prismatic interrogation of love, race, capitalism, and art . . . Through Leilani's modern, rapid-fire narrative, Luster becomes a hyper-realistic portrait of a black artist staring head-on at the contradictions of the kaleidoscopic, fraught world around her."
—Sarah Etter, BOMB

"In Luster, Raven Leilani has created a character unlike any other in recent fiction. A slacker black queen, a depressive painter, a damn funny woman. The narrator of this novel tells us of her history and her present life in hypnotic language that is a pleasure to read. Leilani is such a talented writer, I rushed to the end of every outrageous sentence to figure out how she would pull it off."
—Kaitlyn Greenidge, author of We Love You, Charlie Freeman

"Luster hooked us from the opening sex scene . . . Charged and hypnotic, Luster is poised to become one of the books that defines what it's like to be young in this moment."
—goop.com

"Electric, heralding a singular new literary voice . . . Provocative and surprising. Edie is both emblematic of a generation of detached, fiercely intelligent yet hopelessly drifting young women, who yearn for something more."
—Kristen Iversen, Refinery29

"Raven Leilani is a writer of unusual daring, with a voice that is unique and fully formed. There is humor, intelligence, emotion, and power in her work. I cannot think of a writer better suited to capture our moment."
—Katie Kitamura, author of A Separation

"Encountering Raven Leilani's one-of-a kind debut jolted me out of my mid-pandemic stasis . . . [Luster] is like nothing else I've read this year. Leilani's vibrant language and unflinching willingness to get down into the muck of human behavior make each sentence of this novel feel like a revelation and a discovery."
—Lindsay Miller, PopSugar

"The threat of a sharp edge is on every page . . . Interior monologues are written like the tenebrist masterpieces Edie loves . . . Sex is the answer to many of the book's questions, yet the fact of fucking is nowhere near as thrilling as what Leilani understands: the endless ways the desires of another can be made to feel like our own."
—Haley Mlotek, Frieze

"The perfect antidote to the taut ball of nerves we've all been carrying around since March . . . This story combines social commentary, racial politics and searing humor. E-readers, you might want to forgo the Kindle for the actual book. You'll want something to grip."
—Toby Lowenfels, What's Up Moms

"A coming-of-age story that's sure to keep you turning pages."
—Stephanie Long, Refinery29

"Luster . . . grapples with loneliness in a way that is socially relevant, raw, vulnerable—and darkly funny . . . Edie's internal dialogue is often tender and revealing . . . A much-needed examination of the intersection of Blackness, class, sexuality and power."
—Ashendri Wickremasinghe, The Toronto Star

"A smart and bold exploration of self-worth and self-appreciation . . . both sexy and sad, angry but funny, with impressive literary prose that is blunt and mischievous, luring you with little intention to let go . . . Leilani has given us a novel of our times."
—Carissa Chesanek, PANK

"A stunning debut from a powerful new voice . . . Narrative drive oozes out of every sentence. This novel is a pleasure to read on all levels."
—Catie Disabato, Cinnamon Magazine

"The narrator of Luster . . . is the fierce, unruly antidote to what Jess Bergman called the 'remote avatars of contemporary malaise'—she is not cool, nor detached, nor noncommittal, but absolutely bursting with thoughts and feelings and desires, some of which often spill over and make a mess, or a scene, or a bonfire. Edie talks shit but also takes it—she's hilariously caustic about the world around her, but her criticism never feels empty. I loved every minute."
—Emily Temple, Lit Hub

"Leilani's writing is cerebral and raw, and this debut novel will establish her as a powerful new voice . . . [She] has proven herself to be a keen social observer—especially about the truths that some people don't want to see."
—Jessica Wakeman, BookPage

"Sometimes there's a book that everyone in the publishing world is talking about. Luster is that book."
—Adam Vitcavage, Electric Literature

"Debuts as accomplished as Luster make you exclaim 'what a find' at the end of the novel . . . It is disruptive, darkly funny, and searing—five stars! Read it if you like to navigate social landscapes, sexual politics and interracial relationships clothed as an entertaining, and riveting book."
—Resh Susan, The Book Satchel

"Leilani has an uncanny, genius way with sentences. Her more humorous lines unravel and fork like snake tongues into many directions at once; but in moments of absolution, they strike like a burning torch."
—Alex Zafiris, Observer

"Tackling questions of race, age, and power, Luster is a must-read new novel that perfectly captures our strange age."
—K.W. Colyard, Bustle

"Despite, or perhaps because of, the various tiny sentence-level explosions of violence and delight, it's difficult to overstate the uncanny familiarities of Edie's voice, world, work . . . It sits in the dizzyingly perfect groove of the novel that's under capitalism and knows it."
—Tajja Isen, The End of the World Review

"Funny, raw and brutally honest, Raven Leilani brilliantly captures the trials of your twenties."
—Kailey Brennan, Write or Die Tribe

"You should absolutely run out (or log on quickly) to buy Raven Leilani's Luster . . . Brilliant, captivating."
—Emily Temple, BOMB

"Probably the sexiest, most uncomfortable and most unresolved novel I read all year."
—Roxane Gay, The Audacity

"Open relationships, racial dynamics and class form the backbone of Leilani's darkly humorous yet insightful debut."
—Rae Boocock, Suitcase

"Nothing if not an ambitious work . . . Refreshingly honest about Edie's ambivalence, desperation, and longing . . . Luster is a novel about what it means to be a black-female flaneur . . . The real architecture of this novel rests on Edie—the young black vixen, usually relegated to the observed and the consumed, becoming the observer and hungrily eating up the worlds around her."
—Kaitlyn Greenidge, Virginia Quarterly Review

"New Yorkers, I dare you to not find this novel relatable af."
—Sara Levine, Betches

"An infinite scroll of pathos and precision and an anthem of decolonizing the Black body, Luster marks the rise of an unmissable talent. Mark my words, Raven is a phoenix on the rise."
—Paperback Paris

"Leilani is a voice America desperately needs and Luster delivers."
—debutiful

"A lyrical bildungsroman . . . staggeringly brilliant . . . Luster feels like—and has rightfully been hailed as—the entrance of a singular, breakthrough literary voice . . . Leilani's writing is haunted and poetic, brimming with incisive jabs at the indignities and disorientations of young Black womanhood, but one of the great and subtle feats of the novel is its ability to observe these realities as pedestrian, grounded within the interior of Edie's life. Moments never feel, in themselves, like stand-ins for a treatise of the 'isms' of America. Instead, encounters unfold strangely in Edie's lonesome, mournful world."
—Brandon Yu, Datebook

"One of the year's most anticipated titles for good reason: this story of race, privilege, art, and sexuality is brilliant."
—Sabienna Bowman, PopSugar

"This book made me gasp. The prose! To arrange 10 words I've known for most of my life and make me see something new in them is startling . . . I recommend this novel to anyone who is looking for a disruptive take on a summer book. It brings the heat and then some."
—Sacha Vega, The Cha Cha Reader

"[Luster is] so good . . . It's refreshing, it's honest, it's very funny. Her sentences rarely end the way I think they're going to."
—Katie Yee, Lit Hub's "The Week in Books LIVE"

"Edie is a fascinatingly complex protagonist, and Leilani describes specific moments and scenes with great precision and nuance."
—Curtis Sittenfield, The Guardian

"In this unforgettable coming-of-age story, Edie, a woman in her twenties, loses her job in publishing and finds herself far more enmeshed in a couple's open relationship than she had ever imagined. At turns immediate and languid, Leilani's novel explores the complex ways in which we come to understand who we really are."
—Kristy Harvey, BookTrib

"A new wave of American authors is emerging to reexamine the Complicated White Man's extramarital affair. Thirty-year-old Raven Leilani's first novel, Luster, tells the story from the other side, as a young Black woman involves herself in the open marriage of an older white man . . . Luster is ambitious, relevant, and necessary. Leilani's is a clear new voice reconciling with the mantles America builds its oppressors. Luster knows how one can adore those belittling figures, like the Complicated White Man, but reminds, 'all of it, even the love, is a violence.'"
—Colton Alstatt, ZYZZYVA

"Leilani's satire manages to combine the momentum of a beach read with a bitterer aftertaste."
—Leah Price, Public Books

"An electric swirl of shifting power dynamics and calculated intimacies . . . Leilani has a special gift for reconstructing the way late-stage millennials breathlessly narrate their own lives in her prose, with Edie's internal monologue barreling through the hairpin turns of her life as if to lay claim to its tragedies before anyone else can."
—Sara Batkie, Chicago Review of Books

"Leilani's imagination flutters and scintillates like a mirror ball . . . Leilani's Herculean attention to detail is about more than verisimilitude. As Leilani implies at the novel's end, it is about recording all the world's beauty and ugliness while one still can. Each clear-eyed observation and lyrical digression is offered up as a salvaged token, evidence that you saw and loved and suffered and felt deeply."
—Brandon Sanchez, America: The Jesuit Review

"Leilani knows the joy of fiction comes from voyeurism, and she lets the reader indulge. Luster is a masterpiece for anyone who has ever been horny on main . . . Edie is brilliant, sensitive, and sharply funny. Her jokes land. She assesses herself with a blistering objectivity . . . Leilani's prose cuts out collage pieces with the precision of an exacto knife . . . Leilani understands that a book cannot humanize people—they are already human. Edie is a compelling character precisely because Leilani rejects the idea that fiction must create empathy through positive representation . . . White literary culture has long denied Black women orbit; into this void now arrives Raven Leilani, and a new star ignites."
—Women's Review of Books

"Lusteroffers proof that Black women do exist, though constantly devalued, over-simplified, and extracted. Not only does Edie exist, but she exists in her full range of complexities and contradictions: hypervisible and invisible, empty but fulfilling others' expectations and fantasies, painfully self-aware yet unable to render a depiction of herself . . . In her writing, Leilani taps into an emotional frequency that usually feels inarticulable, but deeply embodied. Leilani achieves this with her beautiful, raw, matter-of-fact prose that is imbued with resistance. You will read and, without ever previously having the language to understand these visceral feelings of brokenness, Leilani will give you every single word, image, and phrase ever needed."
—Kira and Mae, Womxn of Color Book Club

"A historical loneliness, a sense of not being a fully vested participant in the American ideal has come raging to the surface in these months of quarantine and uprising. The writer Raven Leilani evokes that intergenerational loneliness again and again in her debut novel, Luster . . . Leilani has written a book of surfaces, beheld as a painter approaches a subject . . . Luster evokes Ralph Ellison's Invisible Man, not necessarily for Ellison's political meanings, but for the state of going unobserved, unknown in a society. One approach to art is bringing the unseen to light, and Leilani's project reveals the contours of Edie's life and the carelessness of society toward vast swaths of individual experience . . . In one long stretch of the book, no other character says Edie's name in so many pages that it can seem as though she's an unnamed character. Reading Leilani's book in the midst of the uprisings across the country, the names of the slain in newspaper headlines and on handmade signs, the absence of Edie's name from the pages of her own story, from the mouths of the people she's living among, weighs heavily . . . In Luster, Leilani does what Edie cannot. She captures the force of desire in a portrait from which you cannot look away."
—Lee Thomas, Los Angeles Review of Books

"With its electric prose and lightning pace, Luster could be the most exciting and memorable novel you read this year. It's a wild ride, sharing head space with young Black narrator Edie — a queen at quipping and overthinking at every opportunity — especially once she moves to the Jersey suburbs to live with her older white lover, his wife, and their adopted daughter. Just about every page crackles with humor and modern neuroses about sex, race, class, gender, age, you name it."
—Patrick Rapa, The Philadelphia Inquirer

"Raven Leilani doesn't shy away from creating a character that seems utterly unconcerned with people's value judgments and troupes of likability . . . Leilani examines the tension between each character with a raw, unrelenting eye and even a sense of sharp humor . . . Visceral and gripping from the first sentence."
—Julyssa Lopez, Remezcla

"I was blown away by this debut novel . . . Every sentence is a treat to read, even when it is plumbing the bleakest truths of society and humanity. It is political and emotional, tender and sharp, absurd and relatable, heartbreaking and funny. The writing is packed with sharp observations of the most eccentric human behaviour, all propelled with an addictively page-turning plot . . . It is exquisite."
—Dolly Alderton, The Guardian

"With Luster, Raven Leilani establishes herself as a novelist who perfectly distills millennial culture and the impact of race and class with both wit and compassion. Her central character, the twenty-something New Yorker Edie, is living a life at once highly relatable (her city apartment woes will have you nodding with sad recognition) and genuinely unorthodox (she moves in with the wife and child of the man she's having a fling with). Leilani's remarkable first novel is sharp, funny, and transcendent."
—Adrienne Gaffney, Elle

"This stunning book addresses power dynamics in a fresh, almost subversive way."
—Lizz Schumer, Good Housekeeping

"Acidly funny, torrid and hyper-real."
—Los Angeles Times

"At once hilarious and uncomfortable, diving into a young black woman's relation- ship with an older man and his wife and child. Leilani does things with language which will have you going back over the sentences, trying to see how she does it. Completely stunning."
—Daisy Johnson, New Statesman

"A hand grenade disguised as a coming-of-age novel. It's everything you want in a bildungsroman — it's intimate, funny and daring — but in Raven Leilani's skilled hands it is also volatile and complex, a profound meditation on the intersection of race and loneliness, a thorny examination of sexuality and trauma, of power and privilege, and the subtle interplay between all of the above. It's also so absorbing and compelling that it's almost impossible not to read it in one sitting. This is a great gift for admirers of Zadie Smith, Brit Bennett or Mary Gaitskill."
—Rachel Weaver, The Chicago Tribune

"Wildly assured . . . [Luster is] an audacious and tantalizing story about the 'gray, anonymous hours' of one's 20s, when, for better or worse, anything and everything can happen."
—O Magazine

"Part coming-of-age story, part laugh-out-loud dark comedy."
—i-D Magazine

"Raven Leilani tells us a story of the millennial of this generation and the impact of race and class along with the perfect valance of wit and compassion. The novel follows the story of an unconventional person named Edie. The story is funny, witty, and a must-read."
—Ranjita Paul, Morning Picker

"With her frank, filthy and darkly funny debut novel Luster, Raven Leilani gives us the complex and unashamedly flawed Black heroine that we don't see often enough in literature."
—Cherish Rufus, Financial Times