Random Sh*t Flying Through the Air (The Frost Files #2) (Paperback)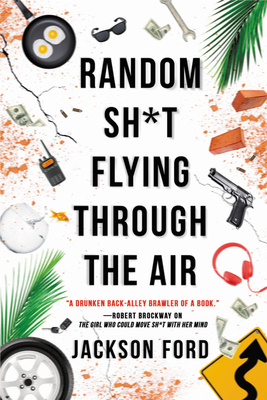 List Price: $19.99
Our Price: $17.99
(Save: $2.00 10%)
Other Books in Series
This is book number 2 in the The Frost Files series.
Description
---
"The stakes couldn't be higher ... The suspense, the danger, and the rocket-fueled pace are all turned up to 11."―Kirkus
 
"Furious, frenetic, fun, and "f**k you" — Robert Brockway on The Girl Who Could Move Sh*t With Her Mind

Teagan Frost -- the girl with telekinetic powers and a killer paella recipe -- faces a new threat that could wipe out her home forever in the second book of Jackson Ford's irreverent fantasy series. Teagan Frost's life is finally back on track. Her role working for the government as a psychokinetic operative is going well. She might also be on course for convincing her crush, Nic Delacourt, to go out with her. And she's even managed to craft the perfect paella. But Teagan is about to face her biggest threat yet. A young boy with the ability to cause earthquakes has come to Los Angeles -- home to the San Andreas, one of the most lethal fault lines in the world. If Teagan can't stop him, the entire city -- and the rest of California -- will be wiped off the map . . . For more from Jackson Ford check out:The Girl Who Could Move Sh*t With Her Mind
About the Author
---
Jackson Ford is a pseudonym for Rob Boffard, a South African writer currently living in Vancouver. He is the author of the critically acclaimed Frost Files series, about a government operative with telekinetic powers. He has released four science fiction novels under the name Rob Boffard, and was previously a journalist for over a decade, writing articles for publications and sites including The Guardian, the BBC, Wired Magazine and io9.
Praise For…
---
"A fantastic follow-up ... Readers who enjoyed Teagan's first brush with disaster will be thrilled to see her pushed beyond her limits in this winning sequel."—Publishers Weekly on Random Sh*t Flying Through the Air

"This second book about psychokinetic superspy Teagan is even more suspenseful than The Girl Who Could Move Sh*t With Her Mind (2019). The stakes couldn't be higher ... The suspense, the danger, and the rocket-fueled pace are all turned up to 11 in this more-than-satisfying sequel."—Kirkus on Random Sh*t Flying Through the Air

"This smart, action-packed novel is tighter than its predecessor, and Ford injects just enough exposition that new readers will be able to pick up here. Readers will be back for the next entry."—Booklist on Random Sh*t Flying Through the Air

"Furious, frenetic, fun, and "f**k you": All equally valid descriptions of this book and its punk rock chef/psychic warrior protagonist. It's like the X-Men, if everybody was sick of each other's sh*t, they had to work manual labor to pay rent, and Professor X was a sociopathic government stooge. A drunken back-alley brawler of a book."—Robert Brockway, author of The Unnoticeables, on The Girl Who Could Move Sh*t With Her Mind

"Like Alias meets X-Men. I loved it."—Maria Lewis, on The Girl Who Could Move Sh*t With Her Mind

"Ford's debut holds nothing back, delivering a sense of absurd fun and high-speed thrills that more than lives up to that amazing title."—B&N Sci-Fi & Fantasy Blog, on The Girl Who Could Move Sh*t With Her Mind

"Teagan is a frank and funny narrator for this wild ride, which starts off with our heroine falling from the 82nd floor of a skyscraper and pretty much never slow down . . . . A fast-paced, high-adrenaline tale that manages to get into some dark themes without losing its sense of fun."—Kirkus, on The Girl Who Could Move Sh*t With Her Mind

"Ford's breakneck pace keeps the tension high, and the thrills coming the whole way through."—BookPage, on The Girl Who Could Move Sh*t With Her Mind

"The novel unfolds cinematically with loads of breathtaking action, a perfect candidate for film or television adaptation . . . [Readers will] want more."—Booklist, on The Girl Who Could Move Sh*t With Her Mind

"Ford's strengths are evident in the taut acton sequences and suspenseful pacing."—Publishers Weekly, on The Girl Who Could Move Sh*t With Her Mind

"The writing and storytelling is as clear and fun as the title indicates."—Locus, on The Girl Who Could Move Sh*t With Her Mind