Wealth Warrior: 8 Steps for Communities of Color to Conquer the Stock Market (Hardcover)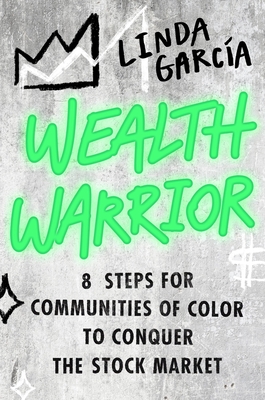 $29.00

Usually Ships in 1-5 Days
Description
---
This much-needed conversational guide to the stock market by a financial expert empowers you to heal money wounds, establish financial literacy, and make your money work for you.
 Financial educator Linda García breaks down one of the most elusive yet effective financial systems in existence. A single mother at a young age, Linda struggled to survive. As bills and eviction notices flowed in, she felt stuck. After getting advice from a work friend, Linda took the leap and invested two hundred dollars. Soon, two hundred dollars a month grew to seven thousand dollars, then that became a high six-figure investment. Now she owns her home and is making more money than she'd ever imagined, and is ready to help other people of color access stock knowledge and achieve financial success.
As a proud Latina, García understands that building wealth can mean more than stepping into financial arenas historically kept from communities of color. It may first require getting to the root of our money wounds—the factors and experiences that limit our capacity to feel deserving of wealth and capable of building it. In this investing playbook, she guides you on how to establish a budget, create your "opportunity fund," and pay yourself first
. 
 She shows you how to analyze a company, choose the right stocks for you, and create a plan to multiply your money.  
You'll learn:
What it means to invest, where your money goes, and how to read stock charts.
How to assess companies, pick your first stock, and buy your first shares.
Tactics to break free from a scarcity mindset and grow your stocks to create life-changing wealth.
Complete with an accessible glossary of stock market terms,
Wealth Warrior
is a true primer on how to generate the wealth you deserve!  
About the Author
---
Linda Garcia is the founder and CEO of In Luz We Trust, an initiative to help communities of color and children of immigrants understand their relationship to money and leverage their resources to invest. She lives in Dallas, Texas.

 
Praise For…
---
"As a first-generation Latina, I was not taught to have an abundance mindset. I love that Linda is teaching all of us what it means to not have a scarcity mindset and to give ourselves power through education and financial literacy with her book, Wealth Warrior!"—Patty Arvielo, Co-Founder and President of New American Funding

"Linda's intuition in areas of leadership growth is amazing. Taking others with her is what makes Linda and Wealth Warrior special. If you are ready to create wealth, then this book is for you." —Richard Montanez Former VP, PepsiCo Marketing and author of Flaming Hot