Women of Abstract Expressionism (Hardcover)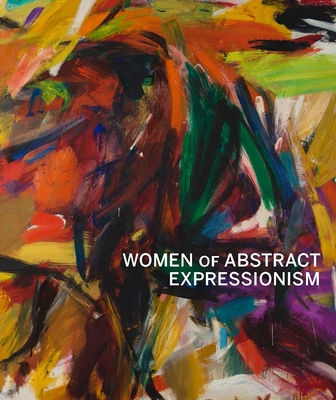 $65.00

Usually Ships in 1-5 Days
Description
---
The celebrated survey of female Abstract Expressionist artists revealing the richness and lasting influence of their work
The artists Jay DeFeo, Helen Frankenthaler, Grace Hartigan, Elaine de Kooning, Lee Krasner, Joan Mitchell, and many other women played major roles in the development of Abstract Expressionism, which flourished in New York and San Francisco in the 1940s and 1950s and has been recognized as the first fully American modern art movement. Though the contributions of these women were central to American art of the twentieth century, their work has not received the same critical attention as that of their male counterparts.  
Women of Abstract Expressionism
is a long-overdue survey. Lavishly illustrated with full-color plates emphasizing the expressive freedom of direct gesture and process at the core of the movement, this book features biographies of more than forty artists, offering insight into their lives and work. Essays by noted scholars explore the techniques, concerns, and legacies of women in Abstract Expressionism, shedding light on their unique experiences. This groundbreaking book reveals the richness of the careers of these important artists and offers keen new reflections on their work and the movement as a whole.
Published in association with the Denver Art Museum

Exhibition Schedule:
Mint Museum, Charlotte, N.C. 
(10/22/16–01/22/17)
Palm Springs Art Museum
(02/18/17–05/28/17)
About the Author
---
Joan Marter is Board of Governors Professor of Art History at Rutgers University and editor of the Woman's Art Journal. Gwen F. Chanzit is curator of modern art and the Herbert Bayer Collection and Archive at the Denver Art Museum and director of museum studies in art history at the University of Denver. Robert Hobbs is Rhoda Thalhimer Endowed Chair at Virginia Commonwealth University and visiting professor at Yale University. Ellen G. Landau is Andrew W. Mellon Professor Emerita of the Humanities at Case Western Reserve University. Susan Landauer, formerly chief curator at the San Jose Museum of Art, is an independent art historian and curator. Irving Sandler is a distinguished independent scholar, curator, and critic.


 
Praise For…
---
"A fine catalog that documents the artists exhibited and adds the names and biographies of many others who aren't, setting the stage for sequels."—Holland Cotter,
New York Times
"It is, like the exhibition that inspired it, a motivational resource for researchers, educators, and enthusiasts of mid-twentieth century American art. It should inspire any reader to look askance at the traditional narratives of this era and encourage art historians to incorporate the women artists chronicled here in their scholarship and teaching."—Lara Kuykendall, Panorama
"Dazzling."—Margaret Graham,
Brooklyn Rail
"Despite the advantages of access the internet provides, it's only in a carefully prepared catalogue like
Women of Abstract Expressionism
that many of us will have the opportunity to view these works in an accurate representation. A book like this helps filter out the clutter of too much information, train the eye, and expand the reader's appreciation for these works."—Matthew Snider,
PopMatters
"[
Women of Abstract Expressionism
is a] large-scale, handsomely produced catalogue . . . its lush reproductions and persuasive histories bring these women into the ranks of their male peers."—Ann Eden Gibson
,
Woman's Art Journal