ON&BY Andy Warhol (Whitechapel: On & By) (Paperback)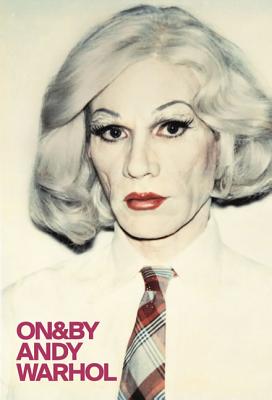 $22.94
Email or call for price.
Description
---
Writings about Andy Warhol by critics, artists, cultural theorists, and Factory associates together with archival material, interviews, and texts by Warhol himself.
The impact of Andy Warhol on contemporary culture is incalculable. Painter, sculptor, printmaker, filmmaker, publisher, TV personality, socialite, diarist, graphic artist, collector, curator, illustrator, rock impresario, photographer, model, and author, he was a pioneer in virtually every medium in which he worked. From blotted-line advertising illustrations for I. Miller shoes in 1950s, to photography-based paintings of car wrecks or movie stars in the 1960s, to cult films that explored homoerotic and other sexually explicit subjects, to his reinvention of the celebrity magazine in the 1970s with Interview, Warhol's work was both ahead of its time and era-defining. With dedicated Twitter feeds today that adapt his short epithets or "Warholisms" into 140-character snippets ("People are so fantastic. You can't take a bad picture"), Warhol's cultural relevance seems only to grow in the twenty-first century.
Edited and introduced by art critic Gilda Williams, ON&BY Andy Warhol brings together writers—art critics, artists, cultural theorists, and Factory associates—who have examined the influence and legacy of Warhol's life and work. Accompanying these texts are recent discoveries by Warhol senior archivist Matt Wrbican, interviews, and further writings by Warhol and his collaborators including selections from Blue Movie, Exposures, Popism, and Andy Warhol's Party Book.
Contributors
Saul Anton, Callie Angell, Art & Language, Roland Barthes, Gregory Battcock, Bob Colacello, John Coplans, Douglas Crimp, Rainer Crone, Thomas Crow, Arthur C. Danto, Donna DeSalvo, Jennifer Doyle, Trevor Fairbrother, Hal Foster, Michael Fried, Gérald Gassiot-Talabot, Anthony E. Grudin, Dave Hickey, Fredric Jameson, Donald Judd, Stephen Koch, Wayne Koestenbaum, Lucy R. Lippard, Richard Meyer, Stuart Morgan, Barbara Rose, Robert Rosenblum, Eve Kosofsky Sedgwick, Simon Watney, Gilda Williams, Mary Woronov
About the Author
---
Gilda Williams is an art critic and London correspondent for Artforum. She teaches at Goldsmiths College (University of London) and Sotheby's Institute of Art, London.
Praise For…
---
On&By Andy Warhol is the rare reference book that can serve as an introduction to the wide range of Warhol's work and influence on contemporary culture, as well as a deeper investigation for Warhol enthusiasts like myself, who are always looking for that hidden anecdote to reveal more about this near mythical figure.—Michael Nirenberg, PopMatters—