Banksy: Completed (Hardcover)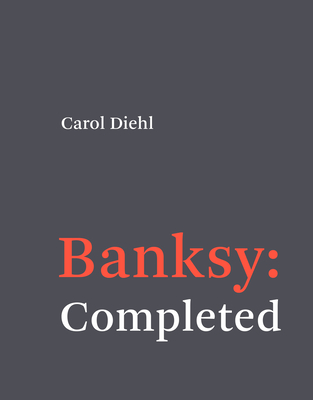 Description
---
There's more to Banksy than the painting on the wall: the first in-depth investigation into the mysteries of the world's most famous living artist.

Banksy is the world's most famous living artist, yet no one knows who he is. For more than twenty years, his wryly political and darkly humorous spray paintings have appeared mysteriously on urban walls around the globe, generating headlines and controversy. Art critics disdain him, but the public (and the art market) love him. With this generously illustrated book, artist and critic Carol Diehl is the first author to probe the depths of the Banksy mystery. Through her exploration of his paintings, installations, writings, and Academy Award-nominated film, Exit through the Gift Shop, Diehl proves unequivocally that there's more to Banksy than the painting on the wall.

Seeing Banksy as the ultimate provocateur, Diehl investigates the dramas that unfold after his works are discovered, with all of their social, economic, and political implications. She reveals how this trickster rattles the system, whether during his month-long 2013 self-styled New York "residency" or his notorious Dismaland of 2015, a full-scale dystopian "family theme park unsuitable for children" dedicated to the failure of capitalism. Banksy's work, Diehl shows, is a synthesis of conceptual art, social commentary, and political protest, played out not in museums but where it can have the most effect--on the street, in the real world. The questions Banksy raises about the uses of public and private property, the role of the global corporatocracy, the never-ending wars, and the gap between artworks as luxury goods and as vehicles of social expression, have never been more relevant.
About the Author
---
Carol Diehl is an artist, poet, and art critic. Formerly a longtime contributing editor to Art in America with cover stories on Robert Irwin, Olafur Eliasson, Christian Marclay and Wolfgang Laib, she has written for ARTnews, Art + Auction, Art & Antiques, and Metropolis, among others, and was an early slam performance poet at the Nuyorican Poets Cafe. Diehl has won awards from the New York Foundation of the Arts, the Pollock-Krasner Foundation, the Andy Warhol Foundation for the Visual Arts, PEN America, and the Author's League Fund. Her paintings have been exhibited at galleries and museums in both the US and abroad, and she has taught both painting and writing at Bennington College and the School of Visual Arts Graduate Fine Arts Program. This is her first book.
Praise For…
---
"In this first in-depth analysis of anonymous activist, filmmaker, and street artist Banksy, Diehl (scholar and art critic) offers a rich discussion of the antiauthoritarian artist. Banksy emerged in Bristol, UK, in the 1990s in the underground scene, with its public antiestablishment art that often targeted fascism, surveillance, capitalism, and consumerism. Though Banksy produced documentation of his work with publications in 2001, 2002, and 2005 and the film Exit through the Gift Shop (2010), Diehl examines Banksy's works and reminds readers that viewers, critics, scholars, and the public are essential to the work. They complete it. Diehl rightly critiques the art world's annoyance and indignation with an artist whose success has captured attention within and beyond the art world despite, or because, the art resides outside representation and the dealer-auction-market system that has prevailed over three centuries. Rather than incorporate traditional footnotes, Diehl includes citations, in order of appearance, beneath each chapter heading in the back matter. Perhaps such a construction is Diehl's own act of resistance, taking cues from Banksy's forms of critique and self-expression. Marked by rich illustrations and absorbing prose, this volume will interest those studying contemporary art, street art and graffiti, art markets, material culture, and visual culture. Recommended. Lower-division undergraduates through faculty and professionals."
 —CHOICE

"Looks [at] the dramas that unfold after Banksy's artworks are discovered around the world... Gorgeous, well researched."
—Daily Hive