Atmospheres of Projection: Environmentality in Art and Screen Media (Hardcover)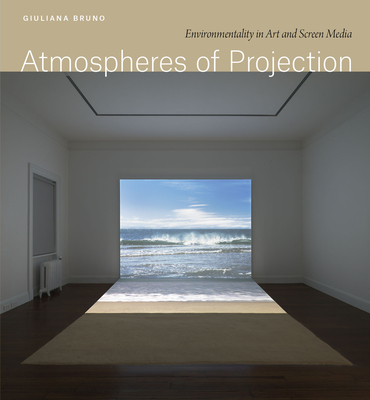 $60.75
Email or call for price.
Description
---
Bringing together cultural history, visual studies, and media archaeology, Bruno considers the interrelations of projection, atmosphere, and environment.
 
Projection has long been transforming space, from shadow plays to camera obscuras and magic lantern shows. Our fascination with projection is alive on the walls of museums and galleries and woven into our daily lives. Giuliana Bruno explores the histories of projection and atmosphere in visual culture and their continued importance to contemporary artists who are reinventing the projective imagination with atmospheric thinking and the use of elemental media. 

To explain our fascination with projection and atmosphere, Bruno traverses psychoanalysis, environmental philosophy, architecture, the history of science, visual art, and moving image culture to see how projective mechanisms and their environments have developed over time. She reveals how atmosphere is formed and mediated, how it can change, and what projection can do to modify a site. In so doing, she gives new life to the alchemic possibilities of transformative projective atmospheres. Showing how their "environmentality" produces sites of exchange and relationality, this book binds art to the ecology of atmosphere.


 
About the Author
---
Giuliana Bruno is the Emmet Blakeney Gleason Professor of Visual and Environmental Studies at Harvard University. She is the author of several books, including Atlas of Emotion: Journeys in Art, Architecture and Film, winner of the Kraszna-Krausz prize for best Moving Image Book; Streetwalking on a Ruined Map, winner of the Society for Cinema and Media Studies book award; Public Intimacy: Architecture and the Visual Arts; and Surface: Matters of Aesthetics, Materiality, and Media.
Praise For…
---
"Bruno's aim is to liberate projection from the functional conception attributed to it within the history and theory of the arts, so as to investigate and enhance its potentialities . . . Addressing the question of projection constitutes, now more than ever, a way to reflect on the relationship between the capacity of media to construct environments and the medial character of the natural elements themselves. . . . It is a way to reflect critically and ecocritically on the environment considered as a 'projective' and 'relational' space. . . . Reading Atmospheres of Projection is an exciting journey that most of all pushes us to come to terms with an archaeology of light and water." 
— Fata Morgana (translated from Italian)

"In [Bruno's] new book Atmospheres of Projection, she considers the interrelations of projection, atmosphere, and environment, reclaiming the concept of 'projection' as a positive creative force."
— Harvard Gazette

"Monumental . . . as theoretically ambitious as it is historically and artistically expansive. . . . In a world modified by projection, Bruno vitally centers the aesthetic creation and transmission of atmospheres, generating new ways to think about the political valence of spectatorship within artistic spaces in a post-cinematic era. . . . Through nuanced and inquisitive case studies, highlighted by evocative descriptions of each artist's ambient, atmospheric work, Bruno's volume serves as its own site of intellectual transmission. . . . Atmospheres of Projection is a call to attunement: in a world of omnipresent projection, of inescapable screens, Bruno guides her readers to become more observant of the ambience, sensation, and empathy generated by these atmospheres and worlds."
— Film Quarterly

"Bruno proposes to rehabilitate the concept of projection by tracing a new genealogy that may overcome the restricted definition produced by postmodernism. . . . To project is to throw forth, to transform, to draw, to plan, to move forward. Existing long before the cinematograph and surviving the transformations of this medium in the digital era, projection is too pervasive to be forgotten."
— BOMB Magazine

"Bruno's Atmospheres of Projection conducts a virtuoso excursion through the poetics and phantasmatics of the projective imagination. Moving with mercurial fleetness and animation across alchemy, geometry, mathematics, psychoanalysis, architecture, and ecological thought, Bruno reveals how projection is bound, not to the sharply defined planes and angles of perspective thinking, but to the dispersive permeations of environments and milieux. Her scintillating and fine-spun readings of the atmospheric architectures of artists, designers and filmmakers show how irresistibly the locked, locative relations of the 'at' or the 'on' give way to the shifting dispositions of the 'through', the 'between' and the 'amidst'."
— Steven Connor, University of Cambridge

"In this exhilarating book, Bruno asks not only 'What is an atmosphere?' or 'Toward what ends has the concept of atmosphere been put?,' but also 'What do atmospheres do?' What comes to light is how these ethereal, powerful clouds act upon and with us, carrying affect, enabling artistry, enacting creativity, inflecting mood. Atmospheres project, as that verb too is radically refigured: Bruno lets it float beyond a psychoanalytic frame to become an activity of crossing boundaries between self and other, subject and object. 
Atmospheres of Projection is lyrical and learned, provocative and inviting — and makes a significant contribution to materialist philosophies, to film theory, to art criticism and aesthetics, and to anyone who breathes in the atmospheres of our time."
— Jane Bennett, Johns Hopkins University

"Bruno's extraordinary book is a capital redefinition of the boundaries between art, reality and ecology. We are used to thinking of art as a representation of the real: an immaterial duplication of it that transforms matter into image. This book shows us that art is always atmospheric projection: transporting the real out of its proper place that image with the world instead of separating it from it. To make art is always to traverse the cosmos, to make atmosphere with it. Art, then, is the first form of ecological construction of the world."
— Emanuele Coccia, École des Hautes Études en Sciences Sociales