Imaginary Cities: A Tour of Dream Cities, Nightmare Cities, and Everywhere in Between (Paperback)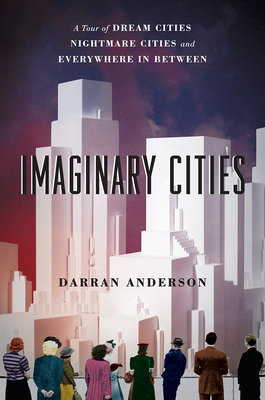 Description
---
For as long as humans have gathered in cities, those cities have had their shining—or shadowy—counterparts. Imaginary cities, potential cities, future cities, perfect cities. It is as if the city itself, its inescapable gritty reality and elbow-to-elbow nature, demands we call into being some alternative, yearned-for better place.
 
This book is about those cities. It's neither a history of grand plans nor a literary exploration of the utopian impulse, but rather something different, hybrid, idiosyncratic. It's a magpie's book, full of characters and incidents and ideas drawn from cities real and imagined around the globe and throughout history. Thomas More's allegorical island shares space with Soviet mega-planning; Marco Polo links up with James Joyce's meticulously imagined Dublin; the medieval land of Cockaigne meets the hopeful future of Star Trek. With Darran Anderson as our guide, we find common themes and recurring dreams, tied to the seemingly ineluctable problems of our actual cities, of poverty and exclusion and waste and destruction. And that's where Imaginary Cities becomes more than a mere—if ecstatically entertaining—intellectual exercise: for, as Anderson says, "If a city can be imagined into being, it can be re-imagined." Every architect, philosopher, artist, writer, planner, or citizen who dreams up an imaginary city offers lessons for our real ones; harnessing those flights of hopeful fancy can help us improve the streets where we live.
 
Though it shares DNA with books as disparate as Calvino's Invisible Cities and Jane Jacobs's Death and Life of Great American Cities, there's no other book quite like Imaginary Cities. After reading it, you'll walk the streets of your city—real or imagined—with fresh eyes.
 
About the Author
---
Darran Anderson is an Irish writer residing in Scotland. He has written for a host of publications on the intersections of urbanism, culture, technology and politics.
 
Praise For…
---
"A compendium of fantasy cities that takes its cue from Marco Polo via Italo Calvino's InvisibleCities, this remarkable survey reveals the influence that the metropolis of the mind has had on the real thing."
— Financial Times, Best Books of the Year
"A big, bustling book that looks at real cities through the prism of imaginary ones, from city planning to science fiction and everything in between. Anderson's nimble study is never less than stimulating."
— New Scientist, Best Summer Reads 2015
"A dizzying and brilliant piece of creative non-fiction."
— Guardian, Best Books of 2015
"Let there be garlands and kisses, please, for Darren Anderson, whose 
Imaginary Cities
 is a definitive survey."
— Kevin Barry, Irish Independent
"One of those books you have to pause your reading every so often because it is sparking so many ideas in your head, and one of those wonderful reads which makes you want to read many of the books it references."
— Forbidden Planet blog
"It defies handy summation. Imaginary Cities roams freely, and with easy authority, from the first scratchings on a cave wall to last month's architecture magazines. . . . This is a hugely ambitious book, and Anderson is delightful company as an author."  
— Icon Magazine