The Boy Who Reached for the Stars: A Memoir (Hardcover)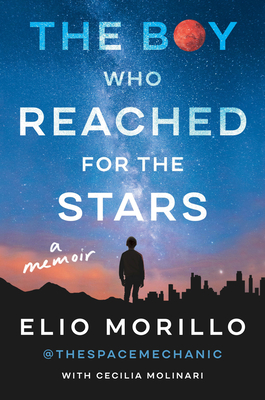 $28.99

Usually Ships in 1-5 Days
Description
---
"Inspiring and joyous."—People
"Heartwarming . . . infectious . . . Morillo's The Boy Who Reached for the Stars is every bit the inspiration he means it to be."—Kirkus Reviews
The engineer known as the "space mechanic" speaks to both our future and past in this breathless memoir of his journey from Ecuador to NASA and beyond.
Elio Morillo's life is abruptly spun out of orbit when economic collapse and personal circumstances compel his mother to flee Ecuador for the United States in search of a better future for her son. His itinerant childhood sets into motion a migration that will ultimately carry Elio to the farthest expanse of human endeavor: space.
Overcoming a history of systemic adversity and inequality in public education, Elio forged ahead on a journey as indebted to his galactic dreams as to a loving mother whose sacrifices safeguarded the ground beneath his feet. Today, Elio is helping drive human expansion into the solar system and promote the future of human innovation—from AI and robotics to space infrastructure and equitable access.
The Boy Who Reached the Stars is both a cosmic and intimate memoir spun from a constellation of memories, reflections, and intrepid curiosity, as thoroughly luminous as the stars above.
About the Author
---
Elio Morillo is a space systems engineer at Blue Origin working on lunar programs. Previously he worked at NASA's Jet Propulsion Laboratory on the Mars 2020 mission, where he was a system testbed and operations engineer for the Perseverance rover and Ingenuity, the Mars helicopter. Born in Ecuador and raised in Puerto Rico and New York, Elio graduated from the University of Michigan with an undergraduate degree in mechanical engineering and a minor in electrical engineering as well as a master's in systems engineering and design. In his free time, he enjoys giving talks on space, volunteering, and mentoring. Elio is passionate about exploration, expansion, and equitable access to space.
Praise For…
---
"Heartwarming. . . . Morillo's wonder at and pride in his experience is infectious . . . The Boy Who Reached for the Stars is every bit the inspiration he means it to be." — Kirkus Reviews
"This intimate memoir follows Morillo through a difficult, sometimes treacherous childhood to an adult life as a NASA scientist. Inspiring and joyous." — People
"Elio traveled from Ecuador to Puerto Rico to NASA to Mars. The story behind his robots reaching another planet is also the guide for everyone of us to aim beyond our atmosphere. It's a personal, humble story of family and engineering. Science and love. But also a blueprint so anybody, especially you, can reach beyond our planet and push harder. No matter who you are. No matter where you were born."  — Freddy Vega, CEO of Platzi
"This memoir is everything I needed to read as a young Latina dreaming of the stars. Elio Morillo not only perfectly conveys the reality many of us face but he also illuminates the way, so those that will come after us will know what's ahead waiting for them." — Katya Echazarreta, First Mexican-born Woman in Space and Electrical Engineer