Children of the Land (Hardcover)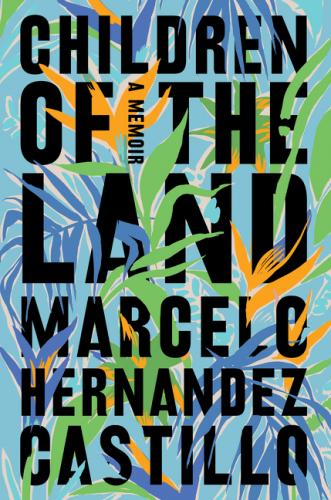 $28.99
Email or call for price.
Description
---
An NPR Best Book of the Year
A 2020 International Latino Book Award Finalist
An Entertainment Weekly, The Millions, and LitHub Most Anticipated Book of the Year 
This unforgettable memoir from a prize-winning poet about growing up undocumented in the United States recounts the sorrows and joys of a family torn apart by draconian policies and chronicles one young man's attempt to build a future in a nation that denies his existence.
"You were not a ghost even though an entire country was scared of you. No one in this story was a ghost. This was not a story."
When Marcelo Hernandez Castillo was five years old and his family was preparing to cross the border between Mexico and the United States, he suffered temporary, stress-induced blindness. Castillo regained his vision, but quickly understood that he had to move into a threshold of invisibility before settling in California with his parents and siblings. Thus began a new life of hiding in plain sight and of paying extraordinarily careful attention at all times for fear of being truly seen. Before Castillo was one of the most celebrated poets of a generation, he was a boy who perfected his English in the hopes that he might never seem extraordinary.
With beauty, grace, and honesty, Castillo recounts his and his family's encounters with a system that treats them as criminals for seeking safe, ordinary lives. He writes of the Sunday afternoon when he opened the door to an ICE officer who had one hand on his holster, of the hours he spent making a fake social security card so that he could work to support his family, of his father's deportation and the decade that he spent waiting to return to his wife and children only to be denied reentry, and of his mother's heartbreaking decision to leave her children and grandchildren so that she could be reunited with her estranged husband and retire from a life of hard labor.
Children of the Land distills the trauma of displacement, illuminates the human lives behind the headlines and serves as a stunning meditation on what it means to be a man and a citizen.
About the Author
---
Marcelo Hernandez Castillo is the author of Cenzontle, winner of the A. Poulin, Jr. prize (BOA editions 2018), winner of the 2019 Great Lakes Colleges Association New Writers Award in poetry, a finalist for the Norther California Book Award and named a best book of 2018 by NPR and the New York Public Library. As one of the founders of the Undocupoets campaign, he is a recipient of the Barnes and Noble "Writers for Writers" Award. He holds a B.A. from Sacramento State University and was the first undocumented student to graduate from the Helen Zell Writers Program at the University of Michigan. His work has appeared or is featured in The New York Times, The Paris Review, People Magazine, and PBS Newshour, among others. He lives in Marysville, California where he teaches poetry to incarcerated youth and also teaches at the Ashland University Low-Res MFA program.
Praise For…
---
"This moving memoir is the document of a life without documents, of belonging to two countries yet belonging to neither. Hernandez Castillo has created his own papers fashioned from memory and poetry. His motherland is la madre tierra, his life a history lesson for our times." — Sandra Cisneros, author of The House on Mango Street
"In this courageous memoir, Castillo lays bare his emotional truths with remarkable intimacy and insight. Ever the poet, Castillo can't resist a lyrical stroke here and there, like when he describes arriving in Mexico 'the same way as the light entered the rosary, and when we departed the corridors of its prisms, we did so no longer wholly intact either, a little broken.' The same outcome awaits the reader who encounters this book." — Los Angeles Times
"The award-winning poet turns to memoir with the devastating account of his family's immigration to the U.S., from terrifying encounters with ICE offers to his father's ultimate deportation." — Entertainment Weekly
"Castillo writes with disturbing candor, depicting the all-too-common plight of undocumented immigrants to the U.S." — Publishers Weekly (starred review)
"Castillo uses his prodigious poetic craft to plumb each family member's odyssey through the U.S. immigration system...and to describe the raw emotion and pain experienced while...living under a cloud of uncertainty and fear. In the tortured dynamic that plays out in his cross-border family, Castillo lays bare the inherent unfairness and high psychological toll of the current immigration system on people in both the U.S. and Mexico." — Booklist (starred review)
Honest and unsparing, this book offers a detailed look at the dehumanizing immigration system that shattered the author's family while offering a glimpse into his own deeply conflicted sense of what it means to live the so-called American dream. < A heartfelt and haunting memoir just right for the current political and social climate.
— Kirkus Reviews